You can buy almost anything online these days, and skincare products aren't left out. Do a Google search, and you'll find several online stores offering exactly what you need. However, before making any purchase, it's important to ascertain if the vendor of your choice is trustworthy.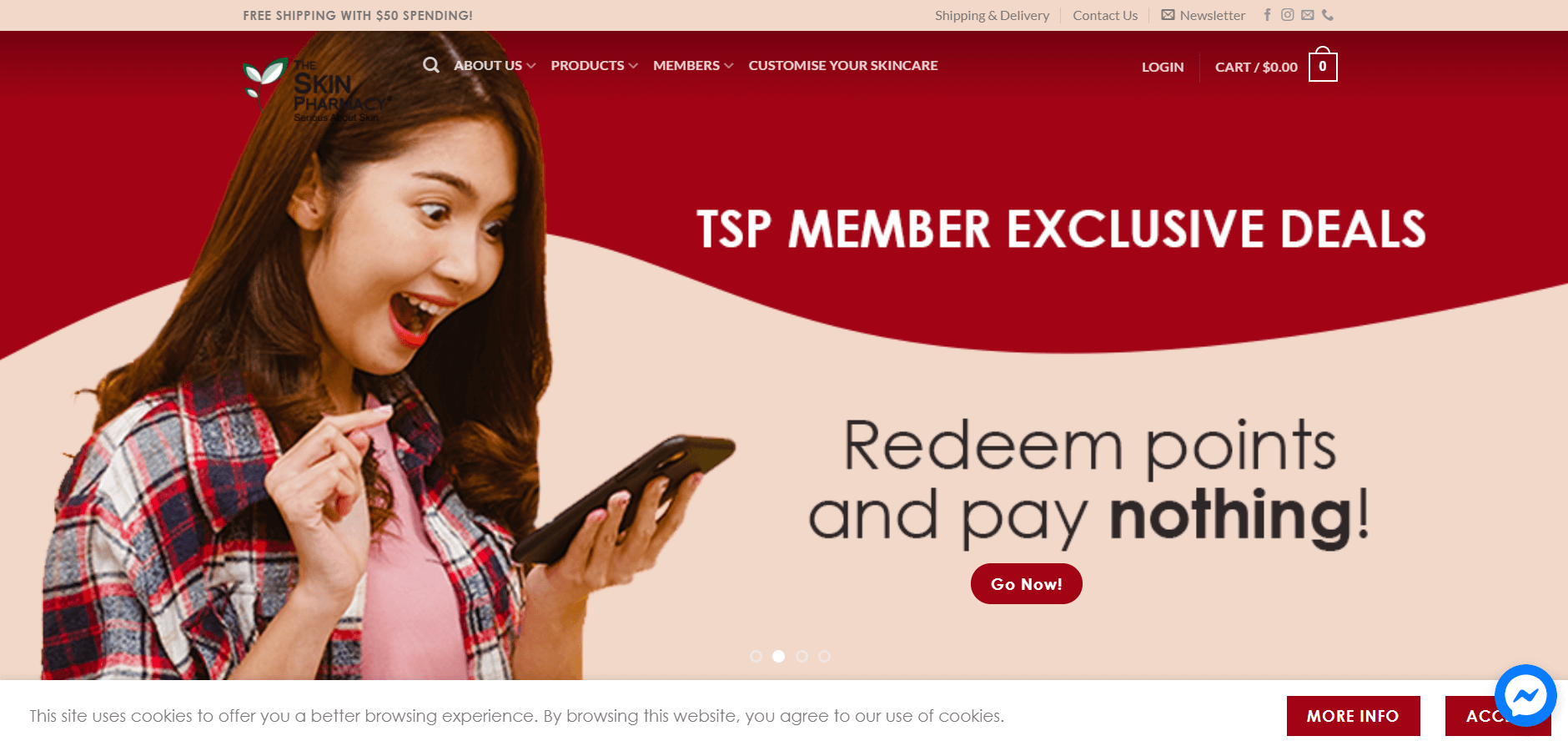 TheSkinPharmacy offers a wide range of skincare products, treatments, diffusers, and essential oils at reasonable prices, but does it have exceptional customer service, and does it deliver high-quality products fast? Read this Skin Pharmacy review to find out everything you need to know about this vendor, including if it is worth your money.
E-Pharmacy That Helps Its Customers Achieve the Desired Skin
The Skin Pharmacy is an establishment that aims to help individuals with all skin types get tailor-made products that will provide them with optimum results. It was founded by two pharmacists in 2009 and has since grown to become a big brand with 3 physical locations across Singapore.
The pharmacists founded the company on the basis that different people have varying skin types and thus require different skincare. Consequently, the e-drugstore offers skin analysis through a free 30-minute consultation with a specialist to provide customers with personalized products. After ascertaining the customer's skin type and problem at the end of the consultation, the specialist then recommends a befitting skincare product.
The Skin Pharmacy manufactures all its skincare products in-house and uses only natural and active ingredients that are both effective and safe for all skin types. According to the vendor, all its products contain zero alcohol, parabens, sodium lauryl sulfate (SLS), and artificial coloring or fragrance. Aside from skincare products, the e-pharmacy also sells pure essential oils, diffusers, and hand wash/sanitizers.
Is TheSkinPharmacy (TSP) Legit and Safe?
Shopping online is great, no doubt, but while it is convenient and helps to save time, energy, and money, it has its risks. One of the most common ones is credit card theft. Many online shoppers have lost good money by simply entering their credit card details on malicious websites while making payments. Another problem many customers encounter while shopping online is buying counterfeit goods. This is why it is important to determine the legitimacy of any online store before patronizing it.
This brings us to the big question: Is The Skin Pharmacy (TSP) safe? And can it be trusted to offer great customer service and deliver high-quality products fast?
Well, all indications from the pharmacy's landing page point to the fact that it is legit. In fact, if this were the only metric by which we could determine the pharmacy's trust score, we'd say it's 100% legit. The website is well-designed and appealing to the eyes – a characteristic typical of trusted online stores (scammers are always in a hurry and pay little to no attention to the quality of their sites).
Furthermore, the vendor's website is protected by the 256-bit SSL/TLS encryption – you can tell by the visible padlock symbol present in your browser's address bar. This means that all information, including passwords and credit card details used on the site, will be hidden from the site administrator and third parties.
TSP currently has 3 physical stores across Singapore. It also has active social media channels (Instagram & Facebook), and these are all indicative of its legitimacy.
Grab Free Samples
Fast delivery despite covid. I got the samples just paid for the delivery. I did not know which type of pill work for me. So getting the samples seemed to be the best way to get what works for me. I have never had any problems with either the product, shipping or billing. They truly are the gold standard for ED medications.
Not sure what to order? Our friends from CialisBit offer a sample pack of the most popular ED pills (Cialis, Viagra, and Levitra) delivered by mail straight to your doorstep for free. The trial pack is already added to your shopping cart >>>
CialisBit is the real deal. Professional in every aspect of the business. You can order with confidence. Great customer service. Requests are promptly and courteously addressed. I think they have a great website, and products work as expected. I'm particularly pleased that they offer PayPal as an option to pay. Even though there is an additional fee, you can be assured that your credit card information will not be compromised. Most recent order arrived at my US address September 12, having been ordered August 30. Not bad at all considering the pandemic. I highly recommend this organization and hope they are here to stay. More TrustPilot reviews
Do You Need a Prescription?
No, you don't. TSP does not produce, sell, or market prescription medications. Consequently, you can buy any of its many products without paying a visit to a dermatologist. However, under certain circumstances, you may need to undergo a computerized skin analysis to help the pharmacy's specialists determine the best product for you. According to the vendor, the analysis goes on via a free 30-minute consultation and may require taking a photograph.
Offered Cosmetics for Face and Body Care
TSP offers a wide range of products that it lists under 4 major categories. These categories are further divided into subclasses that feature its flagship products. You'll mostly find most of the flagship cosmetics listed under the "For Face" and "For Body" categories.
Cosmetics offered under the "For Face" category are as follows:
facial cleansers;
toners & floral waters;
moisturizers;
essences & serums;
eyes & lips care;

sunscreens;
masks & scrubs;
makeup removers;
make ups.
On the other hand, cosmetics that fall under the "For Body" category are the following:
shampoos & hair/scalp care;
shower gels and bath salts;

body care;
body sunscreens.
As stated earlier, all the products offered in the pharmacy are produced solely by it. Thus, if you have a product from another brand in mind, it is highly unlikely that you'll find it at TSP.
Other Product Categories Available on the TSP
Although TSP is big on face and body care, it has a wide range of other skincare products that fall under the "Wellness" category. Some of them are as follows:
pure essential oils;
premium essential oils;
essential oil blends;
carrier oils;

diffusers;
humidifiers & burners;
treatments.
Other products you'll also find in the pharmacy are hand wash and sanitizers from the "COVID Care" subcategory, face creams, gels, masks that fall under the "Anti-Acne" subcategory, anti-aging serums (some of which contain retinol), anti-pigmentation lotions, and fragrances such as the bergamot home fragrance. Feel free to browse the product categories to learn more about the pharmacy's wide range of products.
It is worth noting that you can select any of the products offered by TSP and have them customized to meet your needs. The vendor has a list of ingredients for customers to choose from; you can request the pharmacy to add any of them to whatever product you select.
Coupons and Discount Offers
Everyone loves coupons and discount offers, but unfortunately, TSP does not offer a lot of them. However, its product prices are relatively low compared to what several other cosmetic brands provide.
Here are a few profitable offers available on the platform:
$10 off: TSP offers all new customers $10 off their first purchase. The coupon can be redeemed by inputting the code TSPNEW at the checkout page;
free delivery: The pharmacy offers free shipping on all orders over $50. However, it doesn't specify the shipping method that will be used for the delivery.
What's more, the pharmacy offers a product trial set that customers can take advantage of. The $114.50 worth set consists of 5 different products specially formulated for acne therapy. The set is sold at $50, which is less than half the actual price, and on top of that, buyers get free shipping and 5000 TSP points.
Delivery Policy
Delivery policy is one of the most important things to check out before placing an order with any online pharmacy or store. What shipping method does the vendor employ for deliveries? What is the shipping time? Getting the answers to these questions will give you a sense of whether to go ahead and patronize the vendor or not.
The Skin Pharmacy charges a nominal fee of $10 for deliveries to locations within Singapore. However, as stated earlier, it provides free shipping on all purchases worth $50 and above. It processes orders within 1 to 3 business days and fulfills deliveries within 3 to 5 business days. The vendor indicates that deliveries may take longer in the event that it has a high volume of orders or external courier service problems.
It is worth noting that the pharmacy offers an option of in-store pickup. Thus, intending buyers can place their orders online and stroll into one of its branches to pick up the parcel. Buyers interested in the pickup option are expected to bring along their order confirmation email and stop by within 12 pm to 8 pm daily.
TSP also fulfills deliveries internationally. However, there are no laid-down arrangements for such deliveries. Consequently, the pharmacy advises intending international buyers to email its customer care department to get a quote. Parcel tracking is available for all shipments, but the tracking numbers are typically made available within 48 hours.
How to Pay for an Order at TheSkinPharmacy?
It is important for online stores to have multiple payment methods so customers can make transactions with ease. However, TSP accepts only two payment methods. They are PayPal and major credit cards, including Visa and MasterCard. Upon payment, the credit cards will be processed and billed under "The Skin Pharmacy." This is the information that will pop up on the billing statement.
Intending buyers can rest assured that their credit card details are safe from theft, as all transactions and exchanges of personal information are protected using SSL. At the time of writing, there is no information about whether or not TSP will incorporate other payment methods such as crypto and money orders, among others. Perhaps time will tell.
Returns and Exchange Policy
Earlier, we mentioned important questions to ask before making any purchase at any online store. One other important question to ask to help predict what your shopping experience might be is whether the store provides a money-back guarantee. Will you get your parcel reshipped if it gets missing, damaged, or delayed for too long? For a trustworthy and reliable store bound to provide a wonderful shopping experience, the answer should be yes!
TSP aces this aspect, as it provides full refunds within 30 days if it confirms that the goods are really damaged or faulty through inspection. Note that in certain situations, it only grants partial refunds. These may include situations in which the vendor discovers an obvious sign of the product use, the external packaging seal is broken while the actual product remains intact, and a parcel is returned more than 30 days after delivery is confirmed.
Customers may return orders and have them exchanged if they aren't satisfied with them. However, the vendor only exchanges packages if they were damaged before being shipped out. It is worth noting that shipping costs are the customers' to handle in the event of a return. The Skin Pharmacy advises customers who intend to return a parcel for exchange to use a trackable shipping service or purchase insurance, especially if it costs over $50. This is because it can't guarantee that it will receive the returned item.
What Are the Other Features of The Skin Pharmacy?
One other interesting feature offered by The Skin Pharmacy is its exclusive membership program. It enables customers to earn points for each product purchased. The points can then be redeemed at a certain time and used to pay for new products within the points range – a creative way to help customers save money. TSP currently offers 100 points for each dollar spent on its platform; thus, the more one spends, the more points they accumulate. To become a member, potential buyers need only visit the membership page, register, and start shopping.
What's more, in the spirit of the birthday celebration, The Skin Pharmacy offers all registered members a 15% birthday discount. It also gifts those who spend up to $150 a free 15 g serum of their choice to spice things up even more. But that's not all registered TSP members stand to gain. One of the most interesting deals is exclusive invites to closed-door events for members-only sales, carnivals, talks, and make-up sessions.
The membership program provides a great opportunity for customers to save some money in the long run. It's definitely a great idea you'll hardly find at other online pharmacies.
Pharmacy Location & Contact Info
TSP receives complaints or suggestions from intending buyers and its customers alike via the email address feedback@theskinphatmacy.com. It may also be reached via its social media accounts, which are limited to just Facebook and Instagram at the time of writing this review:
Instagram: tsptheskinpharmacy
Facebook: https://www.facebook.com/theskinpharmacy
To put TSP's customer service response time to the test, we reached out to the team via email and are yet to get a response after 3 days. However, the response time when reached via DM on Instagram was commendable.
As stated earlier, TSP has 3 physical store locations. Its flagship store is located at #02-10 Wheelock Place office tower and shopping mall, 501 Orchard Road. This store can be reached via telephone on 6734 3256.
The two other stores are located at Isetan. One of the stores is located at Level 1 Isetan Serangoon (NEX), 23 Serangoon Central, NEX. It can be reached via the telephone number 8750 4296. The other one is located at Level 1 Isetan Parkway Parade, 80 Marine Parade Road. The company has no telephone number through which this store can be reached.
Note that the opening hours at the pharmacy's Isetan outlets are 11 am to 8 pm, Sunday to Thursday, and 11 am to 9 pm on Fridays and Saturdays. On the other hand, its opening times at its flagship store are 11 am to 9 pm, Sunday to Thursdays, and 11 am to 9.30 pm on Fridays and Saturdays.
Our Rating
From the findings we've done, we can confirm that The Skin Pharmacy is a reputable and trustworthy store. It definitely sells actual skincare products and isn't into any fraudulent act. Thus, intending buyers can make payments confidently with credit cards without fear of theft.
Although the pharmacy is generally good, its product pricing is fair, and its shipping time is OK, we give it a rating of 4.2 out of 5. This is due to 3 major issues:
its slow response rate when reached via email;
the fact that it provides no information about the qualification of its specialists that conduct consultation;
the poor management of its online presence.
Online stores thrive on reviews from previous buyers; new and intending buyers often depend on them to make buying decisions. Unfortunately, TSP has no provision for customers to leave reviews, and there's also nothing about it on review sites like Trustpilot and Yotpo. Perhaps it could learn a thing or two from reputable online pharmacies like ModafinilXL.com, ForHers.com, and BuyModafinilOnline.com, among others, that encourage customers to leave reviews.