Today, many pharmacies have taken their business online, making it easier, cheaper, and more convenient to get medications than ever before. With just a few screen taps, you can order just about any drug and have it delivered to your doorstep. However, online shopping leaves a window open for risks such as getting scammed outright or sold counterfeit meds. To get the best experience, it is necessary to verify the reputability of the vendor before making any payments.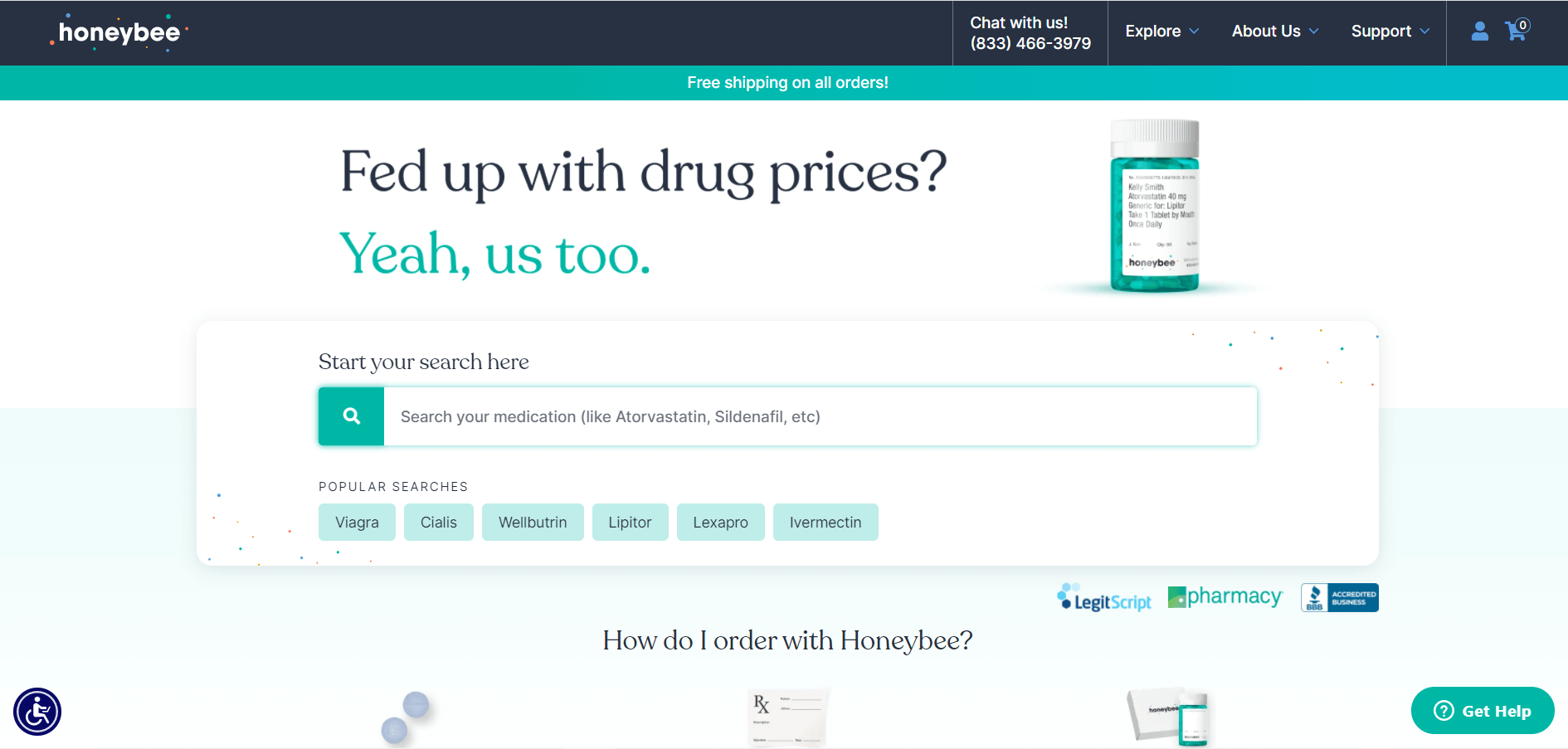 This HoneyBee pharmacy review sheds light on the e-pharmacy – from its benefits and downsides to whether it can be banked on for high-quality meds.
E-Drugstore That Provides a High Level of Transparency for Prescription Meds
HoneyBee Health is an online pharmacy that sells generic prescription medications at mouth-watering prices without the need for insurance. It states that its platform and services are structured in a way that enables customers to save several thousand dollars on meds each year. Sounds too good to be true, right? It appears there's some element of truth in that, as there are some facts that back it up.
The "About Us" section on the company's site goes a step further to point out how middlemen such as copayments and intermediaries cause drug prices to skyrocket. Cutting off the middlemen completely is one way the pharmacy is able to acquire and transfer savings to its customers. There's surely more to this, and although many details aren't provided on the website, the vendor says that it's committed to answering any questions from customers over phone call.
One unique and interesting thing about HoneyBee Health is the flexibility it provides for buyers when it comes to choosing generic versions of brand name drugs. Most online and even offline pharmacies only stock up generic meds that insurance companies choose. This pushes patients to settle with products that they aren't exactly comfortable with and won't ordinarily opt for. With the understanding that different generics prove more safe and effective for different people, HoneyBee Health offers varying generic versions of each brand name drug so that customers get to choose what suits their bodies and pockets best.
HoneyBee Health simplifies the entire medication buying process by providing a channel that enables customers to transfer their prescriptions from their doctors. Thus, instead of having to book an appointment with a doctor to get a prescription and then drive out to a walk-in pharmacy to get their meds, customers can just do it all online.
Is HoneyBeeHealth Pharmacy Legitimate?
Yes, HoneyBee Health pharmacy is legit. It is accredited by the California State Board of Pharmacy, and its license (#PHY55821) is still active. But that's not all. It is also certified by LegitScript – a company recognized by MasterCard and Visa that ensures that telemedicine providers and e-pharmacies have the necessary certifications to operate. It also monitors them to ensure that they comply with laid-down regulatory standards and keep up with emerging ones.
Besides, HoneyBee Health works with only real board-certified pharmacists to ensure that it conforms with pharmaceutical policies such as the two-hour rule. The vendor currently has certifications from 46 states and territories and is working towards obtaining certifications for the remaining states. So far, its offers are limited to only medications that are approved and regulated by the Food and Drug Administration (FDA), and it sources them from reputable US distributors that operate in line with laid-down regulatory guidelines.
Finally, with 3,000+ reviews (of which a majority are positive) on the highly trusted review platform Trustpilot, there's no mistake about the legitimacy of this vendor.
Grab Free Samples
Fast delivery despite covid. I got the samples just paid for the delivery. I did not know which type of pill work for me. So getting the samples seemed to be the best way to get what works for me. I have never had any problems with either the product, shipping or billing. They truly are the gold standard for ED medications.
Not sure what to order? Our friends from CialisBit offer a sample pack of the most popular ED pills (Cialis, Viagra, and Levitra) delivered by mail straight to your doorstep for free. The trial pack is already added to your shopping cart >>>
CialisBit is the real deal. Professional in every aspect of the business. You can order with confidence. Great customer service. Requests are promptly and courteously addressed. I think they have a great website, and products work as expected. I'm particularly pleased that they offer PayPal as an option to pay. Even though there is an additional fee, you can be assured that your credit card information will not be compromised. Most recent order arrived at my US address September 12, having been ordered August 30. Not bad at all considering the pandemic. I highly recommend this organization and hope they are here to stay. More TrustPilot reviews
Is a Prescription for Drugs Required?
Yes, intending buyers are required to have a prescription from a licensed doctor or pharmacy to buy prescription meds sold on the platform. It is worth noting that unlike some other e-pharmacies, HoneyBee Health does not accept faxed, digital, or written prescriptions directly from customers. They have to come directly from a doctor or pharmacy. It outlines two ways it can accept prescriptions to facilitate the order and delivery of meds to its customers. They include the following:
going through a large chain pharmacy: Customers could drop their prescriptions off at any branch of big chain pharmacies like CVS and Walgreens, and HoneyBee Health will send a direct request for them. The entire process from requesting and reviewing the prescription to approving customer orders typically take 2 to 3 business days;
asking a doctor to call it in: For convenience, customers can simply ask their doctors to forward their prescription via fax or other digital means. The necessary details for forwarding it are provided in the FAQs section of the company's website.
The pharmacy makes it known that the fastest way it can receive prescriptions from customers is through fax or call from their doctors.
Available Sexual Enhancement Pills
HoneyBee Health pharmacy offers sexual enhancement pills. However, at the time of writing, it only has meds limited to treating erectile dysfunction (ED). They include sildenafil (Viagra) and tadalafil (Cialis). It has these drugs available in varying strengths that customers can choose from. For Cialis, the available strengths are 2.5 mg, 5 mg, 10 mg, and 20 mg. On the other hand, the available strengths for Viagra are 20 mg, 25 mg, 50 mg, and 100 mg.
It is worth noting that unlike some other pharmacies such as ViaBestBuys.com and CialisBit.com, among others, that allow bulk purchases, the minimum and the maximum number of pills customers can order from HoneyBee is 30 and 90, respectively.
Telemedicine is available for both drugs on the platform. This means that the pharmacy can connect intending buyers who do not have a prescription with a virtual doctor or healthcare provider during checkout.
More Pill Categories at HoneyBeeHealth.com
HoneyBee Health sure sells more than just sexual enhancement pills. It actually offers a wide range of meds for treating varying health conditions such as the following:
anxiety;
depression;
hypothyroidism;
hair loss;
migraine & headache;

pain;
type 2 diabetes;
acid reflux;
high cholesterol;
high blood pressure.
The pharmacy does a fantastic job of categorizing the drugs properly so intending buyers can find it easy to locate the desired remedies; this contributes to an awesome shopping experience. For example, it has a list of manufacturers that customers can click to reveal all the products offered by them.
HoneyBee offers prescription meds such as finasteride, atorvastatin, montelukast, bupropion, etc., and non-prescription meds such as Advil, Tiger Balm, Vitamin D3, among others. There are a lot more drugs available on the platform, and intending buyers can take advantage of the search box to find them easily.
Discount Codes, Coupons, & Special Offers
We know you love coupon and discount code offers as well as other special deals that can help save money. Unfortunately, HoneyBee Health pharmacy doesn't offer any of these. However, this is no cause for alarm, as its prices are much lower than those offered at a usual pharmacy. If, like many other people, you're wondering how this pharmacy is able to achieve this, it's simple. It is because its prices are not dictated by insurers, and it does not bear the overhead cost that traditional pharmacies do.
Most plan administrators and insurers hike up generic drug prices, but HoneyBee doesn't do this, as its entire business model is centered on fair and transparent pricing.
Delivery and Payment Policy
The e-pharmacy currently ships to 46 states and territories it has a license to operate in. Perhaps it'll extend its services to the rest of the states, as it's working hard to acquire a license to service customers who reside in them.
It uses USPS to fulfill all orders at the moment, giving customers the option of choosing the USPS First Class Mail, which is free on all orders, or USPS Priority, which costs $10. And in case you're wondering, the latter shipping option has a shorter waiting time of 3 to 5 days, while First Class Mail typically takes 7 to 10 business days.
HoneyBee fulfills all orders in discreet packaging and tracks them from the moment they leave till they get to the customers' specified address. Customers can equally track their orders with a tracking number the pharmacy sends to their email address once the order is shipped.
Order Refunds and Exchange
It is worth noting that the pharmacy does not directly commit to providing returns or refunds in the event that a parcel goes missing, delays for too long, or gets damaged. However, it guarantees buyers that they'll always receive their orders. It urges them to contact its customer support team if they experience any issues.
What Are the Other Features of HoneyBee Pharmacy?
This pharmacy has several interesting features, but two really stand out. The first is the contact option it has placed very clearly on its home page. If anything, this move speaks volumes about its reputability. With that, intending buyers or returning buyers can easily reach out to the customer service department without breaking a sweat if they have any issues.
The second feature that we consider interesting is the pharmacy's blog section. Many online drugstores are just out to make sales; consequently, they provide little to no information that can help customers get and use meds easily. HoneyBee Health has an entire section of its website dedicated to providing its customers with relevant info about varying health topics.
Pharmacy Address & Contact Information
HoneyBee Health provides several channels for customers seeking support to reach out to it pretty easily. They are as follows:
phone number: (833) 466-3979
email address 1: support@honeybeehealth.com
email address 2: press@honeybeehealth.com
Note that it equally has 3 social media outlets through which customers can reach out for a possibly faster response. They include Twitter, Instagram, and Facebook.
As for the pharmacy address, at the time of writing, HoneyBee does not specify any information about its exact location on the website. It only states that the pharmacy and staff are located in Culver City, California.
Our Rating
Based on all our findings, we can confidently say that HoneyBee Health is a reputable and trustworthy pharmacy that can be banked on for high-quality meds, and the very positive customer feedback supports this. From the UI/UX of the website, which makes it easy to navigate, to its customer support service, blog, FAQ page, amazing pricing, and free shipping, it is clear that the pharmacy really has its customers at heart.
Going by the yardstick we use to measure the performance and legitimacy of online pharmacies, we give this vendor a rating of 4.7 out of 5. We would have rated it 4.8, save for the fact that it doesn't offer discounts or coupon codes that could help its customers save some money on their meds.