In recent years, the way healthcare is delivered has changed. Instead of having to see a doctor for medical evaluation, treatment, and medication, women can now just access everything online.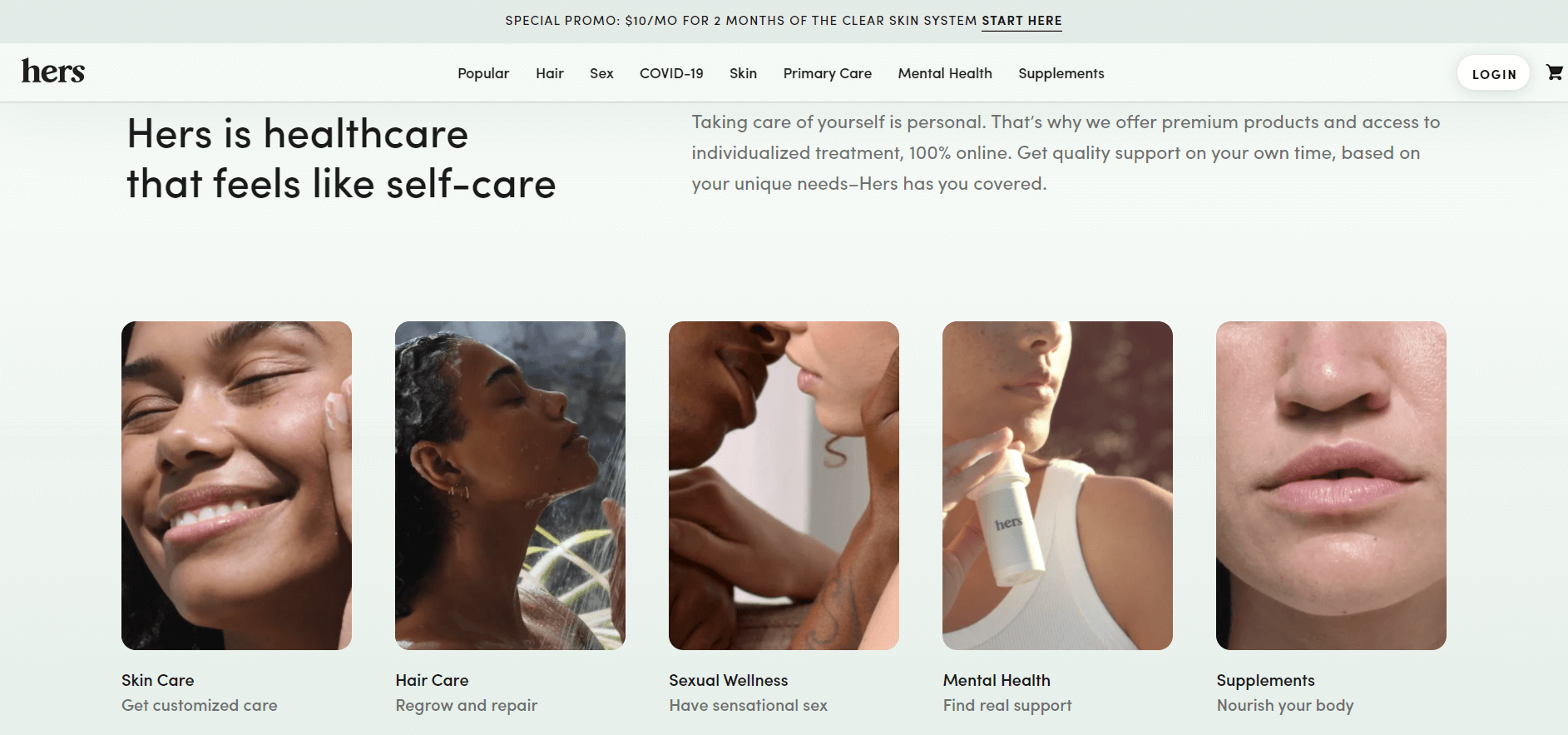 The e-pharmacy ForHers provides products and services related to sexual health, nutrition, skin care, hair care, and mental health. But before scampering to use its services, one question should come to mind: Is this vendor legit? We've reviewed and rated it in terms of customer support, product cost, delivery options/speed, and product quality. Read this ForHers review to find out if you can trust it.
Pharmacy with Women's Health Products Available by Subscription
ForHers is an online healthcare provider that aims to help women escape from frequent visits to the pharmacy or hospital by providing access to virtual diagnosis and medications. It was established about one year after its sister pharmacy, ForHims, was founded.
ForHims was created on the basis (according to the company, anyway) that 90% of men seldom or never visit a doctor concerning certain medical issues. Consequently, the founder decided to create a platform where men would feel comfortable discussing delicate conditions, such as erectile dysfunction (ED), without the potential embarrassment of physically seeing a doctor.
Following the success of this establishment, the women on staff reached a consensus that the model would equally work well for the female population, and ForHers was born. ForHers runs both a one-time payment option and a subscription plan that enables customers to save on ongoing prescriptions. The subscription plan also provides convenience; thus, instead of requesting refills, treatments get shipped to customers billing addresses automatically.
The pharmacy's medical advisory board consists of only female medical experts in fields such as dermatology, urology, and sexual medicine. Thus, ForHers ensures that its products and services are tailored to meet the needs of every woman. While its main focus is aimed at skin care, sexual health, hair care, and mental health, the pharmacy currently provides home COVID-19 tests.
Is ForHers.com a Legitimate Company?
With the sheer number of complaints shared online by people who've been scammed or sold counterfeit meds, it's only normal to want to be sure of the legitimacy of any e-drugstore before patronizing it. This said, is ForHers legit? Well, it is.
The look and feel of a website says a lot about the brand. Most fake vendors tend to have poorly designed platforms with terrible functionality and prices of products littered all over the page, instead of useful information. Going by this metric, ForHers is legit. The website is professionally designed and dotted with state-of-the-art photographs making its appearance appealing and super-attractive. It also has just the right font type and size used on background colors that make the text stand out, making the website easy on the eyes. The platform in its entirety is simply artistic.
However, the legitimacy of a company depends on much more than just the UI/UX of its website. Factors such as its domain information and user privacy considerations are also very important. ForHers has its contact details and full registration info provided, a characteristic synonymous with legit online pharmacies. The domain "ForHers" has been active since 2016 and is registered to Melissa Baird from San Francisco, the Chief Operating Officer of both Hims and Hers.
Lest we forget to mention, it may interest you to know that the pharmacy has a LegitScript certification. Furthermore, the personal medical data of users on the platform is protected by 256 bit SSL/TLS encryption, meaning that it cannot be viewed by a third party.
To add icing on the cake, the brand has been widely discussed in the media and has even been featured in a couple of Forbes publications for good reason. All these puts together are a clear indication that ForHers.com is a legit company.
Grab Free Samples
Fast delivery despite covid. I got the samples just paid for the delivery. I did not know which type of pill work for me. So getting the samples seemed to be the best way to get what works for me. I have never had any problems with either the product, shipping or billing. They truly are the gold standard for ED medications.
Not sure what to order? Our friends from CialisBit offer a sample pack of the most popular ED pills (Cialis, Viagra, and Levitra) delivered by mail straight to your doorstep for free. The trial pack is already added to your shopping cart >>>
CialisBit is the real deal. Professional in every aspect of the business. You can order with confidence. Great customer service. Requests are promptly and courteously addressed. I think they have a great website, and products work as expected. I'm particularly pleased that they offer PayPal as an option to pay. Even though there is an additional fee, you can be assured that your credit card information will not be compromised. Most recent order arrived at my US address September 12, having been ordered August 30. Not bad at all considering the pandemic. I highly recommend this organization and hope they are here to stay. More TrustPilot reviews
Does the Pharmacy Need a Prescription from Your Doctor?
No, the pharmacy does not necessarily need a prescription from your doctor to ship drugs to you. This is because it has several highly qualified doctors to tele-examine and provides in-house prescriptions through live-chat consultations, messages, or telephone.
To get drugs, all you need to do is create a personal profile. In doing this, you'll be required to link it to your government-issued ID so that your full medical history may be accessed for reference if required. Although some individuals are skeptical about the accuracy of prescriptions filled on the platform, there's no cause for alarm, as all the doctors are highly qualified and licensed to write prescriptions and give medical advice.
Women's Sexual Health Preparations Offered on the Site
ForHers.com offers a wide variety of products and drugs for women, especially in the sexual health category. For starters, the company sells a large selection of birth control pills for different needs. Ladies looking to get drugs from this category are required to answer questions about their medical history and previous birth control meds to help the doctor determine what's best for them. The subscription plan for this category of drugs starts at $12 per month.
Other sexual health drugs offered by the company include Valacyclovir for herpes and Miconazole for yeast infections accompanied by vaginal burning, itching, and discharge. It also offers D-mannose powder – a dietary supplement used to treat urinary tract infection.
On the other hand, other sexual health products available on the platform include:
luxe condoms and lubricant kit;
all-natural condoms;
glide aloe vera lubricant;
Roller Coaster bullet vibrator;
Omg ring vibrator.
It is worth noting that while birth control pills and drugs for genital herpes are prescription-based, the rest aren't and can be acquired with ease.
Other Health Care Products
Although ForHers is very big on women's sexual health, it also offers several other meds and products for a range of skin and hair conditions, as well as mental health drugs. These are as follows:
hair: rapid repair mask, detox scalp scrub, and conditioner for hair repair, shampoo and biotin gummies for hair strength, Minoxidil for hair growth, and Latisse for lashes;
skin: acne treatment cream, deep sea cleanser, tidal wave moisturizer, and anti-aging cream;
mental health: Bupropion XL (a generic version for Wellbutrin XL®), Citalopram (generic for Celexa®), Duloxetine (generic for Cymbalta®), Escitalopram (generic for Lexapro®), Fluoxetine (generic for Prozac®), Paroxetine (generic for Paxil®), Sertraline (generic for Zoloft®), Venlafaxine (generic for Effexor®). It also offers Propranolol for performance anxiety.
The company also offers drugs for pneumonia, bronchitis, sinus infection, congestion, hives, hay fever, seasonal allergies, pink eye, ear infection, asthma, migraines, bug bites, rashes, and eczema.
The interesting thing is that most of these products can equally be picked up with a subscription plan, making them available at a much affordable price.
Coupons, Promo Codes, and Other Possible Bonuses
Who doesn't like discounts that come in as a coupon or bonus? Unfortunately, ForHers does not currently provide many offers. But, this isn't much of a problem, as the prices of some of the products or meds are often a lot lower than what one would expect to pay in a traditional pharmacy, especially if they have to see a doctor or pharmacist physically. What's more, customers can take advantage of the subscription plan offered by the company to save even more cash.
Generally, the pharmacy offers a promo code from time to time. Information about it may be found on the header section of the company's website or on its social media pages. It is worth noting that promo discounts that cover products running on recurring monthly subscriptions only cover the first month. Subsequent payments will need to be paid in full. At the time of writing this review, the pharmacy is providing a special offer: 10$/month for 2 months of the Clear Skin System.
Payment Options That ForHers Accepts
Unlike some other online pharmacies that accept multiple payment options such as gift cards, Bitcoin, e-checks, etc., ForHers accepts only credit cards.
Customers select credit cards that are typically registered to their profiles during the signup process. With this setup, payments are automatically taken when products are added to the cart and checked out or on the fixed date designated on the subscription service.
At this point, it may interest you to know that payments are taken monthly in the subscription plan. While prescriptions continue consistently at the given fee, further consultations can be held to review a prescription before further deliveries.
Delivery Process
Delivery is an important aspect of any online store, be it a pharmacy or a regular store. The answer to questions surrounding shipping fees, delivery speed, and shipping options should be known before going ahead to make a purchase.
ForHers.com offers free shipping. The pharmacy uses either USPS or UPS standard delivery to fulfill orders to various addresses including PO boxes, but it ships only to the United States. However, the shipping method may differ depending on the product to be fulfilled. Interestingly, the pharmacy respects customers' privacy, fulfilling deliveries in discreet packaging. However, the brand's logo is usually inscribed on the package.
The company ships parcels the morning after customers' prescriptions are written, and they typically arrive within a few business days. However, the delivery time may vary depending on the customer's location. For example, those residing in Minneapolis or New York who place a Primary Care order and select Capsule as their pharmacy option may get their parcel delivered on the same day.
Order Refunds Policy
ForHers doesn't exactly accept returns. It advises customers who may have concerns or are unhappy with their order to reach out to it, and it will "do all it can to make things right."
However, the company may sometimes provide refunds, but certain conditions must be met. The first is that a refund may only be granted if it is requested within a certain number of days called "the refund period." This period may vary based on the product one intends to get a refund on. For Finasteride, Sildenafil, and prescription acne or anti-aging cream, the refund period is 90–180 days, 60–120 days, and 60–90 days, respectively.
Also, the prescription must be used consistently as directed by the provider up till the refund period. And last but not least, the customer must include their order number in the refund request that is to be sent through support@forhers.com. These conditions must be met to get a refund from the pharmacy.
The company allows subscription cancellation, postponement, or snoozing. However, a cancellation can only be made at least 48 hours before the customer's next order is meant to be processed. The pharmacy categorically states that it can't guarantee a refund prior to any cancellation once the order has been processed.
What Are the Other Features of ForHers?
One of the major characteristics of a reputable and trustworthy e-pharmacy or just about any online store is that it provides extra value for their customers or site visitors. One way this can be done today is by putting out useful information like video or blog content, and ForHers doesn't disappoint in this aspect. It has an entire section of its website dedicated to providing its customers with accurate information about the conditions it offers medications for, as well as the drugs themselves, their benefits, side effects, and risks. There's just so much all and sundry can learn from it.
Drugstore Location & Contact Details
For customers seeking support, the drugstore can be contacted via the email address support@forhers.com. It can also be reached via a live chat and the contact details provided below 24/7, from 5 am to 8 pm PST:
phone number: 1(800) 368-0038;
Twitter: @askforhers;
Facebook: www.facebook.com/wearehers/;
Instagram: @hers.
It is worth noting that when contacted, the pharmacy will always ask the customer to verify their identity as the account holder by providing their shipment number or order ID.
Although ForHers doesn't exactly have details about its address, ForHims, its sister store, does. In fact, it has two operational bases, both of them situated in the United States. The headquarters is located at 340 Bryant St 3rd Fl, San Francisco, and the other operational base is located at 2269 Chestnut St #523, San Francisco.
Our Rating
After all our findings, we can confidently say that ForHers.com is a safe, trustworthy, and reliable online pharmacy for female health and beauty advice, products, and drugs. It focuses on providing support for women, especially in the sexual health category, in a convenient, affordable, and highly professional way.
The pharmacy has a relatively fast response rate, good customer service, and all. However, a couple of people who've used its services have several things they aren't happy about. One of the major ones (according to reviews from customers) is how slightly challenging or inconvenient it is to cancel a subscription plan. As is widely expected, there's no single-push button to exit from subscription plans, so customers typically need to send an email and await feedback.
Another thing some customers complain about is having their orders switched sometimes. However, the pharmacy has addressed this issue in the FAQ section in its Help Center. The company says this may only happen if it finds it's no longer able to prescribe in the buyer's state or if the customer doesn't complete their online assessment at the time of placing an order and leaves it that way until delivery time.
One other major shortcoming of the pharmacy is that it doesn't ship products worldwide. Based on everything we've evaluated and on the basis of our rating system, we give the vendor a rating of 4.5.