How do men take care of themselves when it comes to all things men's wellness? Taking care of yourself (to be "handsome you") doesn't have to feel like a chore. There are some health products you may desire to keep yourself healthy and strong. But how and where can you find a super source that addresses all your wellness needs?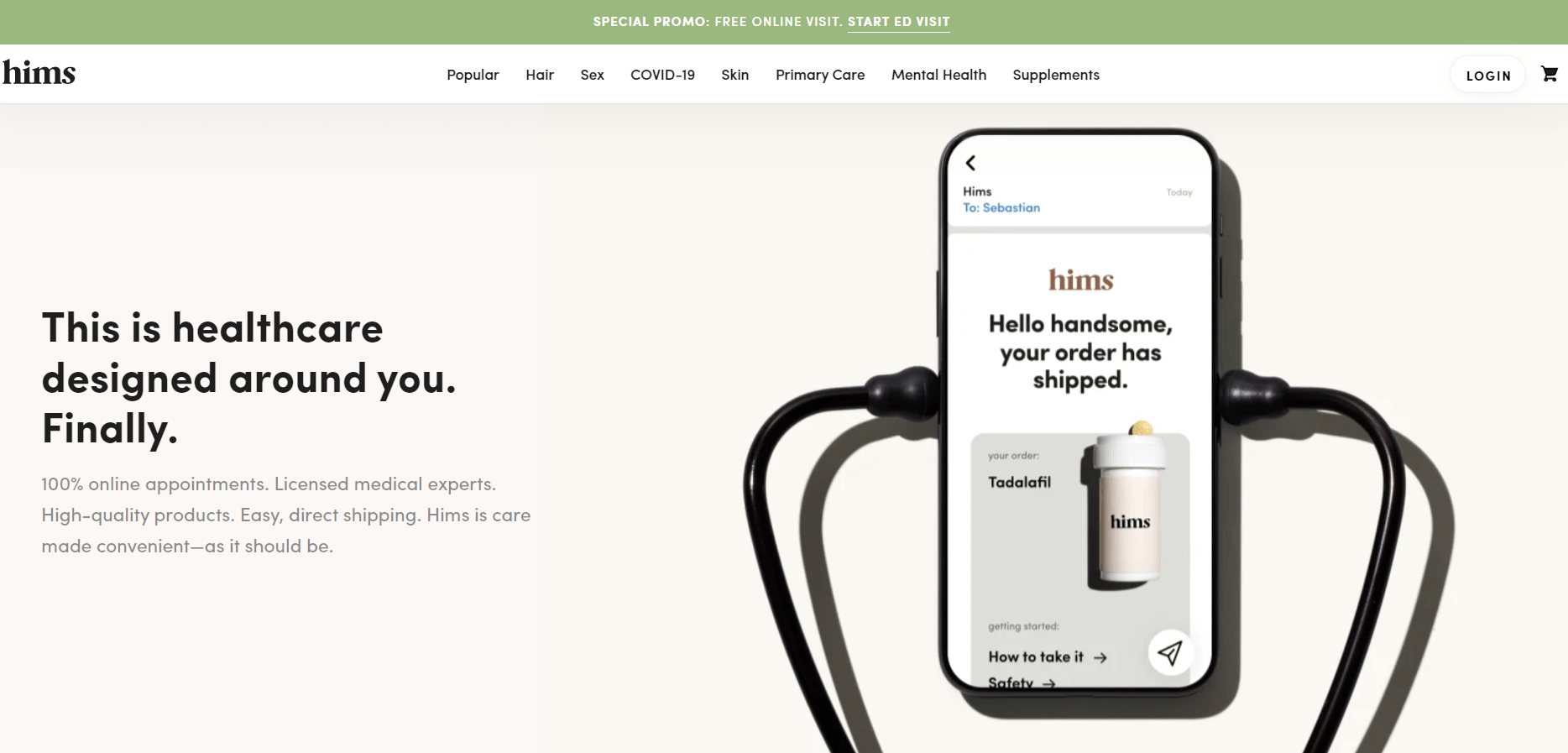 It's easy and secure to skip the visit to the physician's office by connecting with an online medical expert today. You need a trusted & affordable online men's wellness platform. And this is where the ForHims review comes in. Let's get to know about the operation of the ForHims e-pharmacy, its legality, products it offers, etc. At the end of the article, we'll give a verdict on whether it is the best choice for your needs.
Subscription Pharmacy with an All-Encompassing Approach to Men's Wellness
ForHims (or Hims), a telehealth platform, is about men's wellness. It was created in 2017 and was later joined by its sister company Hers in 2018. It's the unique subscription pharmacy that empowers the male population to look and feel their best all the time by making it easy and affordable. It hopes to allow for a conversation that's currently kept secret. As a man, you aren't supposed to take care of yourself. However, that's ridiculous. Because the people who love you and care about you want you to take care of yourself, you should do your best – to be healthy and awesome. However, stop listening to the commercial ads talking about how to make yourself awesome. Do it yourself. That's an idea that Hims promotes actively.
Thanks to this e-pharmacy, men, from all walks of life, now have easier, swifter, and more affordable access to the various prescriptions, health products, & medical advice they need. This platform offers super things that men find hard to talk about. It's about healthcare designed around males with various needs. It offers 100% online appointments with a subscription to meet licensed medical experts capable of addressing all your wellness needs.
ForHims has a core purpose – men's care made convenient – as it should be. With the illustrious science, baldness, erectile dysfunction (ED), acne, and more can now be optional. Your full wellness is now taken care of. With a prime philosophy, prevention is more effective than denial. Hims has simple solutions & science-backed health products for men. It offers various product kits to its shoppers & is striving to make healthcare straightforward to assist men to become proactive about their health. No need to deal with certain issues when simple, safe, and effective science-backed solutions exist.
Is ForHims.com a Legit Service?
Hims provides a variety of remedies as well as supplements, though their main focus is on ED & hair loss medicines. Its products are all 100% legit since it sources them from genuine manufacturers. Besides, these are approved by the Food and Drug Administration, which attests to their high quality. Still, Hims e-pharmacy takes every shopper's privacy very seriously. All customer data is 256 bit SSL/TLS encrypted, & it delightedly takes significant steps to keep every shopper's data secure.
ForHims is a licensed pharmacy & has an A+ rating from the Better Business Bureau (BBB). The reviews left on the BBB platform are mixed, meaning that it has its share of negative & positive reviews from various shoppers. This doesn't mean that the e-pharmacy is rogue. Most of its negative reviews focus on shipping and billing issues rather than the quality of the offered products. On Trustpilot, shopper testimonials are also mixed, but still, it has a high rating. Besides, ForHims is always ready to address every shopper's complaints, especially with refunds as well as other relevant solutions.
ForHims was built by real guys, many of whom are outstanding in their field in all things men's health. It has advisors from top world-recognized institutions Stanford and Harvard, who lead departments & research on various men's wellness topics. So, considering all the mentioned information, we can conclude that it is a legit service that can be banked on.
Grab Free Samples
Fast delivery despite covid. I got the samples just paid for the delivery. I did not know which type of pill work for me. So getting the samples seemed to be the best way to get what works for me. I have never had any problems with either the product, shipping or billing. They truly are the gold standard for ED medications.
Not sure what to order? Our friends from CialisBit offer a sample pack of the most popular ED pills (Cialis, Viagra, and Levitra) delivered by mail straight to your doorstep for free. The trial pack is already added to your shopping cart >>>
CialisBit is the real deal. Professional in every aspect of the business. You can order with confidence. Great customer service. Requests are promptly and courteously addressed. I think they have a great website, and products work as expected. I'm particularly pleased that they offer PayPal as an option to pay. Even though there is an additional fee, you can be assured that your credit card information will not be compromised. Most recent order arrived at my US address September 12, having been ordered August 30. Not bad at all considering the pandemic. I highly recommend this organization and hope they are here to stay. More TrustPilot reviews
Does Pharmacy Require a Prescription from Your Doctor?
Shopping for ForHims men's wellness products is seamless and simple. A doctor's prescription is not actually required, as it can be provided by a medical professional working on the site through consultation. Users create a profile linked to their government-issued ID to ensure full medical history is available if required.
Note that prescription meds must be purchased with a ForHims subscription plan that delivers a month's worth of meds 12 times a year. Nonprescription products can be ordered separately. With that said, certain medications available on the Hims platform can only be ordered with a prescription from a qualified medical specialist. To have access to any of the offered prescription products, a shopper has first to fill out a simple online assessment. Then he will be connected with a physician through the platform. If a doctor concludes a prescription product is suitable for him & writes a prescription, the shopper will receive information about his options for filling the prescription.
Product Line to Improve Sexual Life
For men seeking a well-researched and certified treatment for ED, ForHims stocks both generic & brand-name remedies for this condition. It also provides effective drugs for another sexual problem – premature ejaculation (PE).
Though on the market, there exist many meds & supplements guaranteeing to treat ED, ForHims focuses on 5 drugs approved by the FDA. These are as follows:
Viagra;
Sildenafil – the active ingredient of Viagra marketed as a generic ED med with same doses;
Cialis;
Tadalafil – the active ingredient of Cialis marketed as a generic ED med with the same doses;
Stendra (avanafil).
For PE, ForHims sells the following products:
Sertraline – the active component in Zoloft (an antidepressant);
Paroxetine;
Delay Spray containing lidocaine, which lessens the sensitivity of the penis.
Generic versions of popular ED meds Viagra & Cialis are offered for sale at a much lower price than their brand-name equivalents. Although inexpensive, they've still gone through a meticulous regulatory endorsement process to verify their effectiveness & safety.
What Other Types of Meds Are Presented Here?
Apart from PE and ED meds, ForHims offers prescription and nonprescription products to treat various health conditions. As for overall well-being, the vendor provides a line of gummy vitamins with numerous health benefits, from promoting sleep quality and increasing immunity to supporting heart health and achieving thicker hair, stronger nails, & better skin.
Hims sells various health products from the following categories:
hair (hair loss, hair care);
primary care (cold & flu, allergies, infections, and skin);
sex (herpes, sexual health);
mental health + performance anxiety;
skin (anti-aging, skin care, acne, and fragrance);
supplements (proteins & powders, teas);
COVID-19 (home saliva test & coronavirus symptom tool).
The platform also stocks asthma & migraines medication refills. Because Hims offers various products, including prescription meds, supplements, as well as alternative treatments, it's wise to use the product you desire as prescribed. Overall, Hims health products are generally safe & well-tolerated.
Available Promo Codes, Coupons, and Discounts at ForHims
While discounted prices are not available for all of Hims subscription products, customer-tailored promo codes may be offered from time to time at the ForHims e-pharmacy or on social media platforms, including Twitter, so keep an eye out if interested in getting such price-reducing goodies. Note that all of its kits & prescriptions are recurring monthly subscriptions, and promotional product prices typically only cover the first month. Afterward, while your subscription is active, you'll have to pay the full price for the product.
If there's a particular product or kit you're after at the Hims website, feel free to reach out to it, and the vendor will decide what it can do to fulfill your desire! In case you need to be informed, one of the most important ForHims savings tips includes a free consultation with a medical specialist licensed in your state (the USA) when you visit the website to get fast, discreet, & convenient telehealth services.
Still, a shopper can get special customer-tailored offers delivered directly to his inbox after creating a free account on the ForHims site. You can also keep checking the specific product page on its platform to take advantage of one-month-free offers linked with ForHims products. The most paramount is to take a look at the e-pharmacy home page to view the current coupon banner specials as well as promotional offers that the platform is currently running, as these change regularly.
What Payment Methods Does This Site Accept?
As specified on the website, Hims accepts all major credit cards. By and large, a credit card is easily the most secure & safe mode of online payment. It generally uses online security features like encryption as well as fraud monitoring to keep shopper accounts & personal info safe.
However, today, a high percentage of people prefer to shop online using PayPal & bitcoin. The latter is a legitimate way to take payments online. It's a payment solution that allows shoppers to check out online with prime advantages such as greater simplicity in transacting the payment, anonymity, no interruptions from intermediaries, as well as very low transaction fees. Some e-pharmacies often encourage their shoppers to use bitcoin during checkout with a lucrative discount – as high as 30% off. Unfortunately, Hims doesn't accept this payment option.
Shipping Information
Hims shipping is free to all the destinations within the USA. Shopper order is typically shipped after a prescription is written & arrives in a few workdays – usually 5 to 7 business days. Unfortunately, ForHims doesn't currently offer international shipping. This platform is only available to all US states. However, select Hims remedies are also offered for sale in the UK. Psychiatry is available in select states.
For shoppers residing in New York City or Minneapolis & placing a Primary Care order via the ForHims e-pharmacy, it's best to look out for the option to select Capsule as their pharmacy option for free same-day shipping in these areas.
At the time of writing this review, ForHims doesn't offer custom parcel shipping options or expedited shipping. It fulfills orders using either USPS or UPS, depending on the product purchased. After your order is shipped, an email with a link to tracking info is sent to your mail. You can also find your tracking info by logging into your Hims account & clicking orders.
If your order isn't delivered within 5 to 7 workdays as promised or if your kit arrives but is in a damaged condition or missing an item you ordered, Hims encourages you to reach out to it & let it know so that it can help you. Its team will perform everything it can to track down your purchased products or get an equal replacement out to you as soon as possible!
Almost all of its products are shipped in a brown corrugated box with the label "Hims" on one side. The exception to this is prescription meds for ED, which are delivered in discreet packaging. The name of the company is still visible on the shipping label, and most of the products have the website address & the "H" brand logo.
Refund Policy
As indicated by Hims, a subscriber is free to cancel, postpone, or snooze the subscription plan at any time. However, a 48-hour notice is required before the next order is set to process. Still, Hims can't guarantee refunds for any cancellation requests received after the e-drugstore has processed the order.
From Hims, refunds per the money-back guarantee can only be requested between the following listed days (the refund period) for these specified products:
Finasteride bought between 90 and 180 days;
Sildenafil ordered between 60 & 120 days;
prescription acne or anti-aging creams purchased between 60 and 90 days.
Furthermore, a shopper is eligible for a full refund of the prescription product if the following conditions are satisfied:
the product has been used consistently as directed by the physician up to the refund period;
the shopper submitted a refund request to the email support@forhims.com along with the order number any time within the refund period after the parcel was delivered.
Note that the refund request isn't accepted outside of the refund period. Still, refunds are made to the payment method used to make the original purchase during checkout. You may also be requested to return any remaining purchased product. Take note that returning shoppers who sign up through the ForHims platform again aren't eligible for a refund.
Other Features of ForHims.com
Judging by looks alone, Hims has a visually attractive & highly functional website with easy navigation. However, it has another good feature that makes it stand out. It's about its blog section with an attention-grabbing headline – Savoir Faire. It provides first-rate news about various men's wellness topics including grooming, hair, lifestyle, mental health, primary care, psychiatry, science, as well as sex. By visiting the Hims informative blog, you'll discover more about men's health. It's loaded with useful information related to various health problems, treatments for them, side effects associated with the drugs available on the platform, their modes of action, etc.
Pharmacy Location & Contact Information
ForHims is located in San Francisco, CA, United States. It is part of the Personal Care Products Manufacturing Industry. For any queries, Hims can be contacted via its phone number +1 800-368-0038. If you're a shopper seeking support, you can reach out to it via email using contact@forhims.com. For media only, Hims can be contacted via press@forhims.com. This email can't be used for customer service inquiries. Because press@forhims.com goes to a third party, it is advisable not to send any personal, medical, or health info in any case to this address. Support inquiries can't be addressed.
Hims also offers a 7 days/week live chat available from 5 am to 8 pm PST. If you need to use a live chat to communicate with a representative, just click the Help bubble in the bottom left corner of the screen.
Besides, if you are a social media user and prefer to communicate via a DM, Hims can be reached via Twitter (@askforhims), Facebook (www.facebook.com/wearehims), and Instagram (@hims). To ensure there's smooth communication, what you only need to do is include your shipment number or order ID in the private message if you have queries about a subscription plan or an existing account.
Our Rating
As a telehealth provider & an accredited e-pharmacy dispensing only FDA-approved meds, ForHims is the first-rate platform for many men who want to take charge of their wellness and lead a happy & fulfilled life. While some may consider that it's okay to visit a local pharmacy for all their wellness needs, including a search for ED remedies, many men will find it to be a safe, private, convenient, and low-fuss way to get the treatment & meds they desire via a legitimate pharmacy like ForHims.com. It's a one-stop wellness shopping platform for men that allows them to consult with a licensed physician & receive a prescription before subscribing to the desired plan to get the ideal medication delivered monthly to their home address without any hurdles. What is our verdict on ForHims? Although the subscription may seem expensive compared to several other generic drug providers and a one-time $5 medical fee is charged with the shopper's first purchase, we give Hims a rating of 4.5/5.