Every day, new pharmacies keep popping up here and there, each promising to offer the best prices, fastest shipping, and excellent customer service. While a couple of them may be actually legit, there's really no way to confirm it other than to try them out. But this can be risky, and expensive too. This is where evidence-based research and review content such as this piece come in handy. We take the risk of finding the best pharmacies, so all that's left for you to do is buy!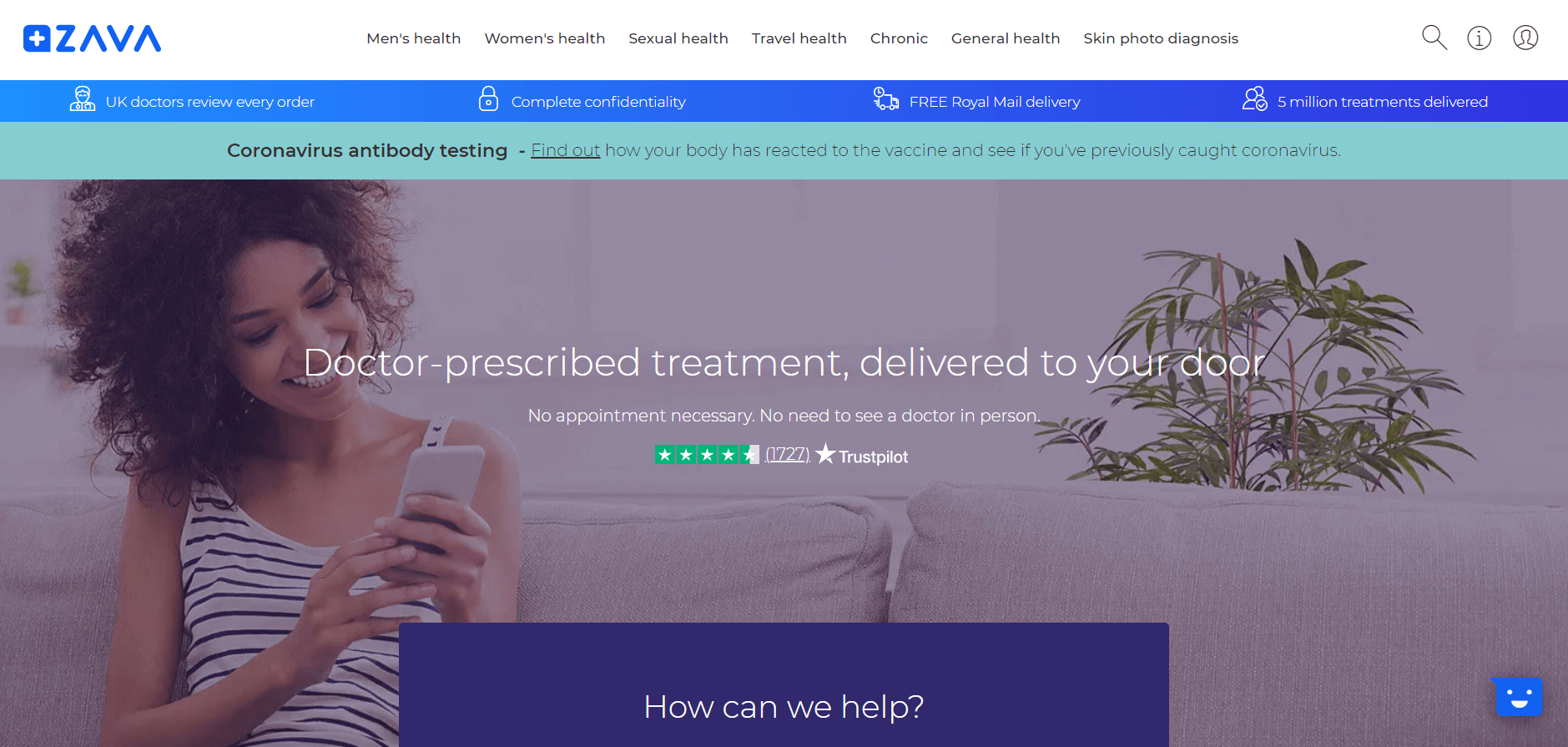 Today, we will be reviewing ZavaMed pharmacy, and by the end of this article, you'll know whether it is worth your money.
Reliable E-Pharmacy with Online Doctor Service
We won't even beat around the bush here: ZavaMed looks top-notch, from the look and feel of the website to its flexibility and ease of use. In fact, if user interface or user experience (UI/UX) was all that mattered when it comes to determining the trustworthiness and reliability of an online pharmacy, we would have awarded it 5 stars straight up. But there's more to consider, so let's proceed.
In the area of reliability, it is safe to say that the pharmacy is one you can bank on in times of medical need. For starters, it provides remarkable customer service, typically responding to queries within a period ranging from just a few minutes to 24 hours. This is actually fast, especially when compared to many other pharmacies we've reviewed in the past.
Furthermore, the vendor offers a consultation service. Thus, customers who aren't sure about their medical condition and what drug to take can put a call through, and they'll be linked with a doctor who'll diagnose and prescribe them medication. The doctors on the platform are equivalent to a general practitioner (GP) and are in fact certified by the General Medical Council (GMC).
ZavaMed makes the medication buying process really easy; so instead of booking and attending an appointment with a doctor and paying a visit to a physical pharmacy to fill a prescription, you could just do everything remotely online.
Is It Legit?
Yes, ZavaMed is legit, and there's enough evidence to back this up. First of all, you can tell that the pharmacy stands out merely for the quality of its website. The look and feel of a website say a lot about the company it represents, and the platform of ZavaMed not only looks awesome but also is functional and easy to navigate. In most cases, fake online pharmacies are usually poorly built and lack features that support customers. Features such as a FAQ page, easy access 24/7 to well-trained customer service agents ready to help, etc. Fortunately, it's not about ZavaMed. It provides all these features and even more.
Furthermore, the online pharmacy is authorized and regulated by the Care Quality Commission (CQC), a body that checks, through ongoing monitoring and inspection, that standards are being met. It is also registered with the General Pharmaceutical Council (GPhC) under the registration number 9011147.
Did we forget to mention that the pharmacy is certified by LegitScript, a company that inspects and reviews websites to make sure that they meet its benchmark for legality, transparency, and safety? That's correct! ZavaMed is also featured in The Guardian, The Huffington Post, Forbes, London Evening Standard, and The Daily Telegraph. It's simply next to impossible for a fake establishment to be featured in these news aggregators.
Furthermore, the company only sources its meds directly from official trustworthy manufacturers and suppliers. Thus, it is a given that the pharmacy is legit and can be trusted to offer premium healthcare service.
Does the Pharmacy Need a Prescription from Your Doctor?
Yes, ZavaMed requires a prescription, but not necessarily from an external doctor. One of the advantages of this online pharmacy is that every single process can be done at a spot, in-house. Thus, buyers can get a prescription from the pharmacy's in-house GMC-certified doctors.
Here's what getting a prescription and buying meds at ZavaMed entail. The first step taken typically involves visiting the website and completing a questionnaire form that includes health-related questions that may vary depending on the type of drugs looking to be purchased.
For context, here are some questions individuals looking to purchase erectile dysfunction meds are typically asked:
Do you have any problems getting an erection or keeping one as long as you want to?
Have you used any erectile dysfunction medication before?
Have you ever had a painful erection?
In the last 6 months, have you been told by a doctor to avoid physical or sexual activity?
After providing answers to the questions, a new page pops up where you can select your preferred treatment option. Here you'll find different variants of the medicine you intend to buy. At this point, you can ask for a doctor's recommendation if you aren't exactly sure what you need.
At the end of this list comes an option to have a telephone consultation with a doctor to help determine if the drugs are right for you. This feature comes in handy if you haven't consulted with an actual doctor about your condition and do not have a prescription. Right after that, the delivery page pops up, and you'll need to select a shipping option. Next, you'll be required to create a patient account so that you can make payment for the order, and the items will be shipped fast and discreetly to the address you filled.
Quality Drugs to Improve Sexual Life
ZavaMed offers a wide range of sexual enhancement drugs, including erectile dysfunction (ED) and premature ejaculation (PE) meds. Its products range from brand name medications to their respective generic versions. The available ED and PE pills in the pharmacy are as follows:
Sildenafil;
Tadalafil;
Viagra;
Viagra Connect;
Cialis;
Spedra;
Cialis Daily;
Levitra;
Priligy;
Emla Cream.
The generic products on the list such as Viagra Connect generally cost less than the branded versions. The quality of the drugs ZavaMed offers is high, and customer reviews and ratings are a clear indication.
Other Categories of Drugs at ZavaMed Pharmacy
ZavaMed pharmacy sells a wide range of medications for treating various ailments and not just drugs for ED and PE. The meds offered by the pharmacy are categorized into men's health, women's health, sexual health, travel health, chronic conditions, and general health.
The pharmacy has so many drugs, and you can locate them easily by typing their brand names into the search bar provided in the top right-hand corner of the webpage.
Discount Codes and Special Offers
Everyone loves to save as much as they possibly can on every purchase. Unfortunately, ZavaMed doesn't provide a lot of special offers. At the moment, it only provides 20% off its customers' first purchases. This discount can be redeemed at the checkout page, but unless you're buying absolutely for the first time on the platform, it will not be available to you.
Unlike some other online pharmacies, ZavaMed has no page dedicated to information about deals, bonuses, discounts, or coupons, and thus customers have to contend with the full price for products after redeeming their first coupon code. Luckily, the pharmacy's prices are fair, especially when compared to a couple of other legit online vendors.
How Are Payment and Delivery Carried Out?
One of the most important things to consider after determining the legitimacy of an online pharmacy is the methods of payment it accepts. Are they flexible, secure, and fast? These are a few questions you should ask before going ahead to make a purchase.
ZavaMed also does well in this aspect, as it accepts multiple payment methods. However, the options vary slightly from location to location. For example, in the UK, Ireland, and France, it accepts only credit cards (Visa and MasterCard), whereas it accepts a wider range of payment methods such as PayPal, credit cards (Visa and MasterCard), and Klarna in Germany.
Furthermore, it is worth noting that the pharmacy currently only accepts and delivers orders from the UK, France, Germany, and Ireland. It ships parcels via Royal Mail, and interestingly, all the parcels are trackable. The pharmacy usually sends several emails ranging from confirmation emails to emails notifying the buyer of the location of the parcel so they can tell where it is from time to time.
There are options for free shipping such as the free standard delivery, which takes within 48 to 72 hours, and the free next-day Click & Collect, which typically delivers the next working day to any Royal Mail post office of the customer's choosing.
There are also paid shipping options that deliver within a specified time. They include the next-day express delivery, which fulfills orders around 1 pm the next working day (Monday to Friday), and Saturday delivery, which can deliver by 1 pm on Saturday if the order is placed by 4 pm on Friday. The shipping fees for both shipping methods are £3.99 and £7.99, respectively. However, it is worth noting that shipping times and the available shipping options may vary due to drawbacks caused by COVID-19. You can always contact customer service to confirm the estimated delivery time before placing an order.
And just in case you're wondering, ZavaMed fulfills all deliveries in discreet packages (white boxes) that only feature your address and the company's return address but not its name. Thus, no one would be able to tell the content of the box or where it has been sent from. Note that you'll need to show your order tracking number (which will be sent to your account) and proof of ID at the point of receiving your order.
Order Reshipment and Refunds
After confirming the legitimacy of an online pharmacy, its delivery options, and payment methods, another important thing to confirm is if it insures customers' orders. By insurance, we mean, will it provide a refund or reship a parcel if it gets damaged in transit?
ZavaMed actually provides refunds and reshipment. All customers need to do if they receive a damaged consignment is take a photo of it and forward it in a message alongside the order number. The company typically offers a refund after it has examined the photo and confirmed what went wrong.
At this point, it is worth noting that there's a possibility that the company's doctor may not approve your order, even after payment. This mostly happens in cases where the doctor feels that they need to discuss and examine a patient in more depth in order to prescribe an ideal treatment. In such situations, the pharmacy typically provides a refund accompanied by a message describing why it was not able to help.
Customer Referral Program
ZavaMed runs a referral program. However, it does it in a way quite different from how many other online pharmacies run theirs. Here's what the process looks like.
The pharmacy offers a referral code to buyers after they've placed their orders and the orders have been approved. The buyers are typically notified of order approvals via email or their patient dashboard that's automatically created upon registration. After that, the buyers, who may now be called referrers, can then share their referral codes with family and friends via social media platforms like Facebook, Instagram, WhatsApp. However, the pharmacy frowns at sharing acquired referral codes on coupon sites and considers it a breach of the agreement.
Referrers can refer as many people as they want, but the referees must be fresh individuals who must never have placed an order or have no active account with the pharmacy. Referral codes can only be used once by each referee, and thus subsequent orders attract no bonus or reward to the referrer.
But what do customers who join the referral program stand to gain? Well, they stand to gain a personal reward discount code. With the discount code, they can acquire certain products without paying the full price.
It is worth noting that the discounts only apply to the prescription and test kit costs. Thus, the discounts do not cover prescription-only medications.
Other Features of This E-Pharmacy
Some other features of this e-pharmacy that make it stand out are its information-rich blog section and skin photo diagnosis feature. ZavaMed provides lots of priceless info collected to help its customers learn about diseases they may be suffering from, available treatment options, including how to get certain drugs on the National Health Service (NHS).
Its skin photo diagnosis service allows individuals to get a diagnosis or advice to treat a skin-related condition they might be suffering from. All the customer needs to do is send a photo of the affected area to any of the pharmacy's doctors, and the diagnosis will be sent within 24 hours. This feature costs £19.95 – a small price to pay for a service that helps save time and energy. Note that the skin photo diagnosis doesn't cover moles, as they typically need to be physically seen and felt before an accurate diagnosis can be made.
ZavaMed Location and Contact Info
ZavaMed is located at 46 Essex Rd, London N1 8LN, United Kingdom. It can be contacted via call on 020 3808 3239 and email at hello@zavamed.com.
For purposes other than purchases or inquiries relating to health conditions the pharmacy can be reached via call on 020 3588 0291. It can also be reached via fax on 020 7149 9962.
Our Rating
ZavaMed is an awesome online pharmacy you can bank on for an exceptional e-consultation service and high-quality medications for treating a wide range of diseases.
If you're looking for a nice place where you can order erectile dysfunction medications and other meds that are a little bit challenging to buy in public and have them shipped discreetly to your home, you can trust the pharmacy. There's no question about how legitimate it is, as it is registered with necessary health regulatory bodies and strictly adheres to global standards of operation.
The pharmacy is generally trustworthy and reliable, and we would have given it a 4.9-star rating (we don't believe in perfection) if not for a few drawbacks. One of the major issues we have with the pharmacy is the fact that it ships to a limited number of countries. At the time of writing this ZavaMed review, it doesn't ship to the USA, Canada, Australia, most European countries, etc.
Furthermore, ZavaMed's product prices are a little on the high side compared to vendors like ViaBestBuys and CialisBit, and it doesn't offer a promo code, voucher, coupon code, or any form of discount to help customers save, except for a first-order discount. Considering these drawbacks, we give the pharmacy a rating of 4.7.