Nowadays many people often turn to online pharmacies to get their medications without leaving their homes. However, it can be challenging to get the right vendor that offers authentic pills since many rogue e-pharmacies exist to defraud customers. But it can be the most suitable option if you get a legit vendor that can help you save big on any prescription med you need, even without using insurance.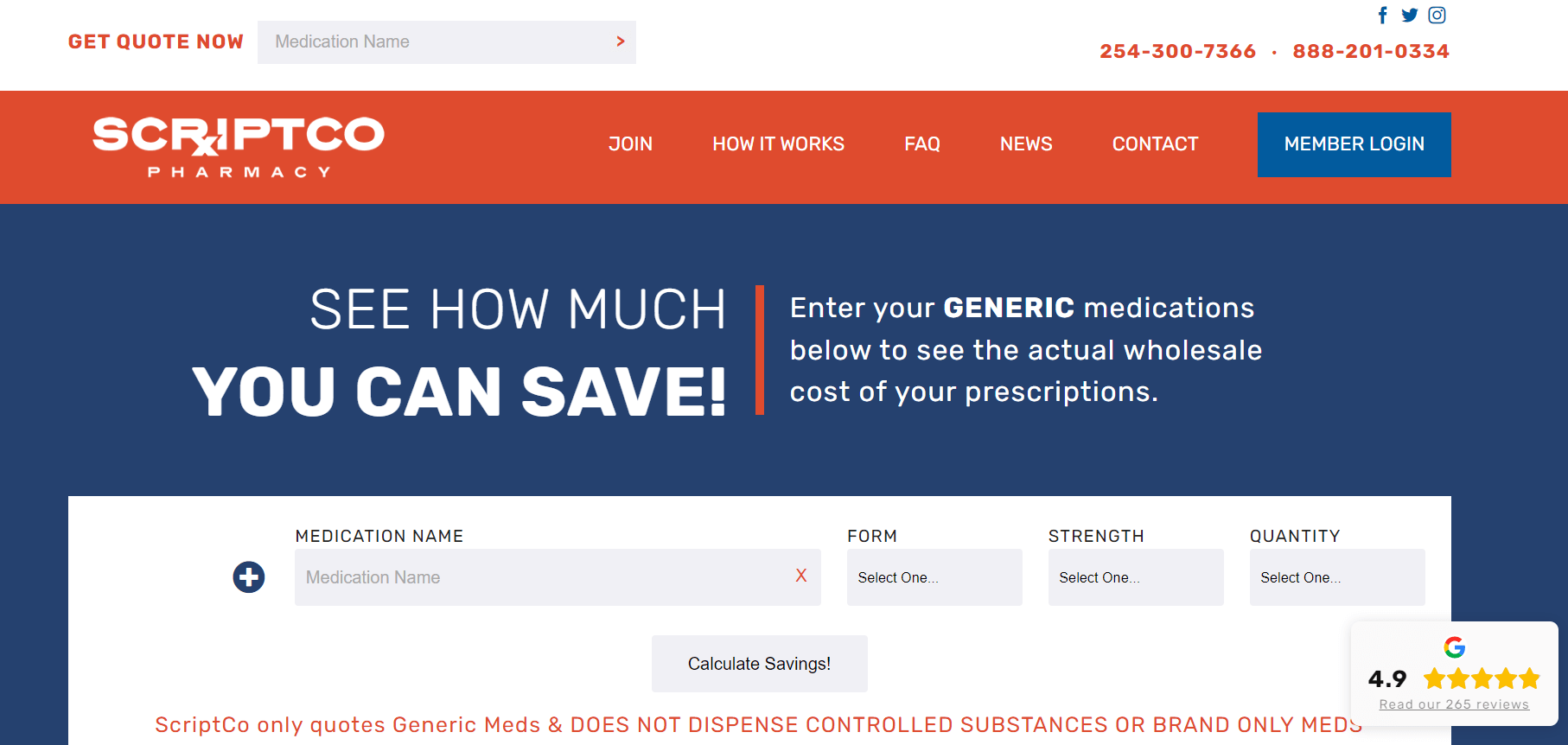 This is the case with ScriptCo.com, a revolutionary pharmacy that has hit the online realm. Many people wonder if it's a legit vendor that can be trusted. Hold your horses! This ScriptCo.com pharmacy review will help you know more about its operations, the drugs it offers, its shipping & return policy, and available discounts & coupons. At the end of the review, we'll give a verdict if the pharmacy is worth your money. Let's get started.
E-Service to Get Your Prescriptions at True Wholesale Prices
ScriptCo pharmacy is a first-of-its-kind, membership-based wholesale drugstore in the USA. It is attempting to revolutionize healthcare by simply offering generic meds at their actual cost with zero markups. As stated by the vendor, no pharmacy in the U.S. has done this kind of e-service until now. Besides, ScriptCo pharmacy's revenue only comes from memberships, not the meds it sells. With a membership cost of 38 cents a day, the platform offers transparency, cost savings, & an incredible user experience that its Google reviews reflect.
ScriptCo gives its shoppers a chance to pay wholesale prices for their meds. The vendor works outside of insurance, meaning nobody is informing it how much it has to mark up the meds it offers. ScriptCo co-founders Zach Zeller & Mark McCormick set out to disrupt the industry with an innovative drug payment model. They simply charge a membership (3 months for $50 or a year for $140), and then consumers pay the same cost the company paid for the wholesale meds. It seems so simple that it's a wonder no one else has tried it thus far.
A free pricing tool is available online to see how much you could save on your generic prescription meds before you sign up. ScriptCo helps thousands of Americans in 48 states, saving them $1,000 on average, compared to individuals with health insurance. For patients with multiple long-term prescriptions, paying the membership & the expense of the drugs out of pocket is oftentimes more affordable than purchasing them through insurance.
Is ScriptCo Pharmacy Legit?
Founded in 2019, ScriptCo is a Texas-based e-pharmacy with a team of staff pharmacists & a real pharmacy license. It has approval in 48 states except for Tennessee and Montana. Besides, LegitScript has reviewed ScriptCo as part of its certification program & has determined that the e-pharmacy meets their standards for legality, safety, & transparency. That implies that LegitScript monitor ScriptCo regularly.
Another essential thing that indicates that the e-drugstore is trustworthy is the sheer number of confirmed shopper reviews & testimonials it has on Google. Though it has a Trustpilot profile, it doesn't have any reviews there at the time of writing this guide. However, on the Google rating platform, it has 260+ reviews, and most of them are positive.
To further prove its legality, it has been a center of discussion on various media outlets, including the Today show on NBC. What about the e-pharmacy's contact info & location verification? Impressively, the contact details provided by ScriptCo pharmacy checks out. Indeed, the phone numbers connect, plus it has active social media channels such as Twitter, Instagram, & Facebook. Rogue pharmacies seldom have the time, resources, & manpower to keep an active social media presence.
Is It Possible to Order OTC Pills Here?
Ordering over-the-counter (OTC) drugs from ScriptCo isn't possible. The pharmacy can only fulfill a shopper's medication with a prescription from a valid prescriber located in the USA. If your prescriber prohibits the prescription request or ScriptCo isn't able to obtain your prescriptions for any other explanation, then the required order is held without charge until the order is filled. To get the med you need, only have your prescriber send in a new prescription via E-Scribe, fax, or telephone, and ScriptCo will do the rest & ship the package upon payment.
Grab Free Samples
Fast delivery despite covid. I got the samples just paid for the delivery. I did not know which type of pill work for me. So getting the samples seemed to be the best way to get what works for me. I have never had any problems with either the product, shipping or billing. They truly are the gold standard for ED medications.
Not sure what to order? Our friends from CialisBit offer a sample pack of the most popular ED pills (Cialis, Viagra, and Levitra) delivered by mail straight to your doorstep for free. The trial pack is already added to your shopping cart >>>
CialisBit is the real deal. Professional in every aspect of the business. You can order with confidence. Great customer service. Requests are promptly and courteously addressed. I think they have a great website, and products work as expected. I'm particularly pleased that they offer PayPal as an option to pay. Even though there is an additional fee, you can be assured that your credit card information will not be compromised. Most recent order arrived at my US address September 12, having been ordered August 30. Not bad at all considering the pandemic. I highly recommend this organization and hope they are here to stay. More TrustPilot reviews
Available Sexual Enhancement Tabs
Erectile dysfunction (ED) & premature ejaculation (PE) are reported as the most typical sexual problems in the world. Fortunately, ScriptCo offers some treatments to help manage these conditions. It sells generic ED meds including Viagra (sildenafil citrate), Staxyn & Levitra (vardenafil), and Cialis (tadalafil). If you require specific drugs to rectify your sexual health, particularly ED & PE remedies, ScriptCo is indeed your go-to option. It has the lowest price list ever!
Concerning PE, the Food and Drug Administration (FDA) hasn't approved any med for this condition. However, most physicians recommend taking oral meds including antidepressants such as selective serotonin reuptake inhibitors including paroxetine, escitalopram, citalopram, sertraline, or fluoxetine. Paroxetine appears to be the most efficacious. These meds commonly take 5 to 10 days to begin functioning, but it might take 2 to 3 weeks of therapy to see the complete effect. ScriptCo has these drugs for sale, and a doctor can recommend the best for you via a prescription.
What Other Types of Pills Are There?
Outside controlled substances, ScriptCo pharmacy sells nearly every kind of prescription. As a full-service e-drugstore, it fills only generic meds for various health conditions. Aside from ED & PE meds, the most notable categories of drugs the vendor offers include the following:
migraine meds such as Imitrex (sumatriptan succinate);
drugs for high cholesterol like Lipitor (atorvastatin);
pills for hypertension;
diabetes meds (both type 1 and type 2);
cream for psoriasis, e.g., Salex (salicylic acid);
acne meds like Monodox (doxycycline);
HIV meds such as Truvada (emtricitabine and tenofovir).
For any med you need, simply use a search bar available on the pharmacy's website. You only need to register and have a membership that you prefer.
Discount Coupons and Promo Codes
ScriptCo e-pharmacy functions differently from several other online drugstores. It doesn't provide any offers, promo codes, or coupon codes. According to its creators, they started ScriptCo with one purpose in mind: to assist individuals by offering transparency & access for all. By removing all disproportionate costs & not partnering with health insurance companies, the pharmacy can sell generic meds at wholesale price. The only margin ScriptCo makes is from its membership fees, not meds. So in this case, there is no need to add any discount or promo codes since you are paying the exact money the pharmacy pays to the drugmaker. The reason the pharmacy has opted to operate outside the insurance system is simply to avoid disproportionate costs like prior authorizations, formulary limitations, & day supply limitations.
What Forms of Payment Does the Pharmacy Accept?
Shoppers want to have ease of payment when checking out from an e-pharmacy. ScriptCo is cognizant of this aspect, as it accepts all major credit card payments, including FSA/HSA cards. As per the vendor, it's registered to accept FSA/HSA as an e-pharmacy. Nonetheless, your plan sponsor may not include "online pharmacies" under your plan. However, you're free to try your FSA/HSA card with ScriptCo, but if it declines, it's out of the pharmacy's control & is ultimately a limit set by your plan sponsor.
As a note, security is something to be aware of when looking to link a payment card to the vendor's website. ScriptCo e-pharmacy realizes this, as it has all its customer transactions secured with SSL encryption. As a consequence, the personal info of its users stays confidential & safe.
Shipping Options
ScriptCo members are entitled to obtain their meds with no shipping fee. These free shipments are sent via USPS First Class. The parcel delivery time is normally 1–5 working days. While annual memberships receive 4 free shipments per year, quarterly memberships get only 1 free shipment per quarter.
After using free shipments, a member or any non-member who desires to order from ScriptCo will have these options:
USPS First Class, which takes 1–5 working days and costs $6 per shipment;
USPS Priority Mail, which takes 2–3 working days and costs $10 per shipment;
UPS Expedited shipping (packages that include the refrigerated item(s) require this option), which costs $40 per shipment.
The online pharmacy sends a tracking number via email instantly upon shipping to all of its members. If you need to make changes to or cancel the order, the e-pharmacy request you to contact it. Orders made from this vendor can't be canceled once shipped.
Return Policy
Reshipments & refunds are paramount services e-drugstores ought to provide to their shoppers. Certainly, if the vendor is willing to take the offered health products back, it assures consumers that the meds it sells are of high quality. Regardless, according to ScriptCo.com, by law, it doesn't accept the returns of any prescription meds it offers. If you do require to dispose of your meds, you have to contact your local pharmacy to ensure if it accepts free pharmaceutical disposal.
What Are the Other Features of ScriptCo.com?
The e-pharmacy has some great features that are of immense benefit to its customers. The foremost feature of ScriptCo is its FAQ section. It provides in-depth answers to most questions that first-time customers are likely to have. The vendor also has a News/Videos section where it provides valuable info & tips to assist its shoppers to make an informed shopping decision. Further, the pharmacy has instructions on how it works. For more info about the vendor, visit its site.
Pharmacy Location & Contact Information
ScriptCo.com is a pharmacy that's tailored to its members. Customer support is available to assist you Monday through Friday from 8:30 am to 5:00 pm CT & Saturday from 8:30 am to 10:00 am CT.
Besides, you can contact the pharmacy via Twitter, Facebook, & Instagram social platforms. You can also reach out to ScriptCo using its contact page just by filling out the form given. One of its customer service representatives will contact you within 24 working hours. Other contact details include the following:
phone: 888-201-0334 or 254-300-7366
email: info@scriptco.com
Its physical address is as follows:
6916 Woodway Dr.
Woodway, TX 76712
If you are part of a media organization & would like to get more info on ScriptCo, just contact it at press@scriptco.com.
Our Rating
ScriptCo is a trustworthy & respected e-pharmacy offering a wide variety of health products, all of which are genuine since it sources them from FDA-approved manufacturers. Now, what is the ScriptCo pharmacy rating? The e-drugstore delivers unparalleled services in the pharmaceutical realm. It's without a doubt the first and only membership-based wholesale pharmacy in the USA, serving 48 states. Based on our pharmacy rating indicators, ScriptCo deserves a 4.9-star rating. The e-drugstore doesn't have an app, meaning that all orders are made via the platform, but it provides other amazing benefits most customers will like. If you reside outside the USA & want to select another outstanding vendor, you can have a look at other legit & trustworthy online pharmacies we've reviewed on our website.