On the Internet, you can find several online reviews & testimonials of treatments from BlueChew. Most people are wondering if it is legit or a scam. Before we go any further, we should explain what BlueChew actually is if you've never heard of it. First of all, it isn't certainly a product but simply the name of the official website – BlueChew.com.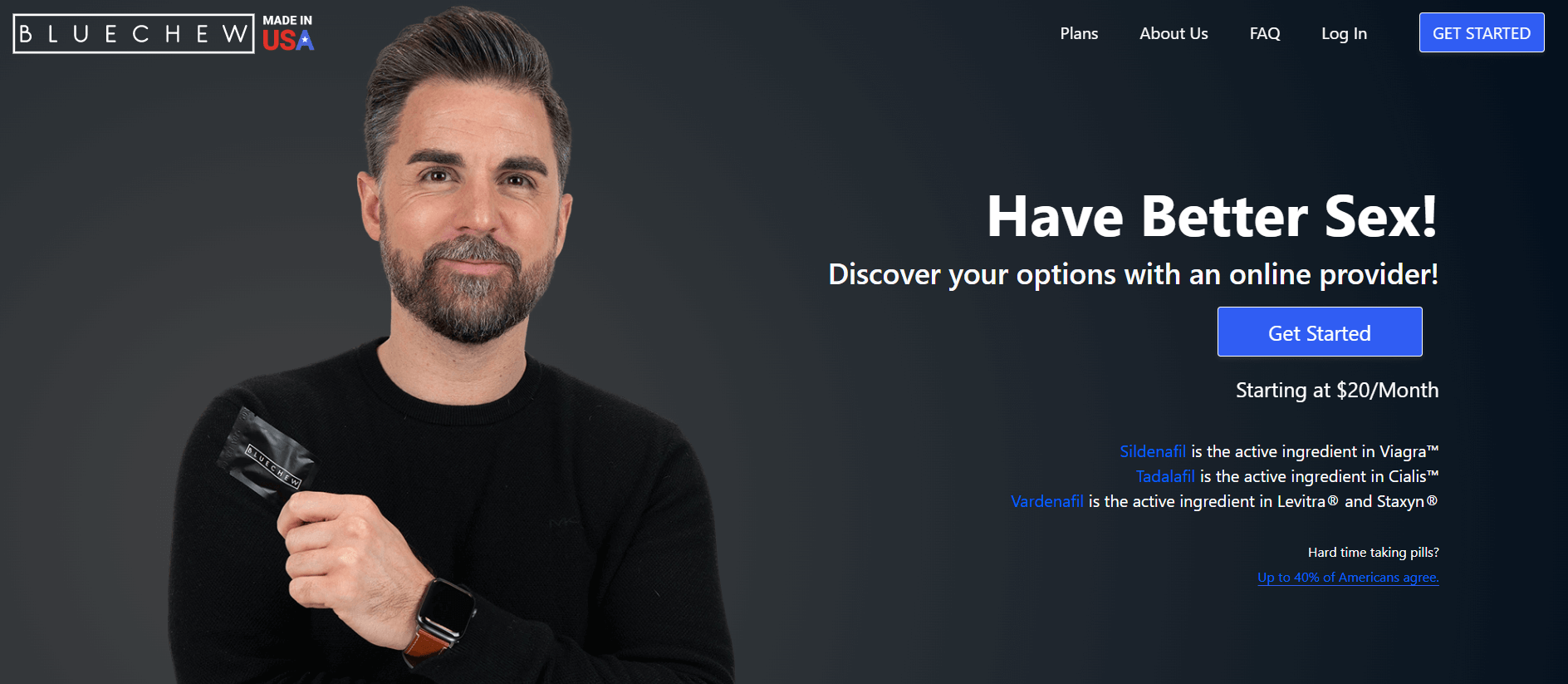 In this BlueChew.com review guide, we'll examine what this company is all about. We'll give you the info on whether it's legitimate, what health products it offers, its shipping & refund policy, & whether it's something great you should even consider relying on. Let's dive in.
Internet Portal That Offers Complete Treatment Without Leaving Home
BlueChew is a US-based company that offers innovative new health products to combat symptoms of erectile dysfunction (ED). It's a unique telemedicine service formed in 2014 to assist men to gain access to medical providers. The company believes healthcare doesn't have to be costly, embarrassing, or inconvenient. Members of BlueChew get access to a medical team qualified in diagnosing & treating US patients with custom remedies for fuller & longer-lasting penile erections.
BlueChew tech, business, & support teams focus on allowing access to prescription ED meds made in the form, flavor, & dosage that are best for every patient. The service requires no in-person physician visits or medical tests. A shopper receives the desired med after having gone through a diagnosis from the convenience of their own homes.
Is BlueChew.com Legit?
At this point, you might wonder whether BlueChew is a legitimate vendor or just another scam on the market. To prove its legitimacy, LegitScript has reviewed this online pharmacy & granted it probationary certification status. It has received this status because its current business practices appear to meet LegitScript's certification criteria for safety, legality, & transparency. The pharmacy is also accredited by Better Business Bureau (BBB) with a rating of A+.
It's important to note that the products it sells contain FDA-approved active ingredients. If you've been prescribed its remedy & given the consent to buy it by a licensed medical provider at BlueChew, it's entirely safe for you to consume. According to the company, all members of the BlueChew medical team are well-prepared & certified by the American Board of Family Medicine. Consequently, you don't need to worry about the people behind the screen that work to help you get the needed med. They all have genuine licenses. Besides, the company uses a stringent qualification process when it chooses medical providers. Why? It should be certain that its shoppers have the best experience in discovering the right products that ultimately suit their needs.
With that being stated, BlueChew company turns out to be thoroughly legit, and there is no deception behind it when it comes to reaching the desired results, as well as boosting sexual pleasure.
Grab Free Samples
Fast delivery despite covid. I got the samples just paid for the delivery. I did not know which type of pill work for me. So getting the samples seemed to be the best way to get what works for me. I have never had any problems with either the product, shipping or billing. They truly are the gold standard for ED medications.
Not sure what to order? Our friends from CialisBit offer a sample pack of the most popular ED pills (Cialis, Viagra, and Levitra) delivered by mail straight to your doorstep for free. The trial pack is already added to your shopping cart >>>
CialisBit is the real deal. Professional in every aspect of the business. You can order with confidence. Great customer service. Requests are promptly and courteously addressed. I think they have a great website, and products work as expected. I'm particularly pleased that they offer PayPal as an option to pay. Even though there is an additional fee, you can be assured that your credit card information will not be compromised. Most recent order arrived at my US address September 12, having been ordered August 30. Not bad at all considering the pandemic. I highly recommend this organization and hope they are here to stay. More TrustPilot reviews
Does This Drugstore Require a Prescription?
Certainly, telemedicine makes it possible for an online subscription retailer such as BlueChew to sell authentic prescription medication. In this case, you don't need a doctor's prescription to use the platform. BlueChew physicians write prescriptions via their online consultations.
The procedure to obtain a diagnosis is relatively easy & straightforward. Individuals should create an account via the BlueChew.com login page & answer some questions connected to their medical history. These questionnaires are then transmitted to a state-licensed physician who determines if you're eligible for therapy with BlueChew products. Generally, this approval process is normally completed in approximately 24 to 48 hours. Following approval, users are requested to select a plan that works best for them.
Good Pills to Improve Sexual Force
Looking for ways how to stop sexual dysfunction such as ED? BlueChew offers unique chewable treatments to help men get stronger and longer-lasting erections. It is a full-service telemedicine brand that delivers tabs with the same active ingredients as in Viagra (sildenafil), Cialis (tadalafil), & Levitra (vardenafil) for a fraction of the cost. The chewable ED meds are perfect if you don't like swallowing pills. They taste good since they contain flavorings that give them a sweet taste similar to candy.
Premature ejaculation (PE) is another sexual problem in which ejaculation happens much sooner than a man or his partner would want during sex. The condition might be frustrating, as it makes sex less pleasurable & affects relationships. Unfortunately, BlueChew doesn't offer meds to treat PE symptoms.
Other Medication Categories on the Website
Although Bluechew has a great reputation for providing authentic ED meds, it doesn't offer other categories of drugs. Most people would like to rely only on a legit vendor that exists to serve all their health needs, and BlueChew would have been an ideal pharmacy. Nonetheless, it solely serves men who are incapable of tolerating commercially available ED tabs such as super expensive Viagra & don't want an in-person doctor's visit to get an ED remedy.
Possible Promo Codes, Coupons, and Discounts
BlueChew offers a variety of plans that include sildenafil 30 mg or 45 mg chewables, tadalafil 6 mg or 9 mg chewables, & vardenafil 8 mg chewables. These plans start at $20 monthly plus shipping & handling. For instance, 6 tabs of sildenafil 30 mg cost $20, while a pack of 34 tabs of sildenafil 30 mg is priced at $90. The higher the dosage, the more expensive plan.
BlueChew company tries to keep the drug price reasonable by never charging for a healthcare provider's appointment & patient support. However, it doesn't offer any price-lessening customer experiences with the use of a promo code, coupon, or discount. This shouldn't be your biggest concern since its meds are indeed super cheap.
However, BlueChew e-pharmacy offers a special program called the Heroes program. It's available for all active & retired members of the military + first responders. In this regard, they are qualified to obtain $20 off their first order + a 20% lifetime discount on all BlueChew services. The process involves signing up & verifying the Military ID or first responder documentation.
Available Payment Methods
BlueChew recommends its shoppers to purchase its products using their HSA cards (it accepts MasterCard, Visa, American Express, & Discover). As stated by the vendor, it urges its buyers to note that each HSA is different & reimbursement may or may not occur. In this case, the company highly recommends the customer to speak to the HSA provider to discuss what is or is not covered, based on their policy.
Shipping Options
BlueChew ships products to most US locations via the U.S. Postal Service. The e-pharmacy is working diligently to provide its services in most states, but it doesn't ship to North Dakota and South Carolina. Also, BlueChew doesn't ship internationally.
As revealed by the online pharmacy, if you presently live in a state that it doesn't ship to & would like to be informed when delivery of its remedies will be available, you just need to share your email address on the "Register" page of the website, and it'll inform you when it starts shipping to your location.
BlueChew offers an overnight parcel shipping option. This method is available if the order is placed before noon CST Monday–Thursday. Nonetheless, if overnight product shipping is chosen, and the order is placed outside the above-given time, it will still be processed as overnight shipping, though the order won't be shipped until the next working day. In this regard, a shopper receives an email containing tracking info as soon as it ships.
According to BlueChew, it can't offer overnight parcel shipping if the ordered medicine is being shipped to a military base and/or a P.O. Box. If you require any help, please reach out to its support team. Take note that the company ships all its products in non-branded kraft mailers.
BlueChew's Return and Refund Policy
According to the BlueChew pharmacy, prescription treatments can't be refunded or returned. However, if you truly believe there is an issue with your drug subscription, just reach out to the pharmacy support team, and it will evaluate other suitable health treatment options. The pharmacy offers a complete repayment (minus shipping costs) if asked within 30 days of the parcel shipping date.
Other Features of This E-Pharmacy
Besides all that we've covered so far, BlueChew online pharmacy has some amazing features that are of tremendous benefit to its customers. The foremost one on the list is the remarkable blog section it has on its website. It provides valuable info & tips to help shoppers lead a healthy life & build confidence in the bedroom. Another great feature of the e-pharmacy is the FAQ section. It provides in-depth answers to most questions that first-time buyers are likely to have.
Drugstore Address & Contact Details
For more info or general queries, the BlueChew e-pharmacy offers 24/7 online customer support via phone number (970)GET-BLUE or (970)438-2583 or email support@bluechew.com. The e-drugstore has also added their fan mail for pro subscribers: thankyou@bluechew.com. Further, for partnerships, the pharmacy can be reached using the email: partner@bluechew.com. The vendor can also be contacted via an online chat available on the website. Besides, it also has a presence on Facebook, Twitter, & Instagram.
How about the pharmacy location? It doesn't disclose its address on its website. However, according to its BBB profile, it's located at 345 N Canal St Unit 202, Chicago, IL 60606-1201.
Our Rating
This guide has covered everything you need to know about BlueChew online pharmacy. With its products, you no longer need to buy big brands like Viagra to improve your ED symptoms. Chewables from BlueChew offer the same effects as branded drugs such as Cialis and Levitra and even have additional benefits, such as the swifter onset of effects & ease of use. If you're having trouble keeping your penile erection, sildenafil or tadalafil can ultimately help you.
What are buyers saying about the e-pharmacy? Consumer reviews on the BlueChew website are typically positive. Some users report advancements in penile erections & sexual confidence. Nevertheless, other reviews state that the meds were ineffective and their taste was off-putting. Besides, its Trustpilot profile has a very low rating of 3.1 out of 5 based on 9 reviews. Another downside is that it serves just US residents and doesn't offer international shipping. If you reside outside the vendor shipping destinations & want to choose another exceptional platform, you can have a look at other legit & reliable e-drugstores we've examined, such as CialisBit or ViaBestBuys, which even offer trial packs containing free samples of popular ED drugs. Well, based on our pharmacy rating criteria, we give Bluechew a rating of 3.5 out of 5.