The scope of online drug shopping, as well as the sheer number of e-drugstores, has grown significantly in the last couple of years. The main reason was COVID-19. Impressively, e-pharmacies can offer the same array of services as offline drugstores, and many even offer perks like extraordinary savings & even overnight delivery. With all the available choices, it's easy to get overwhelmed by deciding what vendor to select.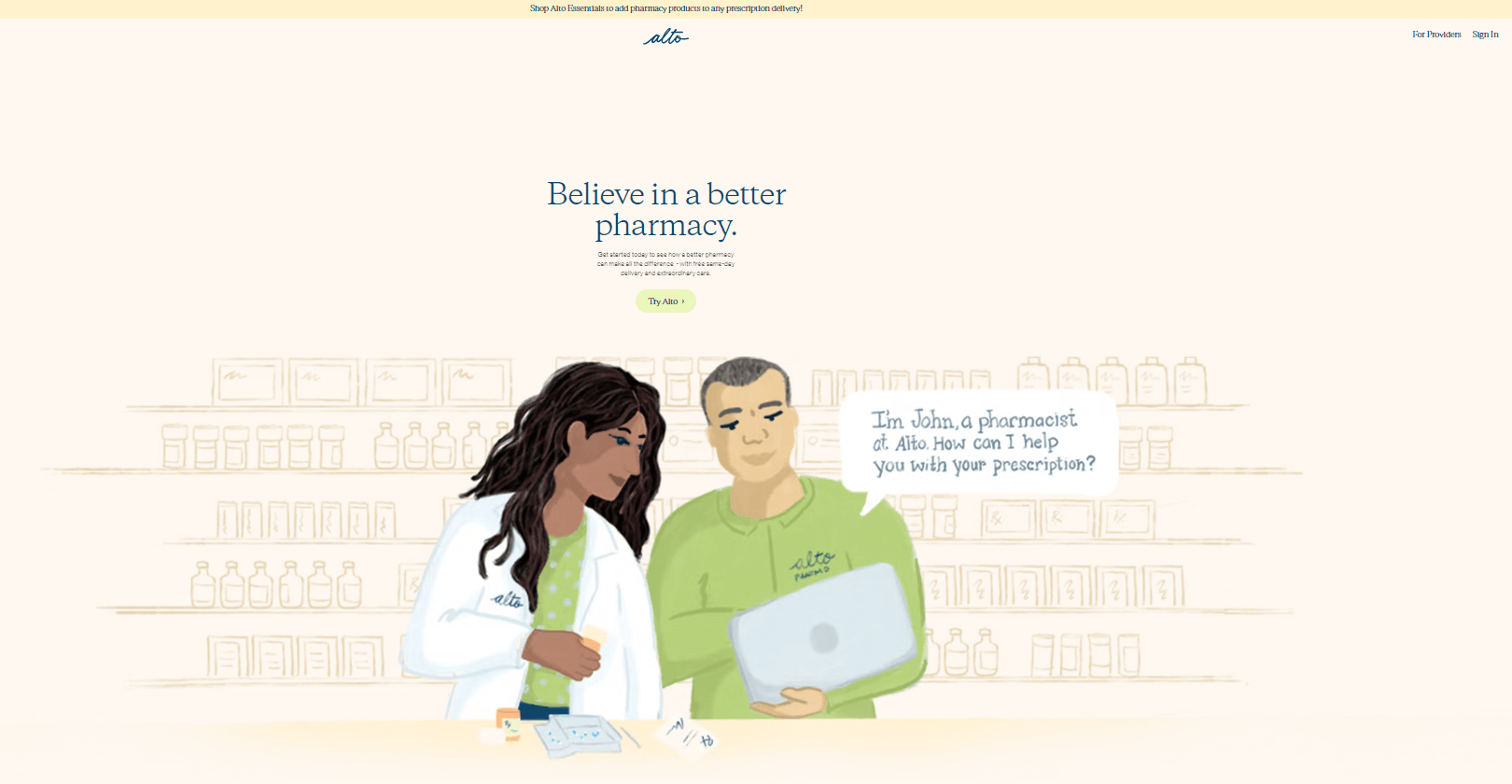 In this Alto pharmacy review, you'll get to know the vendor's benefits, its legal status, the range of health products it sells, profitable offers, and whether the e-pharmacy is worth your while.
E-Drugstore That Sets a New Standard of Service
Alto is a modern pharmacy with an insanely great history. It began as a neighborhood pharmacy in San Francisco's Mission District, and impressively, it is now setting a unique standard of care. Founded in 2015 with the idea that the pharmacy should focus on the patient experience, today Alto has grown to be an on-demand drugstore that offers patients free same-day parcel delivery, cost transparency, & free access to a pharmacist. Remarkably, every year, Alto's influence continues to grow: Over 36 million individuals live within the vendor's courier service zones. It's indeed a huge company, with a valuation of $1B to $10B as of January 2022.
At Alto, its talented team of engineers, pharmacists, & patient care specialists work tirelessly to raise the bar for what they & shoppers can expect from a reliable pharmacy. Alto is a full-service drugstore that handles insurance benefits coordination, prior authorizations, & price investigations for its patients. This ensures that all the buyers get their meds on time and at the most suitable price.
Is Alto Pharmacy Legit?
Yes, Alto pharmacy is legit, and this is how we know. As stated by the founders, the pharmacy has been in operation since 2015. The fact that Alto has lasted this long undoubtedly speaks volumes about its legitimacy. Another important thing that indicates that the e-pharmacy is trustworthy is the sheer number of verified shopper reviews & testimonials it has on Yelp, a reliable third-party review website. As of the time of writing this post, it has 1,370+ reviews on the platform, and most of them are positive. While it's possible & even easy to fake shopper reviews on a personal website, it's incredibly hard to do that on third-party review platforms that perform a lot of checks & verifications.
What about the pharmacy's contact info & location verification + regulatory approvals? Impressively, the contact details provided by Alto pharmacy checks out. The phone numbers connect, plus it has active social media channels such as Twitter, Instagram, and Facebook. Rogue vendors seldom have the time, resources, & manpower to maintain a strong social presence actively.
Concerning the vendor's regulatory approvals, Alto is an NABP-accredited digital pharmacy, certified as a great place to work (by the Great Place to Work® Institute), and is also URAC accredited. This is indeed proof that it's legit & can be trusted to offer high-quality FDA-approved meds.
Does It Require a Prescription?
Yes, Alto requires a prescription for every shopper before dispensing its meds. You can ask your doctor to send the prescription directly to the pharmacy or ask Alto to transfer refills from your previous drugstore. You just need to request the transfer online or by calling the vendor. The support center coordinates the transfer & searches for any savings on your meds. Note that it may take up to a few working days for the smooth transfer to complete. Afterward, when it's ready, Alto will reach out to schedule your free delivery.
Furthermore, Alto coordinates with your physician & insurance company to be sure you never run out of the medication you require. It will also remind you to schedule delivery when a refill is ready to be dispatched, and you can opt for automatic refills online.
Grab Free Samples
Fast delivery despite covid. I got the samples just paid for the delivery. I did not know which type of pill work for me. So getting the samples seemed to be the best way to get what works for me. I have never had any problems with either the product, shipping or billing. They truly are the gold standard for ED medications.
Not sure what to order? Our friends from CialisBit offer a sample pack of the most popular ED pills (Cialis, Viagra, and Levitra) delivered by mail straight to your doorstep for free. The trial pack is already added to your shopping cart >>>
CialisBit is the real deal. Professional in every aspect of the business. You can order with confidence. Great customer service. Requests are promptly and courteously addressed. I think they have a great website, and products work as expected. I'm particularly pleased that they offer PayPal as an option to pay. Even though there is an additional fee, you can be assured that your credit card information will not be compromised. Most recent order arrived at my US address September 12, having been ordered August 30. Not bad at all considering the pandemic. I highly recommend this organization and hope they are here to stay. More TrustPilot reviews
Pills for Improving Sexual Health
Erectile dysfunction (ED) and premature ejaculation (PE) are reported as the most common sexual problems in men. Nonetheless, by browsing its website, Alto doesn't mention it sells any drugs for these conditions. However, in the category of sexual health, the vendor offers drugs used in pre-exposure prophylaxis (PrEP), hormone replacement therapy, birth control pills, & meds for sexually transmitted infections. If you need specific drugs to rectify your sexual health, particularly ED and PE remedies, Alto isn't your option.
Other Categories of Tabs at Alto.com
As a full-service e-pharmacy, Alto can fill nearly all meds, including specialty, branded, over-the-counter (OTC), & generic drugs. It offers numerous medicines for the following health conditions:
hypertension;
high cholesterol;
diabetes (both type 1 and type 2);
cold & flu;
migraine;
acne & rosea;
psoriasis;
HIV;
hepatitis C & infectious diseases;
asthma and COPD.
Alto also stocks meds for rheumatology, multiple sclerosis, gastroenterology, & cardiology. Antibiotics, antidepressants, antipsychotics & mood stabilizers, anxiolytics, & stimulants are also available for sale at the drugstore. For any med (such as Paxlovid for COVID-19 or Adderall) you need to take but are not sure if Alto offers, you can contact the support team.
Available Discounts and Coupons
Alto operates differently from other online stores; it doesn't list its meds with offers, coupons, promo codes, & prices for shoppers to see before placing an order. A patient or provider must first sign in to access the online pharmacy's features.
At Alto, all shopper savings options are automatically applied to what you order to determine the lowest possible drug cost for you. The pharmacy team locates all drug coupons and copay cards, as well as manufacturer savings programs, for prescriptions & even determines alternative options that are covered by the shopper's insurance when needed. Alto performs this for each & every prescription, and you don't have to do any research to comprehend your savings options. However, the vendor doesn't offer any referral code to help lower the drug cost.
According to Alto, at its e-pharmacy, a shopper will have more cost transparency than at other e-drugstores. And if they aren't using insurance for prescriptions, the pharmacy offers competitive cash pricing + automatically applies valid coupons & savings programs.
Pharmacy Payment Options
Ease of payment is a must-have feature for e-pharmacies that aim for shopper satisfaction. Alto is cognizant of this aspect, as it accepts multiple methods of payments, including FSA/HSA cards. You can also manage your product payment options — including debit & credit cards and automatic funds transfer.
Security is something to be aware of when searching for an e-pharmacy & looking to link a payment card to the vendor's website. Alto e-pharmacy comprehends this, as it has all its shopper transactions protected with SSL encryption. As a result, the personal info of its users remains confidential & extremely safe. Unlike other vendors we have reviewed, such as ViaBestBuys.com and CialisBit.com, Alto doesn't offer crypto payment for any meds it offers.
How Does the Pharmacy Deliver Medicines?
Alto doesn't deliver parcels by mail order; it offers courier delivery instead. A member of the Alto local courier team hand-delivers shopper meds at the time & location that smoothly works best for them — no hidden service or delivery fees. Once logged in, you'll be capable of selecting the delivery date that is most suitable for you.
Where does this e-pharmacy deliver to? Alto is growing swiftly to bring its service to many new communities across the USA. At the moment, it has locations in San Francisco Bay Area, Los Angeles, Orange County, San Diego, Denver-Boulder Metro Area, Las Vegas, Seattle, New York City Metro Area, Houston, Dallas-Fort Worth Metro Area, Austin, Sacramento (for fertility medication only), & Santa Barbara (for fertility medication only).
How about parcel tracking? You can track & modify your delivery via the Alto mobile app or by visiting Alto.com. The pharmacy will also keep you updated about the parcel throughout the delivery process via text.
In most cases, Alto permits its shoppers to designate a safe place for meds to be left if they aren't at home & unable to receive the package directly. Additionally, for controlled substances & meds costing more than $500, a shopper signature is required, or they can just designate an authorized representative to sign on their behalf.
Order Refunds
Reshipment & refunds are essential services e-pharmacies ought to provide to their shoppers. If the vendor is willing to take health products back, it gives buyers the confidence that the meds it sells are of high quality. Regardless, we can't ascertain whether Alto e-pharmacy has any arrangements in place to either refund or reship shopper parcels should any issues arise. Why? This is because it has no info regarding this important matter on its website at the time of writing this guide.
What Are the Other Features of Alto Pharmacy?
Besides all that we've discussed so far, Alto pharmacy has some amazing features that are certainly of immense benefit to its shoppers. The foremost one on the list is the insanely great blog section it has on its website. It provides valuable info & tips to help shoppers lead a healthy life. It also has content in other categories such as culture, industry, & engineering.
Another awesome feature of the e-pharmacy is the FAQ section. This page provides in-depth answers to questions that first-time shoppers are likely to have. Further, Alto has made an elegant app (for iOS & Android) for easy access to shopper accounts on the go. By using this app, you can request refills, track your courier, schedule upcoming deliveries, & message a pharmacist, all without hurdles from your device. Alto also has sections separately for the patient & provider. For more info about the vendor, visit its site.
Pharmacy Address & Contact Information
What's the company info about its contacts? Well, Alto is a pharmacy that's tailored to its shoppers. Customer support is available to help you Monday through Friday from 6 am to 9 pm PT (9 am to 12 midnight ET) and Saturday & Sunday from 7 am to 6 pm PT (10 am to 9 pm ET).
Besides, the easiest & most secure means to communicate with Alto pharmacists & patient care team is via the Alto app. Simply download & install the app or create an account on the site to start messaging the support team. You can also contact the pharmacy via its Facebook, Twitter, and Instagram social platforms. Other contact details include the following:
call or text: 1 (800) 874-5881
email: care@alto.com
The location address of Alto pharmacy is as follows:
Alto Pharmacy, LLC
645 Harrison Street, #200
San Francisco, California, 94107
Take note that it has several other locations with distinct addresses where it dispatches its health products to customers. You may check them at the official website of the vendor.
Our Rating
Alto is a respectable & trustworthy e-pharmacy with a lot of fascinating features for its shoppers to benefit from. It offers a wide range of health products, and they're all authentic, as it sources them from FDA-approved manufacturers of generic & brand-name meds. What is our Alto pharmacy rating? Well, the e-drugstore renders exceptional services and thus should earn a 4.1-star rating. One of the few disadvantages of the vendor is its Trustpilot profile. It's true that the pharmacy is verified, but it has one negative review, and we can't say whether the reviewer is a fake or genuine customer. The drugstore operates legally with real contacts for various regions, but another downside is that it serves just some communities within the USA. If you reside outside the mentioned US regions & want to choose another exceptional vendor, you can have a look at other legit & reliable e-drugstores we've examined on our website.