RxOutreach promotes itself as a non-profit pharmacy that aims to provide high-quality medications to people who really need them at affordable prices. Is it legit, and can it be really trusted to deliver on its promises? You will find the answers to all the questions in this RxOutreach review.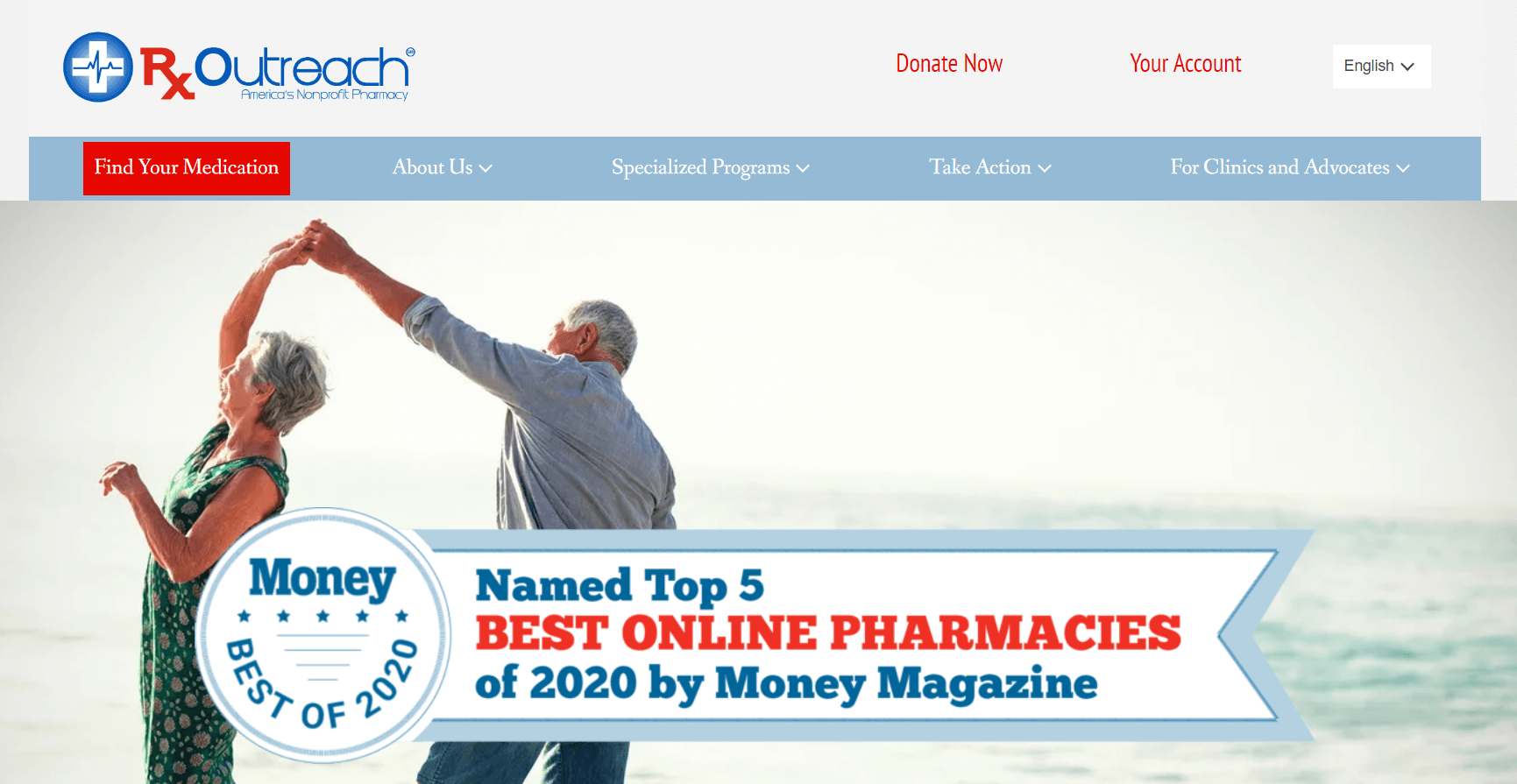 You will also learn about the features the pharmacy offers and whether buying drugs from it is a great idea. Let's dive in.
Fully Licensed Non-Profit Mail Delivery Pharmacy
RxOutreach.org is a US-based online drugstore that focuses on providing pharmaceutical services to low-income and needy individuals who have poor access to medications. It offers a wide range of drugs for treating varying health conditions, but it only sells to people who really need assistance.
The pharmacy requires everyone who intends to buy medication from its platform to fill out a form so it can confirm their eligibility. It only provides its services to individuals and families whose annual income falls below 400% of the Federal Poverty Level. Consequently, an individual with an annual income that exceeds $54,360 or a family of four whose annual household income exceeds $111,000 does not qualify for outreach from the pharmacy. However, it is worth noting that the figures are subject to change, so they are better to confirm in the pharmacy.
Individuals or families who pass the eligibility test may proceed to purchase whatever prescription medication they desire.
Is RxOutreach.org Legitimate?
Yes, RxOutreach.org is a legit pharmacy, and there are good reasons to back it up. For starters, it has all the necessary licenses, certificates, and approvals that are typical of a reputable drugstore. It is accredited by Better Business Bureau (BBB) and the National Association of Boards of Pharmacy (NABP). It is also considered a trusted drugstore by LegitScript – one of the biggest verification services for online pharmacies in the United States. RxOutreach has a 100% trust score on ScamAdviser; this indicates that it is free of security challenges that are commonly associated with rouge pharmaceutical websites.
Another convincing fact that supports RxOutreach's legitimacy is that it has been in operation since 2010. In our experience, pharmacies that operate that long lean towards the legit side of the spectrum. Rogue vendors rarely stay operational for over 3 years; they simply launch new websites to escape terrible user reviews and red flags that their previous domain names must have incurred.
Can You Buy Pills Without Prescription Here?
Yes and no. While the pharmacy sells over-the-counter (OTC) medications without a prescription, it only sells prescription meds to customers who have a valid prescription from a state-licensed physician. Also, it is worth noting that the pharmacy does not accept prescriptions from patients; they must be sent directly from a doctor. RxOutreach accepts prescriptions electronically or by fax. It does not accept any form of coverage from any insurance company; consequently, customers have to foot the bill for meds entirely from their pockets. The good thing is that its drug prices are generally affordable.
Grab Free Samples
Fast delivery despite covid. I got the samples just paid for the delivery. I did not know which type of pill work for me. So getting the samples seemed to be the best way to get what works for me. I have never had any problems with either the product, shipping or billing. They truly are the gold standard for ED medications.
Not sure what to order? Our friends from CialisBit offer a sample pack of the most popular ED pills (Cialis, Viagra, and Levitra) delivered by mail straight to your doorstep for free. The trial pack is already added to your shopping cart >>>
CialisBit is the real deal. Professional in every aspect of the business. You can order with confidence. Great customer service. Requests are promptly and courteously addressed. I think they have a great website, and products work as expected. I'm particularly pleased that they offer PayPal as an option to pay. Even though there is an additional fee, you can be assured that your credit card information will not be compromised. Most recent order arrived at my US address September 12, having been ordered August 30. Not bad at all considering the pandemic. I highly recommend this organization and hope they are here to stay. More TrustPilot reviews
Medication List for Men's Health
RxOutreach offers a wide array of high-quality medications for men's health. It has products for erectile dysfunction, premature ejaculation, low testosterone, male pattern baldness, and benign prostatic hyperplasia (BPH). It specifically offers generic versions of the drugs that are approved for use and sale in the United States. Here are some of the medications offered by the pharmacy based on their different categories:
Erectile dysfunction:
sildenafil similar to Viagra;
tadalafil similar to Adcirca;
tadalafil similar to Cialis.
Premature ejaculation:
paroxetine (Paxil);
escitalopram (Lexapro);
citalopram (Celexa);
sertraline (Zoloft).
Low testosterone:
testosterone similar to Vogelxo;
testosterone similar to AndroGel;
testosterone similar to Testim.
Male pattern baldness:
finasteride similar to Propecia.
BPH/Prostate:
finasteride similar to Proscar;
tadalafil similar to Cialis.
Note that the pharmacy offers more drugs for men's health than we have listed here. Feel free to check the pharmacy's "Find Your Medication" page to find an all-encompassing list. The drugs are all high-quality, as RxOutreach sources them from reputable pharmaceutical companies.
What Other Types of Meds Are Presented Here?
Besides drugs for men's health, RxOutreach sells several other medications for treating a wide range of medical conditions. Although the drugs are not listed by category, the pharmacy boasts of having over 500 different medications. It has drugs for the following conditions:
allergies (fluticasone, ipratropium);
anxiety (lorazepam, diazepam);
cardiovascular diseases (propranolol, furosemide);
diabetes (glipizide, metformin);
skin conditions (clobetasol, halobetasol);
gastrointestinal diseases (loperamide, ursodiol);
sleep disorders (zolpidem, eszopiclone);
mental disorders (bupropion, olanzapine).
RxOutreach offers numerous remedies, but if you need some specific ones like loteprednol, you should clarify its availability in the pharmacy. The drugs are listed on several different pages that customers can access by clicking the "Next" button at the bottom of the "Find Your Medication" page. The pharmacy has a search bar just above the drug entries that customers can use to quickly jump to whatever product they intend to buy.
Coupons & Profitable Offers
Everyone loves discount deals, coupons, and vouchers, as such offers help save lots of money, especially on meds that require a long course of treatment. Unfortunately, RxOutreach does not provide any profitable offers. It does not accept coupons or provide pharmacy cards. Also, it does not have a page on its website where it shares details about discounts or its plans to incorporate them in the future.
However, this is not much of a problem, as the pharmacy sells its medications at prices that are more affordable than what other online vendors offer. It achieves this by maintaining close ties with stakeholders in the supply chain: from the manufacturers to the distributors and wholesalers.
The pharmacy bears the costs of all orders sent via standard shipping; this further makes things affordable for buyers. What's more, it offers some medications for free on a first-come, first-served basis each month. The drugstore publishes the list of drugs it plans on offering for free via its Monthly Newsletters. Interested customers can sign up for it by submitting their email addresses via the "Sign up for our Monthly Newsletter" link provided at the bottom of its web pages.
Shipping Details and Payment Options
The shipping method RxOutreach employs to fulfill orders may vary based on the kind of medication purchased. It ships a majority of its medications, including its diabetic supplies, via major shipping carriers. On the other hand, it ships controlled substances via USPS First Class with signature confirmation. Delivery time is usually 3 to 6 days, counting from the time it ships out.
The pharmacy only ships out after validating prescriptions (via customer refill form) and confirming payments. It is possible to expedite shipping via FedEx; however, it attracts an additional fee that may vary based on the weight and destination of the package. Once orders are shipped out, they can be tracked via the Patient Portal available on the website.
RxOutreach accepts all major credit cards for payment. It also accepts money or checks via mail. Unlike pharmacies such as ModafinilXL.com, BuyModafinilOnline, and some other more recent e-drugstores, it does not accept payment via cryptocurrencies.
Refund and Reshipment Policy
RxOutreach does not provide any concrete information about its refund and reshipment policy. On its FAQ page, it states that customers should reach out to the pharmacy if they do not get their orders within the normal shipment period of 10 to 14 days. However, it does not mention whether or not it will provide a refund. It also reassures its customers that it mails out all orders via secure means.
What Are the Other Features of This Pharmacy?
The online pharmacy has some interesting features that we haven't mentioned in this article. For starters, it has a very detailed FAQ page that answers questions new customers are likely to ask. This saves them the time they would have otherwise put into trying to call customer care agents. In a nutshell, it helps customers resolve problems quickly.
Another interesting thing we love about the pharmacy is the fact that it provides information regarding most of the products it sells. It sheds light on details about the drugs, ranging from their benefits and side effects to possible interactions and how to get the best out of them.
The pharmacy offers several specialized programs aimed at assisting different categories of people who could really use its service. They include:
Serving Those Who Serve Others (Pharmacy Benefits);
Healthy Reentry (Prison Bridge Medications);
Health and Wellness Outreach (Health Education).
And last but not least, we love the search function that enables customers to find whatever drug they may be searching for with ease.
Pharmacy Location & Contact Info
RxOutreach.org has its main office/store located at 3171 Riverport Tech Center Dr, Maryland Heights, MO 63043, USA. Its representatives can be reached via the following phone numbers:
1-888-796-1294
1-800-769-3880
It can also be faxed through the number: 1-800-875-6591.
Note that its customer service agents are typically active during the following times:
Monday through Thursday: 7:00 am to 7:00 pm central time
Friday: 7:00 am to 5:30 pm central time
Saturday: 9:00 am to 2:00 pm central time
Note that the pharmacy returns call for pharmacist consultation requests within 1 business day and calls for all other voicemail inquires within 2 business days. It advises its customers to call 911 for immediate assistance during medical emergencies.
Our Rating
RxOutreach sells high-quality medications at the best possible prices. It provides excellent customer service and fulfills deliveries timely. Based on the parameters we check to verify the legitimacy of online pharmacies, we can confirm that it can be banked on for quality pills and a premium-level service. We would give the pharmacy a 4.5-star rating if not for one major problem: it does not have any reviews on third-party review platforms, such as Trustpilot, that have a great reputation. Consequently, we give the pharmacy a rating of 4.2. Hopefully, it will urge and encourage its buyers to leave it a review after shopping.