PocketPills.com is a relatively popular Canadian digital pharmacy that promises to provide cost-effective and hassle-free access to prescription medications in record time. But is this pharmacy really reliable, and can it be trusted to deliver on its promise?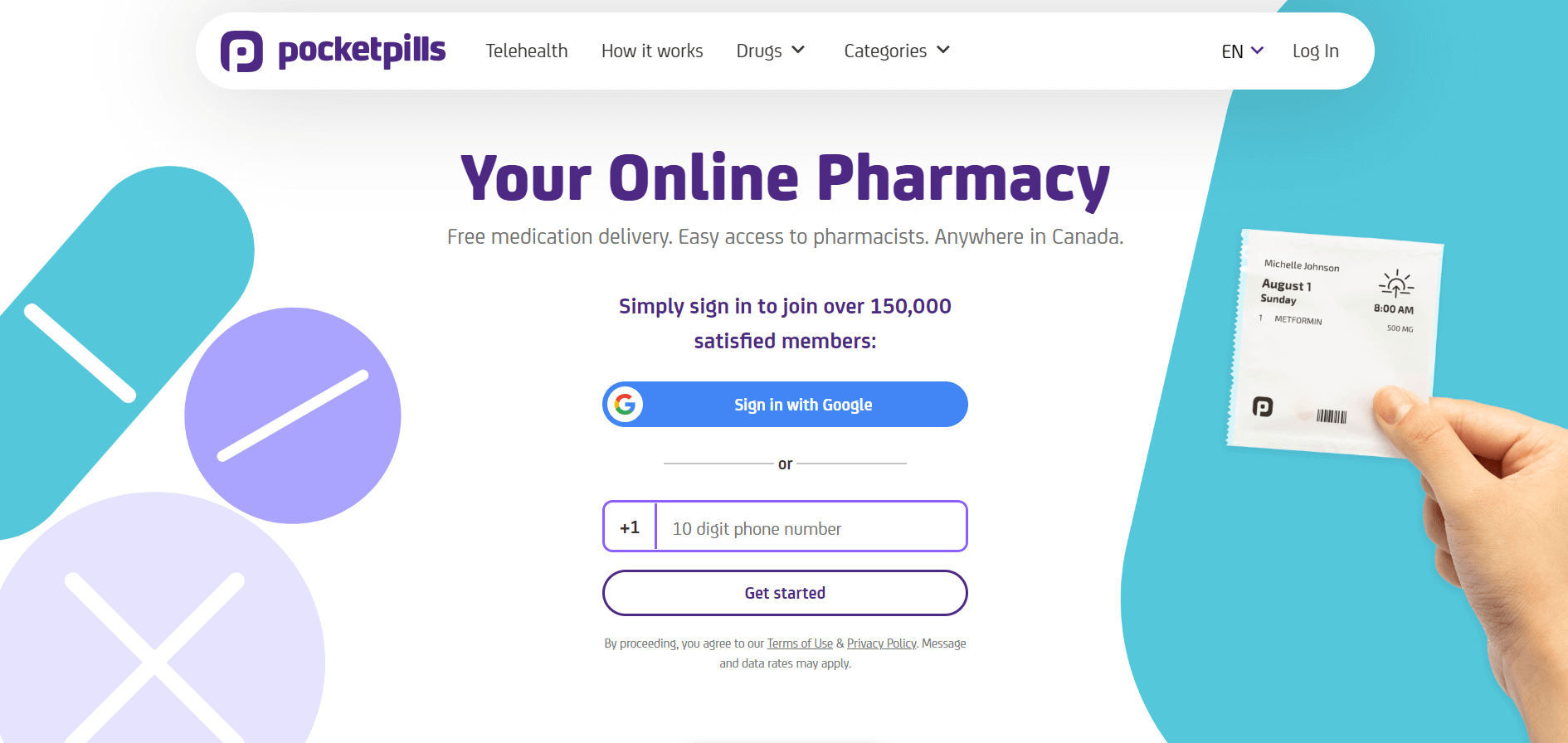 To answer these questions, we dug deep and went over countless legit customer reviews. By the time you are done reading our review, you will know if the pharmacy is a hit or miss with 100 convictions. Let's dive in.
Online Pharmacy Helping Canadians Improve Their Health
Lining up at the pharmacy to grab a prescription can be very tiring and frustrating, especially on days when it seems like the whole state decided to grab a prescription. This, besides cost-effectiveness, is one of the major reasons why people (especially those who cannot afford to miss doses) consider online pharmacies like PocketPills.
PocketPills is a Canadian online pharmacy that positions itself as a cost-effective and hassle-free solution for delivering prescriptions right to its customers' doorstep. It has an app that lets interested parties sign up and provide details that enable them to communicate with their doctors and deliver meds timely.
Founded in 2018 as one of the first digital prescription solutions in the country, it has since grown in popularity and has become many people's favorite.
The pharmacy offers several interesting features that make it really attractive. The major ones include:
Free delivery: It provides free delivery to its customer's doorsteps, sometimes even delivering the meds on the same day they're ordered. However, the same-day delivery offer is only open to select locations.
Automatic refills: It communicates with its customers' doctors to secure prescription renewals that enable it to manage refills and deliver meds timely.
Discrete packaging: It fulfills orders in unmarked boxes that don't specify the contents. This way, no one except the customer knows what is delivered.
Active customer service: It has customer service agents available week in and week out to handle complaints and answer any questions concerning prescriptions.
However, when it comes to sourcing items as serious as meds online, promises aren't enough. Legitimacy and reliability are often what is important. You will find everything you need to know about these aspects in the next section.
Grab Free Samples
Fast delivery despite covid. I got the samples just paid for the delivery. I did not know which type of pill work for me. So getting the samples seemed to be the best way to get what works for me. I have never had any problems with either the product, shipping or billing. They truly are the gold standard for ED medications.
Not sure what to order? Our friends from CialisBit offer a sample pack of the most popular ED pills (Cialis, Viagra, and Levitra) delivered by mail straight to your doorstep for free. The trial pack is already added to your shopping cart >>>
CialisBit is the real deal. Professional in every aspect of the business. You can order with confidence. Great customer service. Requests are promptly and courteously addressed. I think they have a great website, and products work as expected. I'm particularly pleased that they offer PayPal as an option to pay. Even though there is an additional fee, you can be assured that your credit card information will not be compromised. Most recent order arrived at my US address September 12, having been ordered August 30. Not bad at all considering the pandemic. I highly recommend this organization and hope they are here to stay. More TrustPilot reviews
Is PocketPills.com Legitimate and Safe?
Yes, PocketPills is legit. Here is why.
For starters, scam pharmacies don't put in a lot of time and money into building a presence. The result is usually a terribly-looking, early-2000s website with few to no helpful information. This is not the case on PocketPills. At a glance, it becomes obvious that a lot of time and resources were put into creating its website to provide customers with an awesome experience. But the look and feel of a website is not enough reason to conclude that a pharmacy is legit, so here are more points.
The pharmacy's domain name was registered in 2012, and the company, as it is now, was founded in 2018. Active time in service is one of the parameters considered when considering the legitimacy of a website, and PocketPills has this box checked. Scam digital drugstores don't usually stay active for long, at least not without people pointing fingers. No individual or group has accused it of fraud.
It also has an approval status from LegitScript — a third-party regulatory body that conducts deep risk analysis on websites and complex healthcare sectors to ascertain their legitimacy. A certification from this body implies that it can be trusted. PocketPills have been certified by the body. If that is not enough, it also has licenses from the College of Pharmacists of Manitoba, the Ontario College of Pharmacists, and the Nova Scotia College of Pharmacists.
What's more, the fact that it is featured in trusted publications such as the Financial Post, Vancouver Sun, and Winnipeg Free Press, among others, further buttresses its legitimacy. It is practically impossible, or at least incredibly difficult, for a scam pharmacy to get featured on such news aggregators with solid repute.
Although the pharmacy's legitimacy is confirmed, the question about its safety still remains. Can it be trusted to deliver meds in a timely manner? Well, this is one area where it appears to have hiccups. While it has a ton of positive reviews brandished on its website, it also has some really terrible reviews on the trusted review platform, Trustpilot. In most of them, the customers complained bitterly about the pharmacy mixing up their doses and prescriptions and failing to deliver timely.
If your ailment doesn't give you any room to miss your doses, this is something really important to look into. Read on to find out more about the pharmacy and whether it is worth considering.
Is a Prescription for Tabs Required?
Yes, it is. The digital drugstore requires individuals who intend to buy a prescription medication to provide a prescription (Rx). But it doesn't just end there. The only prescriptions it considers valid are those obtained from a Canadian-licensed prescriber.
PocketPills makes refilling medications very easy for its customers. It does this by providing two options through which it can be refilled.
The first one is via prescription transfer. This option allows customers to have prescriptions transferred from their old pharmacy without having to do much running around. To do this, the pharmacy contacts the customer's insurance company and doctor and makes all the necessary arrangements.
The second option is via setting up a new prescription. This gives customers in need of a new prescription an opportunity to get connected with a doctor who can help. The pharmacy can be notified of interest in this arrangement via live chat or phone.
It is worth noting that there's also the option for customers to upload their prescriptions directly to the platform and get a refill.
Quality Drugs to Improve Sexual Health
PocketPills offers a wide range of high-quality drugs to improve sexual health. It is worth noting that it offers only generic and brand-name meds that Health Canada approved for sale. The available sexual health medications on the platform include:
Sildenafil, manufactured by Apotex;
Sildenafil, manufactured by Actavis Group;
Tadalafil, manufactured by Actavis Group;
Tadalafil, manufactured by Apotex.
As in local pharmacies and other online stores, the generic versions cost considerably less. Note that the version (brand-name or generic) a customer gets may be influenced by their insurance plan.
All Other Categories of Medicines on the Site
Besides sexual health drugs, PocketPills sells several other medications. The pharmacy has the meds categorized based on the conditions they treat at the footer of its website. They include drugs for:
Asthma;
Acne & Edema;
Blood pressure;
Cancer;
Diabetes;
HIV & AIDS;

Multiple sclerosis;
Epilepsy;
Alcoholism;
Alopecia;
Alzheimer's Disease;
Anthrax.
It also features drugs for angina, anemia, anxiety disorders, altitude sickness, and much more. Besides modafinil, it doesn't have Adderall, armodafinil, or other stimulants to treat excessive daytime sleepiness or ADHD. The pharmacy has a search box on its drug category page that helps customers locate specific meds easily. All they need to do is type the brand or generic name of the drug and hit the enter key.
Useful Promo Codes and Coupons
At the time of writing this review, we found no promo codes, coupons, or profitable offers available on the pharmacy's website. It appears that it doesn't offer any. Also, it doesn't have a referral code-based structure. However, this may be because it already sells most of its medications at a discounted rate. The pharmacy offers pocket-friendly prices by leveraging technology and powerful partnerships. Several members have said that they have gotten better deals on the pharmacy than on any other platform.
Options of Payment
Compared to some other pharmacies we have reviewed in the past, it may be safe to say that PocketPills have a limited payment method. At the time of writing this review, it only accepts credit cards like Visa Card, MasterCard, Discover, and American Express (AmEx). What's more, it accepts all forms of insurance coverage, including ODB, Direct Bill, PharmaCare, and OHIP, among others.
As per the issue of billing pertaining to customers on an insurance plan set up, PocketPills takes out only their part of the cost from their credit card. It then bills the specified insurance providers for the remaining part of the cost.
There is really no cause for alarm when making payments on the site as it has all transactions carried out encrypted using SSL. In a nutshell, the site is highly secure. However, be sure to crosscheck, confirm, and reconfirm the URL before linking your card to make any payment.
Shipping Details
As PocketPills's services are limited to Canada, it relies mostly on Canada Post to fulfill deliveries. It also makes use of UPS and FedEx. It typically aims to deliver parcels before its customers need them to prevent them from missing doses.
The delivery can take 1 business day or overnight, depending on how urgent the medication is needed. Customers' specifications can influence delivery time. For instance, if a customer specifies that they need their parcel shipped ASAP, the pharmacy may do overnight delivery. In such a case, the medication may arrive the following morning.
Upon shipment, PocketPills assigns unique tracking numbers to its customers. With the numbers, they can track their parcel every bit of the way until it reaches the delivery point. The pharmacy promises to reship parcels for free if they go missing for any reason.
Customers can determine whether or not someone has to sign for their medication. However, the option is limited to some provinces. Residents of New Brunswick, Ontario, Nova Scotia, Newfoundland and Labrador, and Prince Edward Island must provide a signature to have their parcels released as is required by laws in the provinces.
Other Features of This E-Drugstore
PocketPills has several features that make it convenient and really attractive. One of them is its FAQ page. There, it provides answers to the most common questions customers ask. This saves lots of time and energy, as new members can get most of their problems solved without having to contact customer support or sending emails and waiting for replies.
Another really interesting feature is the pharmacy's blog section. It consists of several resourceful articles that provide customers with information about different diseases they might be suffering from, the best treatment options, possible side effects, and lots more.
This is not to mention the sitemap (located on the website footer page, alongside a link to the FAQ page) that makes navigating the site a walk in the park. These features put together all make the user experience on the platform top-notch.
Company Address and Contact Info
PocketPills have 3 physical pharmacy locations in Canada. This allows it to fulfill orders in a timely manner, as it typically ships out of the location closest to customers who place an order.
Find the address of the pharmacy locations below.
#1. 108 – 5433 152 St, Surrey BC, V3S 5A5 (West);
#2. Unit 2 – 170 Joseph Zatzman Drive Dartmouth NS, B3B 1L9 (Atlantic);
#3. Unit 6 – 6375 Dixie Rd, Mississauga, ON, L5T 2E7 (East).
For all forms of inquiries, PocketPills pharmacy can be reached via call at 1-855-950-7225. The lines are usually open Monday to Sunday, 9:00 AM – 9:00 PM, ET. It can also be reached via fax and email at 1-855-950-7226 and care@pocketpills.com, respectively.
Our Rating
PocketPills is licensed by 3 major health institutions: OCP, the Nova Scotia College of Pharmacists, and the College of Pharmacists of British Columbia. Thus, it is legit and can be trusted to deliver high-quality medications.
It has a well-designed website that is easy to navigate, offers excellent customer service, and renders its services at an affordable price that most Canadian buyers can work with. Going by these features, we would give it a 4.8-star rating but for one drawback we discovered. This is the fact that it sometimes fails to deliver meds timely.
Although the user reviews on the pharmacy's official website are mostly positive, the case is different on Trustpilot — a reputable third-party review site that promotes genuine feedback from customers regarding their shopping and service experience. 5 out of the 9 individuals who left a review complained about PocketPills either mixing up their prescription or delivering it late.
No doubt, many have spoken positively about their experience with the pharmacy; it is advisable to have a fail-safe option if the meds you take are the type you can't afford to miss. Based on this bottleneck, we give the pharmacy a 4.5.