GoGoMeds is a digital pharmacy that aims to streamline the process of getting prescription medications. It promises to ship high-quality meds directly to its customers, helping them save up to 85% on generic medications in the process. But can it be trusted?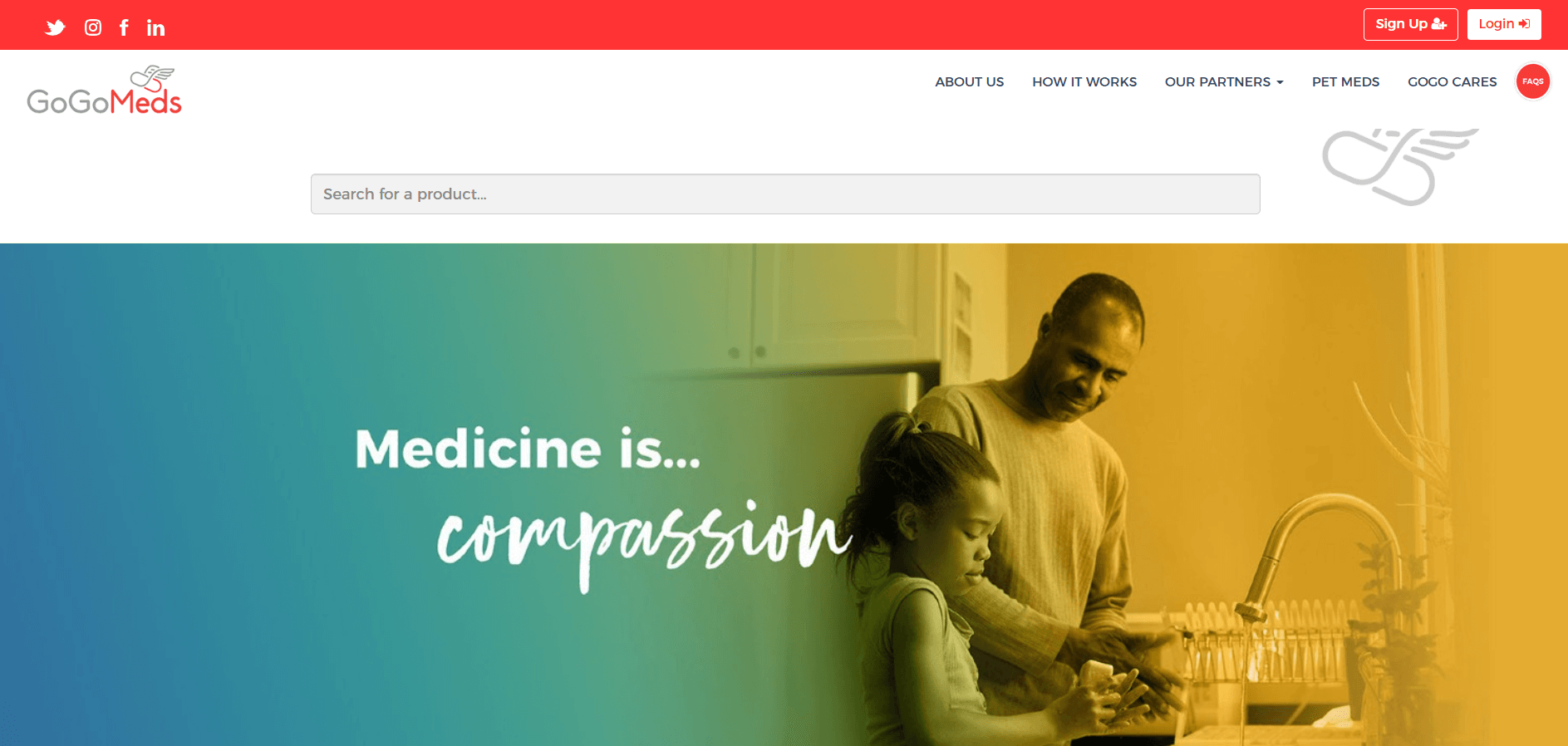 You will find out everything you need to know in this GoGoMeds review: from the pharmacy's legality to the features it offers and its reliability.
Full-Service Pharmacy with Low-Cost Medications
GoGoMeds is an online pharmacy that operates under specialty Medical Drugstore. It started as a regular pharmacy, meeting its customers' pharmaceutical needs for years before developing a website to enable it to render services more efficiently.
The pharmacy decided to take its services online in 2017 when it realized that people who needed high-quality medications typically had a hard time getting them. They would spend so much time in local pharmacies and pay through their teeth. It founded GoGoMeds to help simplify the entire process, as well as extend its services to all parts of the United States.
GoGoMeds provide full pharmaceutical services at a relatively affordable price while also simplifying the process. To get prescription medications (generic or brand-name versions) consumers need only:
Create a profile and select the needed medication;
Send in a prescription or have a doctor send it via E-scribe service or fax;
Checkout.
The pharmacy ships meds directly to its customers' doorstep free of charge. It also provides an option for auto-refill to further simplify the entire process.
Is It Legit?
With all the interesting and attractive features, it would be a waste if the pharmacy cannot be trusted.
Interestingly, we found the pharmacy to be legit, as it passed all our tests. Here are the parameters we checked:
#1. Domain Age
For starters, the website was created in 2017; thus, it has been in operation for up to 5 years now. Fake pharmacies do not stay up long on the internet; they typically operate for a few months, stealing money and private user information from unsuspecting customers before shutting down — voluntarily or involuntarily.
#2. Positive User Reviews
GoGoMeds has not just been in business for up to 5 years, but it has, throughout this period, acquired over 2000+ reviews on reputable review websites such as Trustpilot. Do you know what's even more interesting? It's the fact that over 80% of the entire reviews are positive! This speaks volumes about its reputation, as it shows that the majority of its customers are satisfied with its service.
#3. The Website's UI/UX
UI means User Interface, and UX means User experience. The look and feel of a website is an important factor to consider when verifying its legitimacy of a website. Fake pharmacies seldom put in time, money, and effort into building their websites; thus, they typically come out looking archaic — like sites built around 2003. The texts are usually tiny and illegible, and navigation is usually not smooth.
The case is different with GoGoMeds. It is well-designed, and the navigation on the site is smooth. It has a search box feature on its home page that enables customers to locate whatever product they may be looking to buy with utmost ease.
#4. Licenses, Certificates, and Approvals
Scam pharmacies simply don't have licenses, certifications, or approval from necessary health regulatory bodies to operate. They usually hide behind the curtains to either sell fake medications or steal money and personal information from unsuspecting customers.
GoGoMeds is accredited by the National Association of Boards of Pharmacy (NABP) — an independent and international association that enforces and implements standards aimed at protecting public health. This further reinforces its position as a legit pharmacy.
But that's not all: the pharmacy has a score rating of 100% on ScamAdviser — a popular online service that helps consumers vet the credibility of websites by running a series of checks.
#5. Social Media Presence
Although it doesn't post often, the pharmacy is present on mainstream social media platforms: Instagram, Twitter, Facebook, and LinkedIn. Thus, consumers with complaints or questions can reach out to the company easily. This is a good thing, and it goes a step further in solidifying GoGoMeds' credibility. Fake websites love to avoid the time, energy, and money-zapping operations; running several social media accounts and providing value via content isn't something that they would do.
Having made these checks, we were able to confirm that GoGoMeds is legit indeed.
Grab Free Samples
Fast delivery despite covid. I got the samples just paid for the delivery. I did not know which type of pill work for me. So getting the samples seemed to be the best way to get what works for me. I have never had any problems with either the product, shipping or billing. They truly are the gold standard for ED medications.
Not sure what to order? Our friends from CialisBit offer a sample pack of the most popular ED pills (Cialis, Viagra, and Levitra) delivered by mail straight to your doorstep for free. The trial pack is already added to your shopping cart >>>
CialisBit is the real deal. Professional in every aspect of the business. You can order with confidence. Great customer service. Requests are promptly and courteously addressed. I think they have a great website, and products work as expected. I'm particularly pleased that they offer PayPal as an option to pay. Even though there is an additional fee, you can be assured that your credit card information will not be compromised. Most recent order arrived at my US address September 12, having been ordered August 30. Not bad at all considering the pandemic. I highly recommend this organization and hope they are here to stay. More TrustPilot reviews
Do You Need a Prescription for GoGoMeds Pharmacy?
Yes, you certainly do. The pharmacy requires consumers to tender a valid prescription from a licensed doctor. Thus, it, under no circumstances, sells medications (generic or brand-name) without first receiving and verifying the prescription.
To ensure a hassle-free process, GoGoMeds provided two options to receive prescriptions from consumers. The patient may either upload it directly to its website or have their doctor send it via Fax or other means. Upon receiving and verifying a prescription, it typically places the order within 48 hours.
Available Sexual Enhancement Pills
GoGoMeds offers a range of sexual enhancement pills for treating erectile dysfunction (ED) and premature ejaculation (PE). It offers both brand-name and generic versions of these drugs, and customers may decide what they want.
The ED and PE meds available at the time of writing this review include:
sildenafil (Viagra);
tadalafil (Cialis);
avanafil (Stendra);
Edex;
Muse;
Caverject
vardenafil (Levitra, Staxyn).
The generic versions of the drugs cost considerably less than their brand-name counterpart. What's more, the pharmacy assures buyers that it sells only high-quality meds that are approved by the Food and Drug Administration (FDA).
More Categories of Drugs on the Site
GoGoMeds sell a wide range of other drugs for treating varying illnesses besides ED and PE. In fact, we wouldn't be wrong if we said that it offers an almost endless list of products for all manner of diseases. Thankfully, with the search box, any product can be located with ease. You will find potassium citrate, abacavir, Plenity, and lisinopril, among others, in the pharmacy. Oh, one drug (actually, the only one) we noticed that is not in stock is Epiceram.
Unlike most other digital drugstores, the pharmacy has a drug section for pets. Just as on the home page, there's a search box, through which intending buyers can locate whatever product they need easily.
Promo Codes & Special Offers
For many, promo codes and other money-saving opportunities serve as an attraction or invitation to shop at a particular drugstore. However, GoGoMeds doesn't offer any. It states that its prices are already very favorable and that no coupons or co-pays (as part of insurance) are needed. It also goes ahead to state that consumers can save up to 85% on purchases of high-quality generic meds made via its platform. Generally, the prices of meds on the platform are affordable, especially when compared to other legit online drugstores.
Payment Policy
Payments on GoGoMeds are secure as it has all transactions protected with SSL encryption. Its accepted method of payment is:
MasterCard;
Visa Card;
Checks;
Money transfers.
Unlike some other pharmacies, GoGoMeds does not accept Bitcoin, stablecoins, and other cryptocurrencies. Thus, customers are limited to only the options listed above.
Main Shipping Info
It is worth noting that GoGoMeds only ships products within the US and US Territories where it is licensed to operate. Depending on how quickly customers need their meds, they can opt in for any of the 3 shipping options that the pharmacy offers. They include:
Standard Shipping;
2-Day Shipping;
Next Day Shipping.
Deliveries made via Standard Shipping are free. With this option, parcels get delivered within 2 to 9 business days but may vary based on location. Parcels shipped via the "Next Day" or 2-Day Shipping takes 1 or 2 business days, respectively. However, it is worth noting that the time it takes to process the orders may affect the delivery date. The processing time for over-the-counter (OTC) orders is typically 1 to 2 business days, while that for prescription orders is 3 to 4 business days.
Based on this concept, the delivery time for a mail order with the 2-Day shipping option = Processing time + 2 business days. The same math applies to the 1-day shipping option.
At this point, it is worth noting that the GoGoMeds' main shipping days are Monday through Friday for regular meds and Monday to Thursday for insulin and other drugs that require refrigeration. The pharmacy charges an extra $50 for the delivery of refrigeration-required products, as it ships them via UPS Next Day Air to ensure timely temperature-controlled delivery.
The pharmacy generates and sends tracking numbers to buyers once their orders are shipped out. It sends them via its "hello@gogomeds.com" email address. The tracking numbers typically become active within 2 days, after which the parcel may be tracked on its freight partner's website. What's more, buyers who would like their delivery to be signature-confirmed can expect to pay an additional $3.95.
Return Policy
GoGoMeds has a customer-centric return policy. It gives customers a 90-day period within which they may return their purchase for a full refund if they are unsatisfied with it. The condition is that the products must be returned in their original box and in the condition that they were received.
At this point, it is worth noting that the policy described above is only applicable to purchases of regular OTC drugs. The pharmacy does not accept returns for insulin and other refrigerated products due to safety concerns. Also, it does not accept returns for prescription medications, as the law discourages it. Refunds are typically processed within 7 business days after they are approved.
Other Features of GoGoMeds.com
Some of the other features that make GoGoMeds stand out are its FAQ page, its discretion and privacy, and direct/easy access to social medial channels.
FAQ pages help customers save time and energy. Instead of having to contact customer care agents and go through a series of back and forth, they could easily find answers with ease. There's a high chance that someone (out of the many buyers) has asked the question a fresh customer may intend to ask, and that an answer would have been provided. The only problem is that the pharmacy does not currently have enough info on its FAQ page.
The pharmacy fulfills orders in discreet packaging. Thus, no one except the buyer will know the content of the package delivered. Also, with its signature confirmation feature, customers can make sure that no one will receive their parcel if they happen to be unavailable when the parcel arrives. This serves as an extra level of privacy protection.
What's more, although the pharmacy has its email address and phone numbers displayed on the website, communicating via a social media app such as Instagram can sometimes be more convenient.
Pharmacy Location & Contacts
GoGoMeds is located at 525 Alexandria Pike Suite, 100 Southgate, KY 41071 United States. It can be contacted via the following phone lines:
Toll number: 1-888-795-5826
Fax: 1-888-978-7947
Customers may also contact the pharmacy via email at hello@gogomeds.com for all inquiries.
Our Rating
GoGoMeds is a reputable digital pharmacy that can be trusted to deliver high-quality medications within the USA and US Territories. It has a wide range of generic and brand-name drugs, all sold at pocket-friendly prices.
Going by the yardstick we use to measure and score online pharmacies, we say GoGoMeds is OK. It has customer-centric features, renders excellent customer service, and should therefore have a 4.9-star rating. However, we have two major problems with it. The first is that it doesn't have a blog section to educate its customers about the drugs it sells, their benefits, side effects, and more. The second problem is that it has a scanty FAQ page. We believe it can do better in these areas.
Based on these observations, we give it a rating of 4.5.