Buying meds online is typically super-convenient, time-saving, and cost-effective, but extra care needs to be taken to avoid being sold counterfeits or defrauded. Unless you have a lot of money to throw around, the best way to confirm the legitimacy of any drugstore is to read reviews like this one.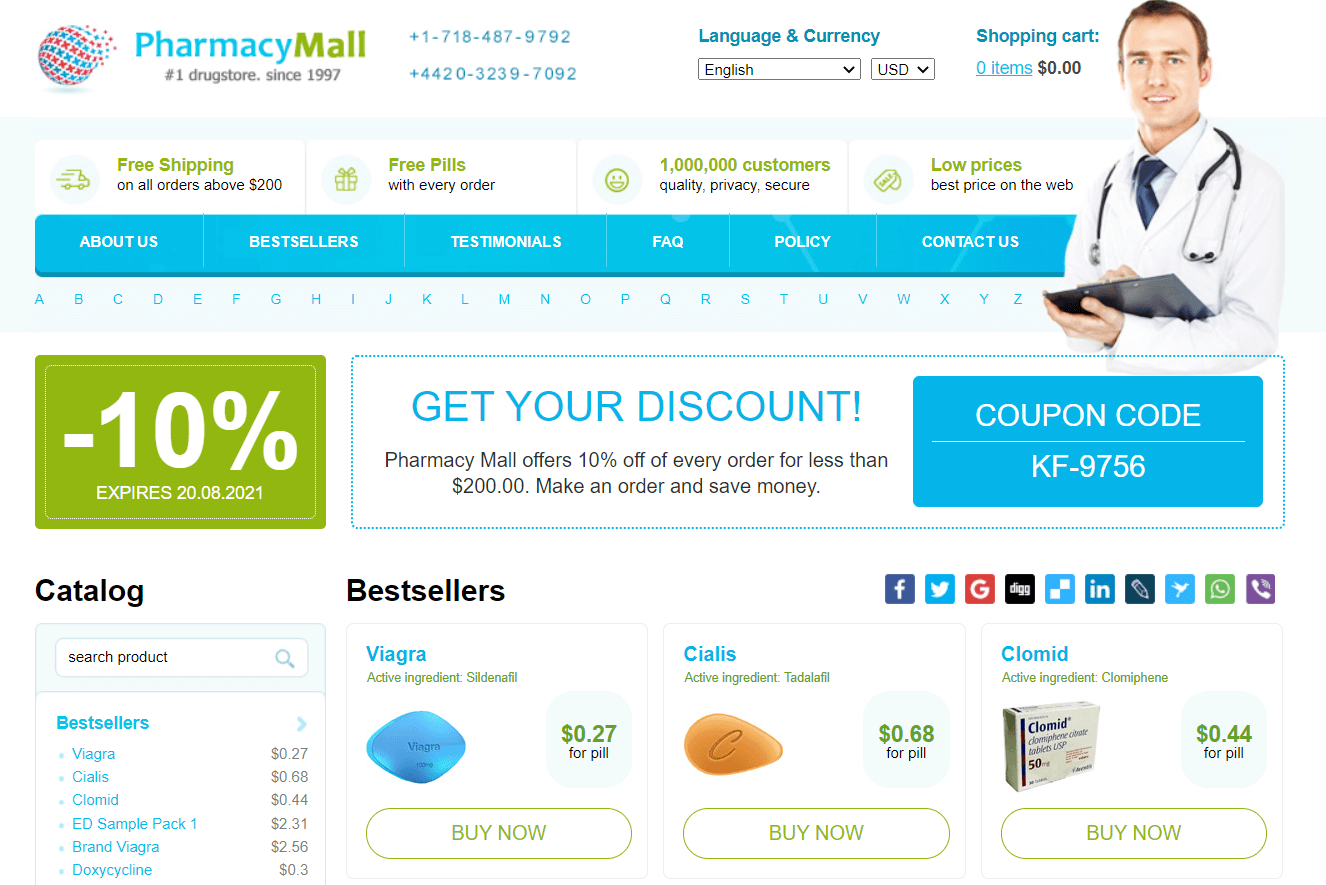 People have been asking if PharmacyMall-Online.com can be banked on for high-quality meds, so we have put together this PharmacyMall review to that effect. Read on to discover if this e-pharmacy is worth your money.
Pharmacy Supplying FDA Approved Generic Drugs
PharmacyMall is an e-pharmacy that boasts of offering one of the lowest possible prices for generic drugs approved by the Food and Drug Administration (FDA). But is this true? Is the pharmacy legit and can it be trusted for high-quality medications? You are about to find out!
If you read our reviews, you know that one of the yardsticks we use to measure the legitimacy of an online store is the UI/UX design of its website. Unfortunately, PharmacyMall performs poorly in this regard. Like most rogue online drugstores, it has an interface that does not foster trust. The landing page is clustered with loads of uncategorized drugs, prices, and discount deals so disorganized that it strains the eyes. The sites of reputable drugstores are typically well-organized, have background color vs. text font, color, and size that go well together.
But let us not conclude all too fast; we should consider other aspects of the site. The pharmacy offers a wide range of drugs for treating varying health conditions, which is a good thing. But the aim will be defeated if the products are of low quality. Read on to find out what more we've discovered about the quality of the pharmacy's drugs.
Is PharmacyMall Safe?
A safe pharmacy offers high-quality medications sourced from reputable manufacturers that possess all the necessary certificates and credentials to operate. It should also be straightforward and open to potential customers. Sadly, PharmacyMall again falls short.
The footer of its website displays several seals trusted pharmacies are supposed to possess; seals such as CIPA (Canadian International Pharmacy Association) and MIPA (Manitoba International Pharmacy Association), among others. But guess what?
You guessed right. The seals are fake! Upon running a check, we discovered that PharmacyMall-Online.com is not listed on the registers of any of the aforementioned bodies. The fact that the pharmacy is untruthful about this is a red flag and a clear indicator that it should not be trusted.
In a nutshell, the pharmacy is unsafe and cannot be trusted to deliver high-quality drugs.
Grab Free Samples
Fast delivery despite covid. I got the samples just paid for the delivery. I did not know which type of pill work for me. So getting the samples seemed to be the best way to get what works for me. I have never had any problems with either the product, shipping or billing. They truly are the gold standard for ED medications.
Not sure what to order? Our friends from CialisBit offer a sample pack of the most popular ED pills (Cialis, Viagra, and Levitra) delivered by mail straight to your doorstep for free. The trial pack is already added to your shopping cart >>>
CialisBit is the real deal. Professional in every aspect of the business. You can order with confidence. Great customer service. Requests are promptly and courteously addressed. I think they have a great website, and products work as expected. I'm particularly pleased that they offer PayPal as an option to pay. Even though there is an additional fee, you can be assured that your credit card information will not be compromised. Most recent order arrived at my US address September 12, having been ordered August 30. Not bad at all considering the pandemic. I highly recommend this organization and hope they are here to stay. More TrustPilot reviews
Do You Need a Doctor's Prescription to Order Pills?
PharmacyMall offers both over-the-counter and prescription medications, but you do not need a prescription to order pills from its platform. To make purchases, all you need to do is select your medication of choice on the landing page. For products not on the page by default, you can make use of the search bar in the top left-hand corner to locate them. The site will require you to proceed by adding the required number of pills to your shopping cart.
Right after that, you will be required to opt in or out for free bonus pills, select your preferred shipping option (which is often Airmail by default), and apply a coupon if you have one. Lastly, you will then have to fill in your billing details and shipping address on the checkout page and then place the order. The pharmacy does not request a prescription at any point: from the shopping to the checkout stage.
Note: This vendor is not trusted, and we strongly advise against ordering any product from it.
Available Sexual Enhancement Pills
As stated earlier, PharmacyMall-Online.com has a wide range of drugs for different health conditions including the most common sexual problems like erectile dysfunction (ED) and premature ejaculation (PE). The pharmacy offers both brand name drugs and generics for the treatment of these conditions.
Some of the PE and ED drugs available on the platform are as follows:
Viagra;
Cialis;
Brand Viagra;
Levitra;
Dapoxetine;
Viagra Professional;
Brand Cialis;
Cialis Professional;

Viagra Super Active;
Extra Super Viagra;
Cialis Extra Dosage;
Cialis Soft;
Viagra Soft;
Kamagra;
Cialis Super Active;
Extra Super Cialis;
Malegra DXT.
The pharmacy also offers Tadapox and Sildalis, among other sexual enhancement pills. As you go through this list, remember that the quality of these products is not guaranteed. Also, no customer reviews on verified review platforms such as Yotpo and Trustpilot speak positively about its products.
Other Medication Categories
Besides ED and PE meds, PharmacyMall-Online.com has many other medications up for sale. The range is so wide that the vendor has its drug catalog organized by categories. Some of the drug categories are as follows:
antifungal;
anxiety;
birth control;
diabetes;
depression;

antibiotics;
pain relief;
herbals;
gastrointestinal;
skincare.
Weight loss, asthma, blood pressure, and arthritis are some other drug categories offered by PharmacyMall-Online.com. It is worth noting that it also has two broad categories: men's health and women's health under which you can find a lot of other drugs.
From all indications, it appears PharmacyMall is a jack of all trades and certainly a master of none!
Discount Coupons and Other Profitable Offers
Apart from drug categories, one of the first things you will find landing on the website is a banner bearing discounts and freebies.
Just before the checkout page, you will find a provision for inputting coupon codes to get a discount. However, there is no info about how to get one. And unlike some other e-pharmacies, PharmacyMall does not have a dedicated page that informs customers of how to get coupons, deals, and other profitable offers.
The pharmacy offers free shipping on all orders over $200 and free pills with every other. You will find the bonus pills appended to the products you intend to purchase in the shopping cart during the checkout process.
Payment Options
Payment options are the factor worth considering before buying anything from an online store. Are they flexible and fast? And most especially, can they be trusted? These are questions you should ask yourself before making that buying decision. Many individuals have reported falling victim to scams from online pharmacies, and you should be very careful.
Unlike several other pharmacies that accept multiple payment methods such as crypto, e-Checks, PayPal, among others, PharmacyMall accepts only card payments. This is not so good.
Furthermore, while it is SSL secure and as a result cannot steal your credit card details, it is never really a good idea to use your credit cards online except in highly trusted stores. Always opt for other options such as crypto where necessary, but be sure to verify the legitimacy of the store before making payments.
Shipping Policy
PharmacyMall offers two shipping methods: Airmail and Express Mail Service. Airmail is typically slower, with a waiting period of 2–3 weeks. On the other hand, parcels ordered with EMS as the preferred shipping method often take 3–8 business days. The pharmacy goes on to state that delivery may take much longer if the order is intercepted or delayed by customs. Furthermore, it fails to provide information on whether parcels can be tracked once shipped, and if so, what shipping method offers the tracking feature.
Return Conditions
PharmacyMall has a refund policy set in place. According to the information on its website, it will provide a free refund or reship parcels if they go missing or get damaged during transportation. In that regard, it encourages customers to contact its customer care department ASAP if they receive a damaged package or if their orders do not get fulfilled within the stipulated delivery time.
Does Drugstore Have an Affiliate Program?
Yes, PharmacyMall-Online.com has an affiliate program. The link that leads to the affiliate program page can be found on the right-hand side of the website's footer with the anchor text "AFFILIATE PROGRAM." However, it does not seem to be functional.
Clicking the link will take you to a page with a form field requesting a message, ICQ/Jabber, and the name of the intended affiliate promoter. It has been a little over 48 hours since we filled and sent this form, but we are still yet to get a response.
PharmacyMall Location & Contact Details
PharmacyMall does not have information about its operational base, warehouses, or any location listed on its website. We did a thorough sweep and could not seem to find any.
However, it does have 2 telephone numbers: 1-718-487-9792 and 4420-3239-7092, but do not bother calling them, as it will most likely be a complete waste of your time.
We tried the first number repeatedly, on different days, but we kept getting the same result – the number is busy. The second number was reachable, but the receiver denied being associated with this drugstore or any other pharmacy.
PharmacyMall also lacks a fax number or email address through which it can be reached faster and easier, should you have any inquiries. However, in addition to the FAKE telephone numbers, it has a Contact Us page with a form field to send messages directly. Unfortunately, we are still yet to get feedback from the company.
Our Rating
For an online pharmacy that claims to have been in operation since 1997, PharmacyMall simply does not have the track record to back it up. It does not have as many customer reviews as it should, and those available on verified review platforms are negative – almost all of them!
Meanwhile, the reviews available on the testimonial page of its website are overwhelmingly positive, a likely sign of falsehood. The pharmacy just has too many red flags. Besides having fake contact numbers & fake testimonials and displaying fake regulatory seals on its website, it has an extremely low trust rating that suggests it is a scammer. In fact, the site has been threat-listed by review boards.
One other interesting finding we made that put the final nail in the coffin is that the vendor has mirror sites. By this we mean it has a lot of websites with the same layout, and they are all threat-listed. Some of them include Canadian X Pharmacy, TrustPharmacy, and HappyFamilystore. These sites have equally raked in many negative reviews from people who tried to buy drugs from them. Scam, scam, scam is all the reviews read!
PharmacyMall-Online.com is a cheap scam, and you should avoid it at all costs. There are many other pharmacies you can bank on for excellent customer service and high-quality meds. Some of them include ModafinilXL, AmeriMedRx.com, ZavaMed.com, etc. Based on all the red flags we have seen, we give PharmacyMall a rating of 2.1/5. We do not recommend buying from this vendor.