Most online drugstores are legit & operate legally. Drug prices are cost-effective, offer convenience services, & safeguard shopping health treatments. Nonetheless, rogue e-pharmacies often delineate themselves as legit, but some of them may exist to sell unapproved or counterfeit health products that may be very harmful to the user's health.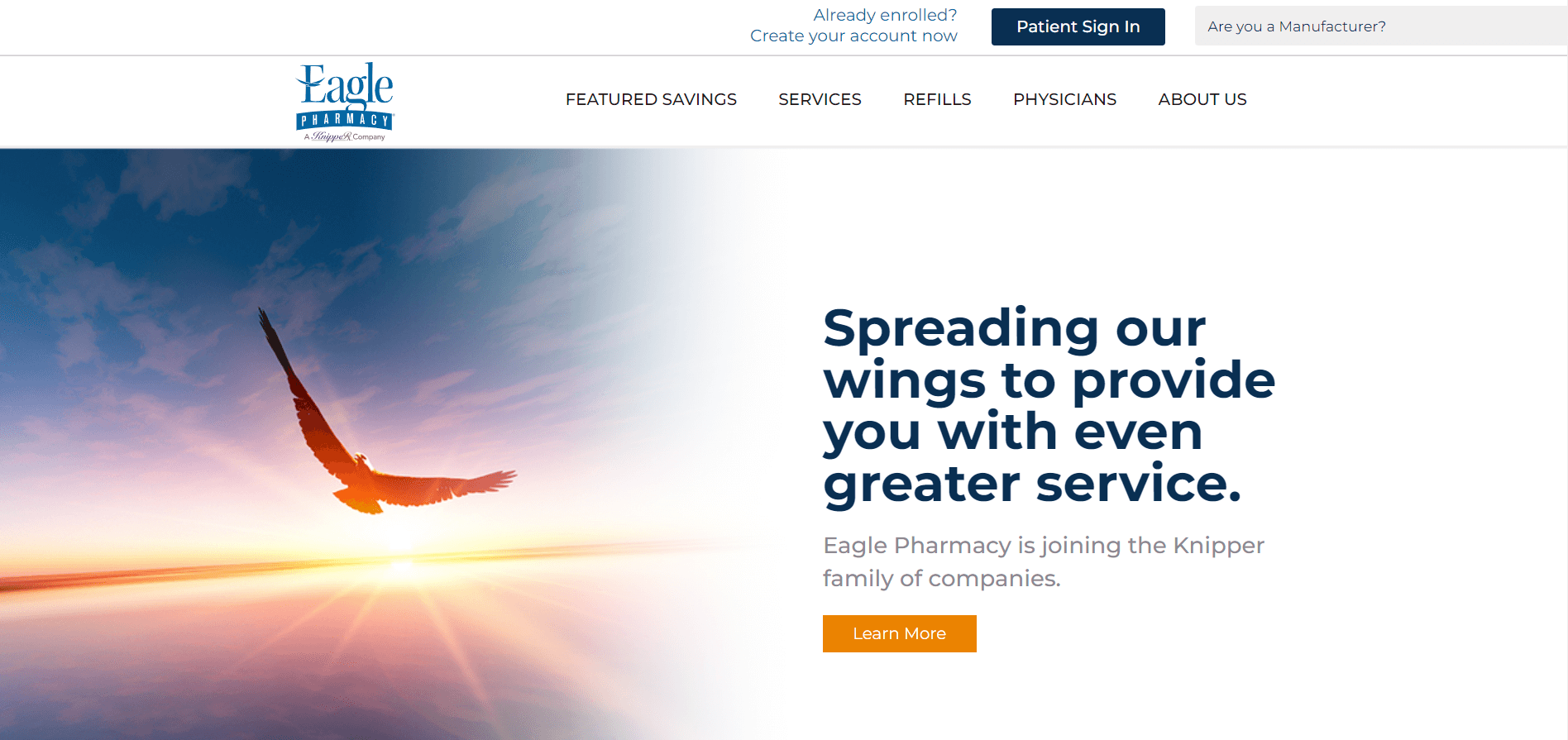 It's prudent to verify the reputability & legitimacy of the online pharmacy before deciding to order from them. That's why in this in-depth guide, we've decided to review EaglePharmacy.com. Is this vendor legit? How does it function? What types of health products does it sell? Read this guide to learn more about Eagle Pharmacy review & know our verdict if it's a genuine e-pharmacy to order from.
Full-Service Pharmacy for the Convenience and Well-Being of Patients
Eagle Pharmacy (EP) is indeed a full-service pharmacy that's situated in central Florida. The pharmacy works with various pharmaceutical companies across the globe in creating programs that assist patients to have access to the brand-name meds they trust at the most reasonable price available (shoppers can save up to 90%).
To EP, patients are foremost. When the pharmacy designs its programs, it creates them with its patients' wellbeing and convenience in mind. The pharmacy health products are conveniently delivered to the shopper's home, with many patients taking the benefit of the EP pharmacy auto-refill program.
The EP is authorized to ship & dispense its meds to all 50 United States, DC, as well as the US territories. If a shopper requires support with the needed med, EP's certified pharmacy technicians & staff of registered pharmacists are always ready to assist.
Is Eagle Pharmacy Safe?
EP is indeed legit. It's a licensed US pharmacy, is ACHC accredited, has med-to-med interaction reviews, triple quality checks, and only offers FDA-approved meds. Its services include automated scheduled refills, online customer service, convenient free home delivery, etc.
Besides, EP complies with patient privacy regulations & necessities set by the Health Insurance Portability & Accountability Act (HIPAA). EP provides strict monitoring in service and training to certainly safeguard its patient's confidential info. The pharmacy also fully adheres to the HIPAA standards in all aspects of its business operations, from website security to physical access into the EP building.
To safeguard Protected Health Information (PHI), a patient must give complete authorization to EP for another individual, such as a physician, to contact EP to discuss their health info, including meds.
Eagle Pharmacy doesn't indeed share or sell patient info with any third parties. Since it's HIPAA Compliant, it has HIPAA Authorization forms & also has secure credit card processing.
Grab Free Samples
Fast delivery despite covid. I got the samples just paid for the delivery. I did not know which type of pill work for me. So getting the samples seemed to be the best way to get what works for me. I have never had any problems with either the product, shipping or billing. They truly are the gold standard for ED medications.
Not sure what to order? Our friends from CialisBit offer a sample pack of the most popular ED pills (Cialis, Viagra, and Levitra) delivered by mail straight to your doorstep for free. The trial pack is already added to your shopping cart >>>
CialisBit is the real deal. Professional in every aspect of the business. You can order with confidence. Great customer service. Requests are promptly and courteously addressed. I think they have a great website, and products work as expected. I'm particularly pleased that they offer PayPal as an option to pay. Even though there is an additional fee, you can be assured that your credit card information will not be compromised. Most recent order arrived at my US address September 12, having been ordered August 30. Not bad at all considering the pandemic. I highly recommend this organization and hope they are here to stay. More TrustPilot reviews
Is a Prescription for Meds Required?
A valid prescription is required. The patient's medical specialist may either ePrescribe, fax, or phone a prescription order without delay to EP. In conformity with the Board of Pharmacy, only a medical specialist or physician's office may certainly fax or phone in the needed prescription. However, ED doesn't allow its patients to phone in, email, or even fax prescriptions.
Here are the details on how to submit a prescription:
Through ePrescribe
Name: Eagle Pharmacy
NPI: 1487905840
NCPDP: 5711975
Location: Lakeland, FL 33810
Through Fax number: (877) 283-9171;
Through phone: (855) 748-2663.
New patient drug prescriptions can also be mailed by the patient to EP:
Eagle Pharmacy
P.O. Box 90937
Lakeland, FL 33804
To begin, a patient must enroll by visiting EP easy-to-use online enrollment portal.
Tabs Available for Order at EaglePharmacy.com
You won't get a wide category of meds from this e-pharmacy. However, due to the great relationships EP has built with various drugmakers, the pharmacy has secured the lowest price ever on many frequently prescribed brand-name meds, whether a shopper has insurance or not. Throughout the pharmacy website, a shopper can see the 'cash price' advertise for prescriptions. This cash price is indeed the cost paid if you don't have insurance or insurance doesn't cover the needed med.
If the insurance does cover the needed med, it's possible to pay even less than the given cash price. The ONLY brand-name meds offered by ED include the following:
Arimidex®;
Cosopt PF®;
Nexium®;
AzaSite®;
Toprol AG;
Betimol®;
Synthroid®;
Afrezza®;
Zioptan®.
Can't discover the med you are looking for? The Eagle Pharmacy asks its shoppers to suggest a brand-name med needed (i.e., if you need Pennsaid, Eliquis, Mirapex, Flomax, Brilinta, Omeprazole, Alimta, & Synthroid delivers, etc.) & they will give you further info about the same. From the pharmacy, there is no therapy or generic switching. There is indeed confidence comprehending that patients have access to the brand, regardless of insurance coverage & they can mail order the available med.
Special Offers & Discounts
Shoppers like to get the needed meds at the lowest cost ever. This is even made possible by using shopper price-reducing experiences such as the use of coupon codes, discounts, and offers.
The sad part about Eagle Pharmacy is that it doesn't offer any special coupons & discounts, although it promises to offer the needed meds at the lowest rate. It also seems that the more quantity of health products ordered from ED, the lower the cost. Since there are no displayed special offers & discounts, we urge you to order in bulk if the desired med is available for sale by the vendor.
Accepted Forms of Payment
Eagle Pharmacy allows its shoppers to checkout via a credit & debit card (i.e., Discover, VISA, MasterCard, & American Express); these are indeed accepted forms of payment, especially for most online businesses. EP also accepts FSA as well as HSA as authorized forms of payment. However, Money Orders, Checks, & Cash, Bitcoin, PayPal, etc., are NOT accepted.
Shoppers can certainly update their payment info by logging onto Eagle Pharmacy or by calling Patient Support Services toll-free at (855) 748-2663.
How Are Medicines Delivered?
As earlier mentioned, EP ships shopper meds into all 50 states, DC, plus the US territories. Certainly, it doesn't ship internationally. You may ask: how long does it take for my parcel to be delivered to my doorstep? The vendor suggests allowing 2 weeks from the time a patient order is placed with EP to the time the med is received by the patient (that's about 7-14 working days). Most meds are shipped to the shopper's address within 48 hours.
About the shipping method, most meds are shipped via US Mail as standard unless special parcel handling is necessitated.
Additionally, EP offers expedited delivery at a supplementary cost, paid by the shopper. These shipping options include UPS next day, UPS second day shipping, & also USPS priority mail. Take note that the UPS delivery necessitates a physical parcel shipping address. Not P.O. Boxes.
Unusually expensive meds or those categorized as controlled substances may be shipped with extra carrier services, i.e., signature necessitated, at no extra charge. Meds that necessitate refrigeration are indeed shipped in a cooler on the ice at no extra charge.
Comprehend that the EP offers an optional automated refill service. This optional service automatically ships med refills to patients. A shopper must opt to use this service & certainly can opt-out as desired at any time by communicating with a representative of Patient Support Services. Shoppers enrolled in this service are indeed accountable for all shipments & co-payments.
EP will send email notifications (via notifications@EaglePharmacy.com or do-not-reply@EaglePharmacy.com) to inform shoppers of their parcel status, encompassing order issues, plus shipment notifications direct to their inbox.
Certainly, the positive side of EP shipping is that it offers convenient home delivery, discreet packaging, no multiple pharmacy trips, excellent expedited shipment available, refrigerated shipments exist, meds shipped per drugmaker guidelines, & email sent when the shopper order has shipped. For any help needed, Patient Support Services is available at (855) 748-2663. All shipped products are trackable.
Refund and Guarantee
According to the ED, shopper's med orders can't be canceled after they have been processed. If a parcel is lost or damaged while it is shipped, ED urges its shoppers to report the incident to them anytime within the 14 days of expected delivery. Besides, in case of lost or damaged parcel shipments, the vendor investigates & also evaluates them in each specific case. In most instances, a parcel declared as lost will eventually arrive at an accurate address. In the infrequent circumstances that it doesn't, a replacement order for the med may be shipped.
Other Features of This E-Pharmacy
There are several features of EP e-pharmacy. First, it has an informative website with info about featured savings, how to start, and finding the offered or needed med. It also has great info about sending your prescription, refills, & a dedicated section for physicians and also manufacturers. The Eagle's Manufacturer Direct Solution assists various companies looking to lessen the erosion of their market share as the generic competition enters the space. It indeed offers solutions for pharmaceuticals to help them connect to more patients.
Additionally, the pharmacy has in-depth sections for medication disposal, Help (FAQ), a blog, State dispensing Documents, a contact section for requesting brand medication, careers, sign up for the pharmacy newsletter, and a press section.
Pharmacy Location & Contacts
Eagle Pharmacy prescription pick up hours of operation starts from Monday to Friday, 8:00 AM to 5:00 PM ET, ruling out holidays, and can be contacted using the following contact details:
Mail: Eagle Pharmacy, P.O. Box 90937 Lakeland, FL 33810;
Toll-Free: (855) 748-2663;
TTY for hearing impaired: (863) 825-4050;
Fax: (877) 283-9171.
Pharmacy Physical Address is 350 Eagles Landing Drive, Lakeland, FL 33810.
Its team of highly trained Patient Support Services Representatives is open to answering most of the shopper's questions. If you need to communicate with the support team, the pharmacist can help you during all pharmacy operating hours (mentioned above). If calling outside of EP operating hours, then you have to leave them a message & certainly one of the EP pharmacists will return your call.
The pharmacy also has social media presence, including Twitter, Facebook, & LinkedIn.
Our Rating
At Eagle Pharmacy, patients are its passion. Its trained team stops at nothing to deliver excellent service to those in need daily. Through the pharmacy interactions with thousands of patients daily, it has indeed come to comprehend what makes them tick. Just combining the needs of its patients with the business goals of manufacturers. Certainly, every pharmacy has pros and cons. Although it's known to operate as needed, only 49% of EP employees would recommend working there to a friend based on Glassdoor reviews.
Like what most patients would like, a pharmacy should display a category of meds it offers with the addition of coupon codes & discounts as well as shipping globally. However, EP doesn't have that experience. It also has no online live chat, and the online website doesn't look like it's an e-pharmacy. Most online reviews rate this vendor less than 3 out of 5. What is our rating? Because of this, we give this vendor a rating of 2.9 out of 5.