Many people with various health conditions prefer getting their meds online rather than visiting a nearby local pharmacy. Why? There are numerous reasons – one being cheap drug pricing & a chance to select various meds under different categories. However, the internet is full of rogue and scam e-pharmacies that sell counterfeit meds that can be harmful to the patient's health! The good news is that we always explore different online drugstores to determine their legality and the types of meds they offer. You'll be sure and safe to find out if the vendor is worth your shopping experience.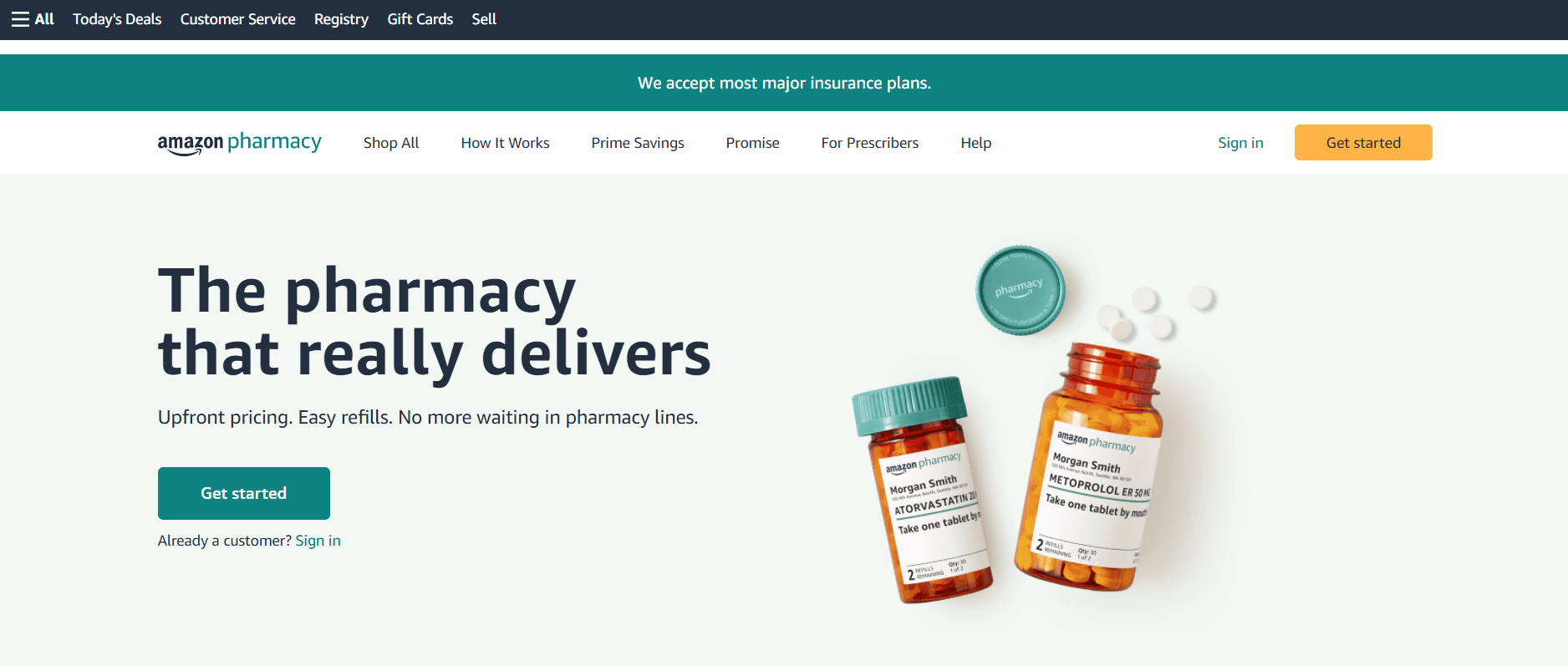 This time, in this guide, we explore Amazon Pharmacy review. Does Amazon.com Pharmacy help every consumer save time, save money, or simplify their lives & feel healthier with the meds it offers? Let's find out in this review!
Convenient Pharmacy from the Largest E-Commerce Company
What is Amazon? Certainly, it's an American global technology company that concentrates on e-commerce, digital streaming, artificial intelligence, & cloud computing. Besides, the company has moved into the pharmacy business by establishing its online pharmacy & prescription delivery services. It's termed the Amazon Pharmacy, which allows consumers to complete a pharmacy transaction online without leaving home.
Since its opening, Amazon Pharmacy has had favorable drug pricing & effortless refills. It's indeed convenient – a shopper goes to the e-pharmacy & adds to cart the orders. Its drug pricing options are straightforward & understandable. The Amazon Pharmacy is for consumers 18+ years & works best if the shopper fills at least one prescription regularly.
Meds can be as low as $1 per month. Amazon Pharmacy brings medication to its shoppers with low prices + free delivery, as well as pharmacists on-call 24/7. Additionally, Amazon is indeed guided by 4 principles: consumer obsession rather than competitor focus, commitment to operational superiority, passion for invention, & long-term thinking.
Is This a Legal Drugstore?
Amazon Pharmacy is certainly legal. No worries about its legality. Amazon.com has been in the online business since 1994. The pharmacy securely manages consumer info in compliance with the Health Insurance Portability & Accountability Act (HIPAA) & doesn't share Protected Health Info (PHI) outside of the pharmacy for advertising or marketing goals without explicit permission from the consumer. Besides, it doesn't deliver Schedule II controlled meds.
Also, Amazon Pharmacy is dedicated to maintaining every shopper's privacy & takes its responsibility for safeguarding the shopper's PHI seriously. The HIPAA governs how Amazon Pharmacy may use & disclose PHI, including info like medical conditions, medication history, & health insurance info.
To prove its legality, Amazon Pharmacy holds the accreditations NABP – a digital pharmacy accreditation with the National Association of Boards of Pharmacy (NABP) as well as a mail service pharmacy accreditation from the Utilization Review Accreditation Commission (URAC).
Is It Possible to Order Pills Without Prescription Here?
The direct answer is NO. It's impossible to buy any health remedy from Amazon Pharmacy without a prescription. Certainly, if you need any med that the vendor offers, signing up for Amazon Pharmacy is straightforward — & should take about 5 minutes. During the sign-up process, the pharmacy asks questions about you, your meds, your health history, etc. In addition, it recommends having the following info handy to begin:
any insurance info: Amazon Pharmacy works with most US insurance accepted plans. After signing up, it'll look up your insurance for you — or, if preferred, you can enter it manually. Besides, a shopper can also use Amazon Pharmacy without insurance;
a list of meds that are taken regularly (if you do): if you don't take any meds regularly or don't have all your meds handy, don't fret. You can always add these details later. The reason for giving such a list is to determine if the meds you need can probably cause an interaction with the yet-to-ordered med.
Take note that having a physician with the right specialty to assess your health is prudent. Some drugs may not work well if you have certain health conditions since they can cause disease-drug interaction. Additionally, you can also contact your physician to send your prescription using the following contact information:
Name: Amazon Pharmacy #001
Address: 4500 S Pleasant Valley Road, Suite 201 Austin, TX 78744-2911
Fax: 512-884-5981
Phone number: 855-745-5725
Note: According to the e-pharmacy, prescriptions for controlled substances can only be accepted literally from your physician via E-Scribe. Take note that Amazon Pharmacy can transfer prescriptions — its pharmacists can work with a shopper physician as well as insurance.
If you're getting a prescription from Amazon Pharmacy for the first time, it suggests using your current pharmacy for urgent meds like antibiotics or meds you'll run out of within a week. If you take multiple daily meds, the e-pharmacy also offers PillPack, a service that sorts your medication into packets by date & time.
Drugs for Improving Sexual Power
Amazon makes it easy to find what meds shoppers need – including branded & generic versions, as well as different forms or dosages. Across the globe, millions of people suffer from sexual dysfunctions. Good news: there are various effective meds that can help treat the condition. In the USA, more than 18 million men are affected with erectile dysfunction (ED) – a condition that makes a man unable to achieve & maintain an erection hard enough for intercourse. Additionally, some men can be affected by premature ejaculation (PE), a type of sexual dysfunction that happens when a man has an orgasm & swiftly releases (ejaculates) semen sooner than he or his partner would want. It frequently happens before or shortly after penetration during sexual activity.
Some of the meds used for PE & ED Amazon Pharmacy sell includes the following:
Viagra;
Sildenafil (generic Viagra);
Cialis;
Tadalafil (Cialis generic);
Stendra;
Levitra;
Vardenafil (generic Levitra).
There can be other ED meds this pharmacy offers. Unfortunately, we didn't find any med used to treat PE. In case you need any ED or PE med, you can try searching from the pharmacy or contact the support for assistance.
Other Categories of Pills on Amazon Pharmacy
Aside from ED meds, Amazon Pharmacy offers other meds used to treat other health ailments, including the following categories:
hair loss;
viral injection;
acid reflux;
anxiety;
depression;
high cholesterol;
hypothyroidism;
diabetes;
allergies;
high blood pressure;
asthma.
There can be other drug categories. In case you didn't find any desired med from Amazon Pharmacy, you can try to contact the support to enquire about it. Some of the common meds include Insulin Lispro Kwikpen, Atorvastatin (generic Lipitor), Pantoprazole (generic Protonix), Amlodipine (Generic Norvasc), etc.
Your prescription may be processed & drug orders filled at any authorized pharmacy in the Amazon Pharmacy network in compliance with pharmacy regulations, including third-party certified pharmacies. The dispensing pharmacy is always placed on the prescription label.
Available Coupon, Offers & Promo Codes
Amazon Pharmacy is making its pharmacy better. You can effortlessly shop for your desired meds. All you'll require to do is to present a list of your current meds (if any), your insurance info if you'd like to use it, & your physician's name. No more surprises of high drug prices at the checkout. You've got options: Amazon Pharmacy works with most insurance plans — or you can pay with Prime. The e-pharmacy offers 30-day, 90-day, & 6-month supply options.
As a comparison, Amazon Pharmacy shows you your med prices upfront, so you can determine which way to pay. It works with all major insurance companies. Although Amazon Pharmacy can improve med costs in the USA, it likely won't be a game-changer since it works within the same system as other e-pharmacies. Its med pricing doesn't truly offer much of a discount benefit.
However, the Amazon Prime prescription savings advantage gives its Prime members access to low prices on many brand names & generic prescription meds when paying without insurance. It can be utilized for discounts up to 80% off generic & 40% off brand-name meds at over 60 thousand participating pharmacies across the USA, including Amazon Pharmacy & the PillPack by Amazon Pharmacy service.
At the time of writing this review, Amazon Pharmacy doesn't accept coupons. But you can check if there is any or use any prescription discount card you possess & your savings will be automatically applied.
Shipping and Payment Info
Amazon Pharmacy accepts all major credit & debit cards, including MasterCard, Visa, Discover, American Express, & more. It also accepts Amazon Store Card as well as Amazon Rewards Visa Signature Card. Besides, it accepts Flexible Spending Accounts (FSA) & Health Savings Accounts (HSA) for the purchase of FSA or HSA eligible items. However, it doesn't currently accept payments by checking account, bitcoin, Amazon.com Gift Card, or Shop with Points.
Regarding mail-order or shipping, Amazon Pharmacy currently serves 48 US states. It's not yet available in Kentucky or Hawaii, but if you signed up for the pharmacy waitlist, you'll be notified as soon as it's available in those locations.
Amazon Pharmacy delivers shopper parcels in discreet packaging. If the ordered med requires refrigeration, it'll be shipped separately from your other meds in temperature-safe packaging. Besides, Prime members get free 2-day parcel delivery, & all consumers get free 4-5 day delivery or can upgrade to 2-day delivery for only $5.99 per shipment.
Note that orders that have been shipped or entered the shipping process can't be modified or deleted, & after an order has shipped, a shopper can track packages by visiting the "Your Pharmacy Orders" page. From here, a shopper can find the latest tracking info as well as updates to when the package will arrive. According to Amazon Pharmacy, if the order includes multiple items, each product may have distinct delivery dates & tracking info.
Returning Orders from an Amazon Pharmacy
Certainly, Amazon Pharmacy is unable to accept parcel returns. This includes 6-month supplies of medication if the shopper prescription changes & needs to switch meds. Having ordered from the pharmacy & noticed any quality-related issues like errors or tampering with a parcel you've received, it's prudent to immediately contact Amazon Pharmacy customer service care directly at 855-745-5725.
Pharmacy Affiliate Program
Most people would like to get a commission for marketing another company's products. However, Amazon Pharmacy doesn't have an affiliate program at the moment of writing this review. However, Amazon.com has the Amazon Associates Program, which is one of the largest affiliate networks in the globe.
What Are the Other Features of This Drugstore?
Amazon Pharmacy has all that it takes to inform the shopper about its pharmacy, help, & FAQs. Besides, the digital pharmacy PillPack acquisition by Amazon has been a distinct service for consumers managing multiple daily meds for chronic conditions. Shoppers who take multiple daily meds & prefer pre-sorted dose packaging are advised to continue to choose PillPack.
By using PillPack, all you need is to sign up & make sure you present the list of your meds, physician info, any insurance info, & your payment method. It then transfers your prescriptions & certainly sets up your service where it coordinates with your physician & insurance to gather your prescriptions, schedule your first shipment & order your refills, as well as package the medication & send them. Using PillPack ensures you get the meds you require every month. PillPack has pharmacy support day or night & automatic refills before you need them and offers free delivery right to your doorstep.
Take note that Amazon PillPack, where allowed by law, accepts most med manufacturer copay coupons according to the drugmaker terms & conditions. Shoppers enrolled in Medicare, Tricare, Medicaid, & other government-sponsored healthcare programs aren't eligible.
Pharmacy Address & Contact Info
According to Amazon Pharmacy, for any inquiries or help, an individual can contact the pharmacy using the following details:
customer care call: 855-745-5725 (8 am – 10 pm ET on weekdays; 10 am – 8 pm ET on weekends). Christmas Eve: from 9 am to 7 pm ET. Closed on Christmas day. On New Year's Eve, customer care can be reached anytime from 9 am to 7 pm ET;
daytime phone support: Monday to Friday 8:00 am – 10:00 pm ET; Saturday & Sunday 10:00 am to 8:00 pm ET;
evening phone support (after normal business hours): a voicemail system exists. Just leave a message, & a pharmacist will get back to you. Certainly, the pharmacy returns urgent calls within 30 minutes.
The pharmacy address is: PillPack LLC – Amazon Pharmacy Privacy Office 250 Commercial Street Suite 2012 Manchester, NH 03101.
Our Rating
Amazon Pharmacy by Amazon.com is legitimate & permits consumers to order prescription meds for home delivery within the USA. But, what are your reviews about this e-pharmacy? Certainly, orders are delivered in discreet packaging to the consumer's preferred address. Meds require a prescription from a licensed physician. The pharmacy securely manages shopper info in compliance with HIPAA & doesn't share PHI outside of the pharmacy for either advertising or marketing purposes without clear consent from the shopper.
However, Amazon doesn't have a live chat, which most shoppers would like to experience. Also, some people may need Schedule II meds such as Ritalin & Adderall for ADHD, or Dilaudid for pain, etc., but they can't get those from Amazon Pharmacy. Furthermore, Amazon Pharmacy doesn't serve all the States. Nonetheless, due to the major pointers covered in this in-depth review, we give Amazon Pharmacy a rating of 4.9 out of 5!