PharmStore.com is not a pharmacy. It's one of its kind online prescription referral platform providing clients with direct access to non-prescription and prescription medications sold by other legit drug suppliers globally. This website has a wide range of drugs that you can search and proceed to order at affordable prices.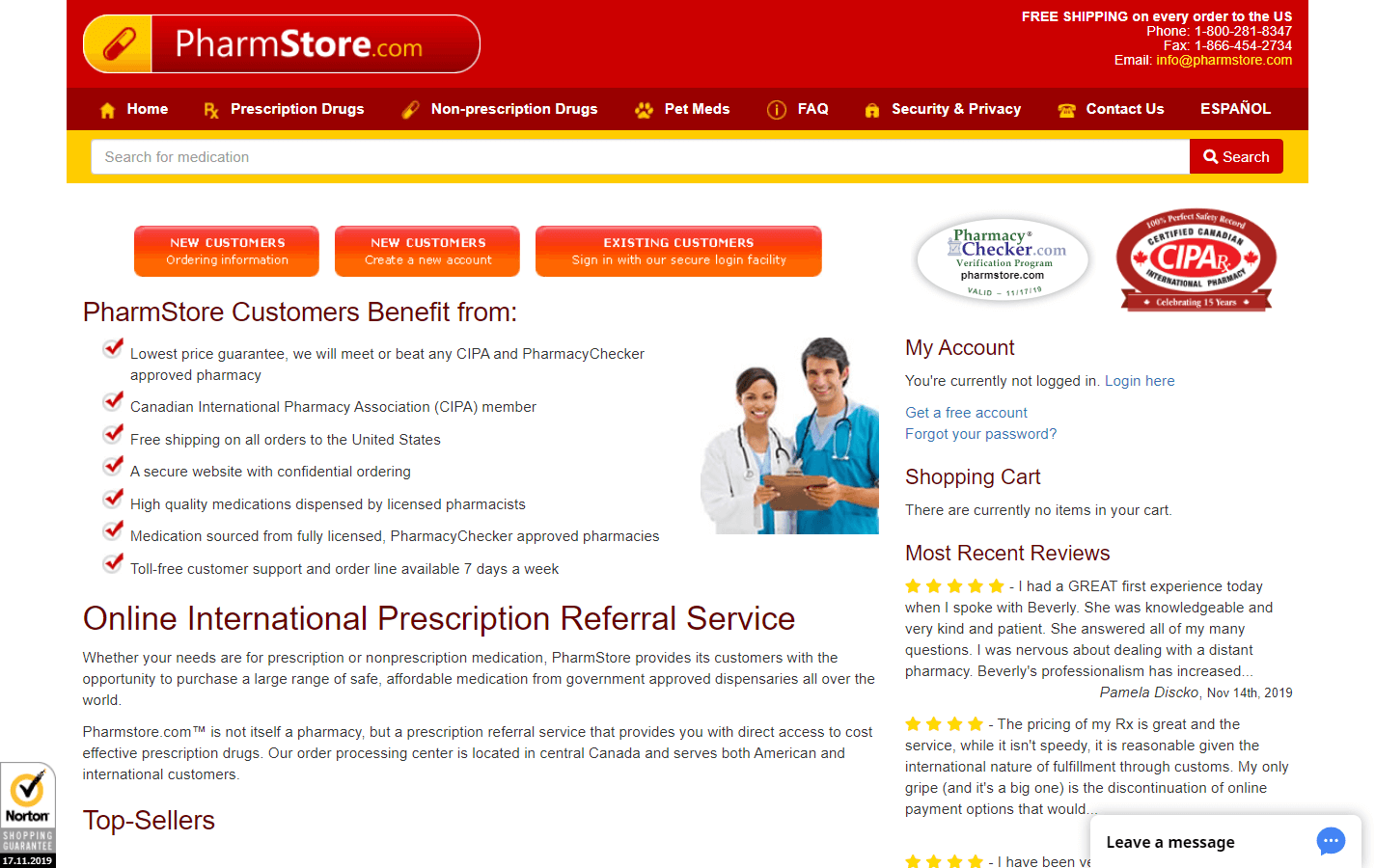 Here is the full review of PharmStore.com. We'll cover the types of meds it sells, its drug pricing, shipping, special offers and all the important details about its pharma operations.
What Does the PharmStore Really Offer?
PharmStore is a Canadian based online medicine referral service supplying clients with both the prescription and OTC drugs. It has contracted with various Canadian pharmacies and other international providers to deliver the top-notch service and access to a wide range of products.
This platform is legit and widely preferred by most people across the US and Canada due to their pricing of drugs. They market both generic and branded medications with or without a prescription.
The store has a long list of drug catalog, but it's not easily found by the customer unless they search using the search bar located at the top section of the website. By keying in the type of drug they need, they'll initiate an instant autofill dropdown list of the necessary medicine.
It's easy to choose between the brand and generic version of the med, as well as the quantity, on the drug page. Everything is well organized and operates smoothly putting you worry-free whenever you need to make an order.
Other than drugs for humans, this site also has a category of pet remedies. You don't have to use Amazon and the likes to order the meds for your pet. It's easy to use the search bar provided to look for pet medicine by name.
As a reliable store, it covers a wide catalog of medications. If a customer doesn't find what they need, the site encourages to contact its customer support for assistance.
Prescription Drugs
Got a prescription and need an online pharmacy that will fulfill your order? If you choose PharmStore.com, it's important to note that it is doesn't have its own supply of drugs, but rather takes your prescription order and sources your meds from other online vendors and has them shipped to your door.
Though it has a huge database of prescription meds, you don't get anything you want here. For example, Priligy (Dapoxetine) isn't available for sale at the moment.
Nonetheless, among other prescription meds, PharmStore has these major drugs to offer:
Viagra;
Revatio;
Cialis;
Adcirca;
Levitra;
Staxyn;
Stendra.
The pricing of these prescription drugs is extremely affordable. Coupled with outstanding quality and excellent shipping, this online prescription referral service best meets the demands of its customers.
For example, Cialis (brand medication) from other online vendors would cost you roughly $380.96 for a supply of 30 pills (that's $12.70 per tab). From this store, you get the same drug at $184. That's around $6.1 per tab and two times cheaper compared to other competitors.
It's easy to know if the drug you are looking for requires a prescription or not. On the product page, you'll see the label "Prescription required". For all Rx meds, it's not possible to get the drug without a valid prescription since all their government-approved partner dispensaries require a valid prescription written by a medical practitioner licensed to practice in your area of residence.
Non-Prescription Drugs
You can't miss most of the popular non-prescription meds from this site. Just like you would search on the prescription meds section, this category gives you the ability to order promoted meds without a doctor's prescription.
With a simple search, you can find popular vitamins, painkillers and other OTC pills. Though most drugs still require a prescription including major ED meds such as Viagra, Cialis, Levitra, and others – either as a brand drug or generic equivalent. This pharmacy referral website emphasizes majorly on prescription drugs. That's why it has an "Accredited" status code on PharmacyChecker.com, and most of their affiliate vendors require prescription orders as they are licensed pharmacies.

Grab Free Samples
Fast delivery despite covid. I got the samples just paid for the delivery. I did not know which type of pill work for me. So getting the samples seemed to be the best way to get what works for me. I have never had any problems with either the product, shipping or billing. They truly are the gold standard for ED medications.
Not sure what to order? Our friends from CialisBit offer a sample pack of the most popular ED pills (Cialis, Viagra, and Levitra) delivered by mail straight to your doorstep for free. The trial pack is already added to your shopping cart >>>
CialisBit is the real deal. Professional in every aspect of the business. You can order with confidence. Great customer service. Requests are promptly and courteously addressed. I think they have a great website, and products work as expected. I'm particularly pleased that they offer PayPal as an option to pay. Even though there is an additional fee, you can be assured that your credit card information will not be compromised. Most recent order arrived at my US address September 12, having been ordered August 30. Not bad at all considering the pandemic. I highly recommend this organization and hope they are here to stay. More TrustPilot reviews
Remedies for Pets
Having a sick dog or a cat can make you uncomfortable and powerless. There are common illnesses as well as other conditions that require professional help. Think of worms and their types, or fleas that cause itching and irritation that can lead to harmful infections.
There are several remedies available at PharmStore that help medicate a mangy dog or treat other conditions inflicting your lovely pet. These remedies are highly effective as they fully restore their strength and make your pet healthier. PharmStore.com is unique since most online pharmacies don't combine pet remedies with other human medications.
Since it's not a pharmacy itself, it's easy for it to join hands with other licensed vendors in the pet industry and bring you quality medications with the best prices not matched with other big suppliers of pet meds.
With its affordable pet remedies, it's easy to search for the drug you need and head on to make an order. There is nothing complicated here since a prescription is not required. All drugs are sold over the counter. This platform doesn't guarantee customers everything though. It is always sourcing new medications each and every day, and if a client can't find what they are looking for, it is advised to contact customer service for a possibility to look into sourcing a specific drug for their four-legged friend. That's a customer-centric approach, and most clients rate this website higher because of its excellent services.
FAQ Section for All Necessary Questions
What's unique here is a list of all possible questions and answers customers may need to familiarize themselves with before engaging with this drugstore. PharmStore details everything, from getting a prescription, the number of meds supplied at once, why it's necessary to create an account, the easiest way to shop, to the payment options and shipping details, as well as referral programs, and a lot more.
Everything in this section is stellar and well written. PharmStore also has a support number you can call and speak directly to a pharmacist if you want to ask questions about your medication.
Shipping Details and Location
What worries most clients when shopping online is how long it takes for their meds to arrive. PharmStore ships its meds to most parts of the globe at varying times.
There is no same day or next day shipping here. Most prescription orders are shipped from the partner dispensaries within a week after a successful order. They ship OTC meds within 3 business days. Once shipped, your medication(s) will take approx. two to four weeks to arrive at your door. For US postal addresses, their delivery must be USPS.
Delays cannot be fully avoided on online shipments. Like any other online drugstore, you can communicate with PharmStore if your order is delayed.
Shipping to the continental US and its territories is free on all orders. The platform charges a $19.95 shipping fee to all other destinations, that varies pending on the dispensing country, which can be Canada, Singapore, United Kingdom, Mauritius, Australia, and New Zealand.
Comparing to other online drugstores, shipping is relatively cheaper. This is another favorite for its customers from international countries outside the US.
PharmStore ships to United Kingdom, Australia, China, Italy, Japan, Costa Rica, Brazil, Chile, El Salvador, France, Philippines, Singapore, Hong Kong SAR (China), Mexico, New Zealand, Spain, Switzerland, and the United States. Customers from other countries, not listed above, are likely not to get their orders. It's necessary to contact the support for more information.
Special Offers
Not only PharmStore.com's pricing of meds (inclusive of shipping fee) matches or beats any PharmacyChecker.com and Canadian International Pharmacy Association (CIPA) approved pharmacies.
Apart from quality meds, lower prices, and excellent shipping, PharmStore has other amazing special offers that lower the cost further. Occasionally, it provides coupons and promotional codes to its customers.
Furthermore, it also has a referral program where it gives new customers $20 off of their first order after signup if they mention their referrer. After successful shipping, the referrer also gets a $20 credit applied to their account on the next order through the store. There is no limit on how many people you can refer.
Our Rating
PharmStore is a great referral service. With a wide selection of products for your health condition including prescription drugs and meds requiring no Rx, it also has a section of pet remedies making it unique among common online pharma stores. With a simple search bar that is widely visible, it's easy to browse the meds you want at exclusively lower prices.
Clients prefer this website due to its transparency, strict pharmaceutical regulations as well as selling the referral meds at an affordable cost. The platform also offers consultation to customers, meets website security requirements, and its market claims are truthful and not misleading to customers.
PharmStore.com is positively rated from most online review websites. Our rating of this website is 5 out of 5 based on pricing, shipping, as well as customer satisfaction score. If you are residing in any of its delivery destinations and need quality and cheap meds, then we recommend PharmStore.com, the online prescription referral platform.