Many patients across the globe source their health products from online pharmacies. However, finding a legit and the most affordable e-pharmacy can be challenging. Some e-pharmacies are rogue and sell counterfeit meds or even take the shopper's money with no delivery. Since we have reviewed various e-drugstores, this guide is all about GetRoman.com pharmacy review. What is GetRoman? Is the vendor legit or a scam? How does it work? Is it trustworthy & worth your online shopping experience? How much do its products cost?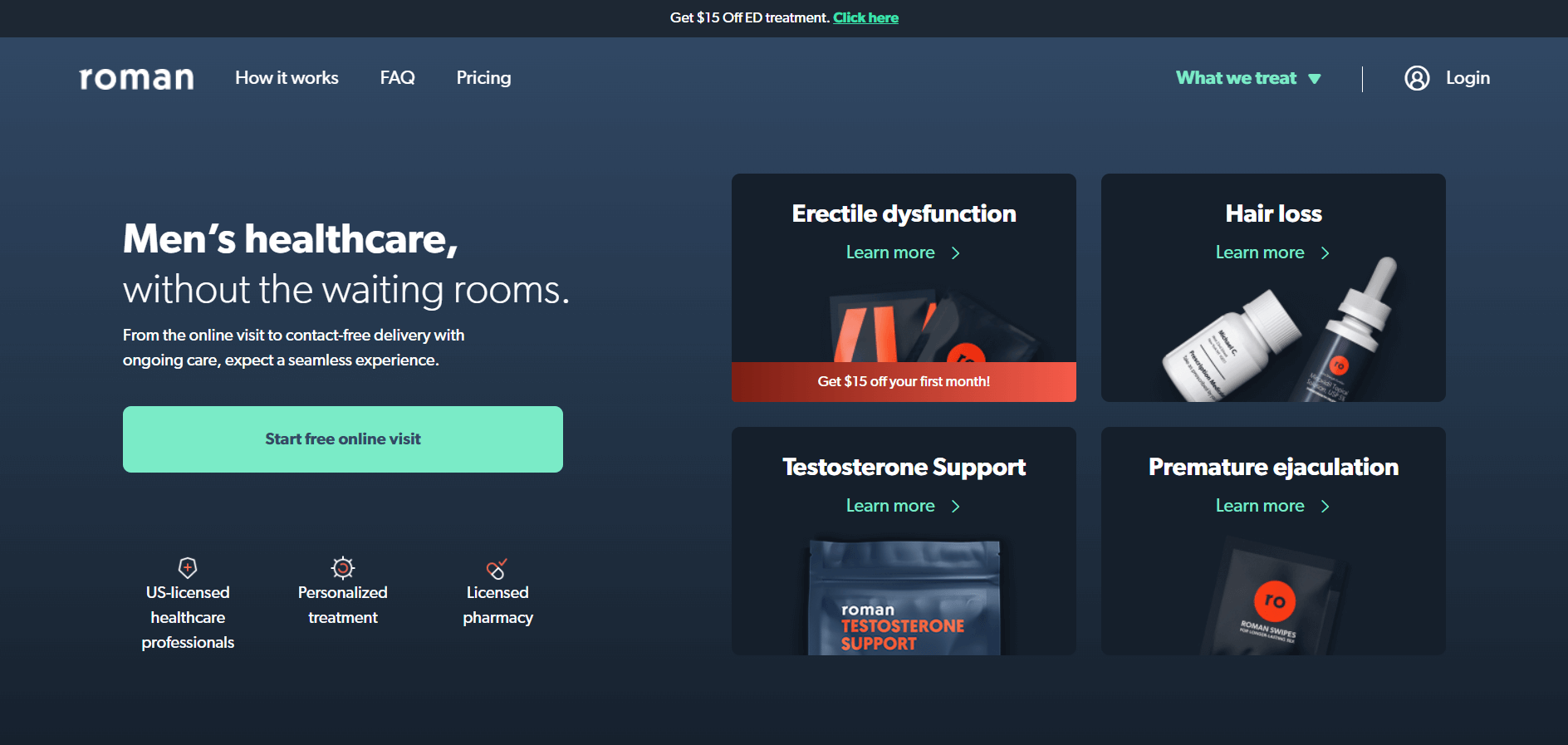 Read this guide to get to know about the vendor's operations & our honest verdict.
Affordable and Convenient Online Pharmacy for Men's Health by Subscription
GetRoman (or Roman) is certainly a telemedicine company providing a convenient, discreet, & affordable way for its shoppers to receive various health treatments from a physician. Proudly, Ro is the premier company that powers Roman. It's a direct-to-consumer telehealth firm that handles every patient's needs from diagnosis to the timely delivery of meds.
All of the physicians on the Roman platform are indeed U.S.-licensed healthcare specialists. Each physician undergoes a comprehensive background check & also license validation process.
GetRoman offers a free online consultation plus free follow-up appointments. Nonetheless, each consultation for the Testosterone Health Program costs $25, which is in addition to therapy prices. Furthermore, GetRoman provides a monthly or 3-month subscription on remedies. Individuals can also swap to on-demand drug deliveries after their first shipment.
With in-home care API, a nationwide provider network, as well as proprietary pharmacy distribution centers, Ro seamlessly connects telehealth, diagnostics, and pharmacy services to furnish high-quality, inexpensive healthcare without the need for insurance.
Is Roman Legit Service?
As a recommendation, shoppers should only purchase prescription meds from an e-pharmacy or telehealth firm that has certainly conducted a consultation with an individual in need of meds with one of its physicians beforehand. These physicians will then fill out a prescription for appropriate therapy. Certainly, Roman fulfills these criteria & proves itself as a legit service.
The GetRoman company is a digital health clinic for men. Its mission is to enhance the lives of men & their partners by creating high-quality care obtainable & convenient. The company works with trusted organizations in policy, healthcare, & beyond. Certainly, it's a legit healthcare firm built for patients by patients.
It takes patients' privacy & the security of their info very seriously. Besides, it designed the Roman platform to capitulate to all applicable privacy laws & has enforced stringent security protocols to safeguard patient info.
GetRoman's platform makes healthcare additionally efficient by gathering a patient's history, flagging contraindications, highlighting standard risk factors, & invariably checking in with patients, giving medics more time they need to spend addressing each patient's unique needs.
Additionally, the BBB gives the GetRoman an A+ grade.
Grab Free Samples
Fast delivery despite covid. I got the samples just paid for the delivery. I did not know which type of pill work for me. So getting the samples seemed to be the best way to get what works for me. I have never had any problems with either the product, shipping or billing. They truly are the gold standard for ED medications.
Not sure what to order? Our friends from CialisBit offer a sample pack of the most popular ED pills (Cialis, Viagra, and Levitra) delivered by mail straight to your doorstep for free. The trial pack is already added to your shopping cart >>>
CialisBit is the real deal. Professional in every aspect of the business. You can order with confidence. Great customer service. Requests are promptly and courteously addressed. I think they have a great website, and products work as expected. I'm particularly pleased that they offer PayPal as an option to pay. Even though there is an additional fee, you can be assured that your credit card information will not be compromised. Most recent order arrived at my US address September 12, having been ordered August 30. Not bad at all considering the pandemic. I highly recommend this organization and hope they are here to stay. More TrustPilot reviews
Is a Prescription for Drugs Required?
You don't require to already possess a prescription or a referral to use GetRoman. The physicians on the GetRoman platform will indeed prescribe if they consider it safe & suitable for you after your e-pharmacy visit.
Additionally, GetRoman Swipes are obtainable for purchase straight from the vendor website as an over-the-counter (OTC) product that doesn't necessitate a prescription. As suggested by the vendor, if you're inquisitive about prescription therapy, then the process commences with an online visit. The online visit via a U.S.-licensed physician will question you about your symptoms, medical record, & other basic info. You'll also be requested to upload a genuine photo of your ID to confirm your identity. Afterward, a physician will examine everything, resolve if you're a candidate for any health product you need to treat through telemedicine, & formulate a personalized therapy recommendation plan for you.
After the patient online visit, a physician will conduct their initial review of the patient medical record within 24 hours. Take note that telemedicine laws vary by state. A small number of states mandate a pharmacy & also a patient to converse via video. If you reside in one of those states, after your initial online pharmacy visit, then a physician will reach out to set up a suitable time to chat.
Also, to receive medicine through GetRoman, the patient needs to have seen a physician within the last 3 years. If the patient hasn't seen a physician in the past 3 years, then he's not a right fit for GetRoman's service.
GetRoman offers complimentary online follow-up arrangements, & individuals can cancel their medications at any time.
Product Line to Improve Sexual Health
Sexual health is well-being regarding sexuality. Erectile dysfunction (ED), the inability to acquire & sustain an erection appropriate for sexual intercourse, can be a manifestation of a physical or psychological condition. ED can certainly induce stress, relationship strain, & insufficient self-confidence.
Patients suffering from ED should first be assessed for any underlying physical & also psychological ailments. To treat ED, GetRoman offers oral medications, understood as phosphodiesterase-type 5 (PDE5) inhibitors. These inhibitors are regarded as one of the mainstays of ED remedies. There exist many distinct types of PDE5 inhibitors that certainly differ by how fast they start functioning, how long they last, their expected negative effects, etc. The PDE5 enzyme inhibitors offered by GetRoman are:
Sildenafil;
Viagra;
Cialis;
Generic Viagra;
Generic Cialis.
It's essential to mention that ED med doesn't function for everyone, & everyone's response to remedy is unique. Some would prefer Cialis options over Viagra since it last longer.
GetRoman needs to comprehend your blood pressure before prescribing your ED meds. It's a significant part of deciding whether it's noncontroversial for you to take ED meds. It can be harmful to take an ED med if your blood pressure is certainly above or below a specific value.
Additionally, GetRoman offers premature ejaculation (PE) meds. PE is a recurrent ejaculation that transpires with minimal stimulation & indeed earlier than desired, before or momentarily after penetration. If you regard that you ejaculate too swiftly during sex, an efficacious therapy may be appropriate for you.
There are multiple oral meds, topical treatments, & other techniques that can be utilized alone or in a mix with another strategy. According to GetRoman e-pharmacy, there are 3 prescription-strength meds for PE obtainable on the GetRoman platform:
sildenafil citrate;
tadalafil;
sertraline.
Having gone through an online visit, your physician will determine which therapy option is most suitable for you after examining the info you furnish. While one med may be more suitable for one person, a different med may be more satisfactory for another individual. It all relies on individual-specific symptoms, medical records, & preferences.
Take note that no med is specifically FDA-authorized for the remedy of PE. Nonetheless, according to GetRoman, tadalafil, sildenafil citrate, & sertraline can be prescribed off-label for PE, if suitable. Besides, in addition to the aforementioned prescription meds, GetRoman Swipes is an OTC treatment for PE that you can buy directly from the e-pharmacy without going through an online visit. Certainly, benzocaine wipes offered by GetRoman can be well-tolerated. You can experience higher sexual satisfaction & have more control over your ejaculation.
Other Types of Meds Presented in the Roman Pharmacy
Aside from ED & PE meds, GetRoman offers other health products from various categories including prostate health, hair loss (i.e., Finasteride), skincare, men's multivitamin, cold sores, heart health, eczema, dandruff, allergies, testosterone support, anxiety & depression, stress relief, extreme sweating (hyperhidrosis), genital herpes drugs (e.g., Valtrex), & weight control.
For other health ailments, GetRoman Pharmacy offers significant savings on 1,000+ FDA-authorized generic meds, including bulk supplies of six & 12-month medications.
To get the med you need, you just need to click the drug category and select the needed product. You're only charged for the med after a physician has authorized a personalized therapy plan. If you're unsuitable for telemedicine, the GetRoman e-pharmacy promised to refund your online visit ($25).
Available Promo Codes, Coupons, and Discounts
By browsing the vendor website, you won't find much info about the available money-saving experiences. However, it promises $15 off the shopper's first order, plus a free physician visit at the time of writing this review. It also offers 2-day free parcel deliveries in discreet packaging & no hidden fees.
The cost of shopper treatment relies on the type & amount of product or med you receive. Take note that the e-pharmacy can update its website with seasonal promo codes, coupon codes, & discounts.
Payment Methods
GetRoman accepts Discover, PayPal, Mastercard, Visa, American Express, Apple Pay (with a supported Apple device), & Google Pay (with a supported Android device). As recommended by the GetRoman e-pharmacy, it can't guarantee that HSA & FSA cards will be accepted if a shopper is determined to use those methods. It also doesn't accept rechargeable gift cards (such as Mastercard/Visa/AMEX gift cards). If you have any further queries, please contact GetRoman Pharmacy using the contact details mentioned below.
Shipping Info
GetRoman parcel shipments come either monthly or every 3 months based on what you select during your GetRoman online visit. If regular parcel shipments aren't suitable for a shopper, it recommends switching to on-demand package shipments after receiving the first order. Besides, shoppers can pause or delay their shipments.
Also, as per GetRoman, the total price of the shopper treatment plan may vary based on the number of the required doses & parcel shipping frequency.
The vendor sends email reminders 24 hours earlier before processing a refill to permit any adjustments. Orders from GetRoman are shipped in discreet boxes, with all meds in single-use packs. The shopper orders shipping time are indeed dispatched via 2nd day Air to guarantee medication is obtained ASAP. At the time of writing this review, Post office boxes plus mail forwarding addresses will obtain standard postal parcel shipping & not 2nd day Air.
Signatures aren't needed upon delivery, for the convenience of GetRoman members. Additionally, once the shopper's order is shipped, an email link to track shipment is sent.
Shopper orders are only shipped on weekdays. Any order placed on the GetRoman platform after 5 PM will be shipped the next day.
Refund Policy
Unfortunately, GetRoman can't accept returns of prescriptions for reuse or resale. All the e-pharmacy sales are final. Nonetheless, as advised by the vendor, if a shopper feels that the GetRoman pharmacy has made an error in the filling of the needed prescription, it assures to contact the pharmacy at care@ro.co.
Additional Features of GetRoman.com
GetRoman makes high-quality care accessible & super convenient. Its website is extremely informative and has every detail a shopper needs. The e-pharmacy is equipped with a comprehensive online visit, responsive support team & physicians, impressive personalized ongoing care, individual drug helpful guides that inform & empower, & has detailed FAQs, articles & a help center.
Every page in GetRoman is well-designed & the information displayed is simple to understand. It also informs the shopper on how to buy health products from the website & has a helpful drug pricing page.
Pharmacy Address & Contacts
A vendor with a real pharmacy address and contact details is indeed legitimate. This is true with GetRoman. It has its contact details, and it can be reached anytime a shopper needs to.
Its contact details vary based on the shopper or visitor's needs. For assistance with a customer account, billing, or shipping, it encourages contacting them using care@ro.co, & certainly, pharmacy care coordinator will be glad to assist.
A shopper can also call or text GetRoman customer service using the phone number (424) 347-6299 (only Monday through Friday from 9 AM to 9 PM Eastern) & standard messages, plus data rates may apply. However, the phone support team is also closed on federally observed holidays.
For more info about GetRoman, it recommends visiting its FAQ page. To speak to a GetRoman care representative, it advises giving them a call at (888) 798-8686 or emailing them at care@ro.co. It can also be contacted via its Twitter, LinkedIn, Facebook, or Instagram pages. It also has a Contact Us page where a visitor can get in touch with the GetRoman pharmacy.
Our Rating
GetRoman is a good & reliable e-pharmacy that offers a range of products for treating PE, ED, weight management, & hair loss. Many of these products are obtainable with a prescription, & the e-pharmacy offers a free online consultation plus free follow-up arrangements with a qualified physician.
Certainly, GetRoman connects patients to a physician whenever & wherever they need it. It indeed delivers medication directly to the shopper's doorstep, provides in-home lab testing & nurse visits, and undoubtedly offers upfront, transparent pricing on all products & services.
Because of many features, we have discussed in this guide about the GetRoman review, we give the e-pharmacy a rating of 3 out of 5. Why? Although it promises to offer cost-effective drug prices, we see it to be super expensive compared to other legit e-pharmacies such as CialisBit.com or GoodRx selling similar products like generic Viagra. Another downside of the pharmacy is that it doesn't take insurance, which could have helped the shoppers lower the cost. Certainly, an excellent e-pharmacy should have great reviews, but GetRoman has a rating of 2.5 (poor) on Trustpilot.com based on 5 reviewers, although it has been in business for a long time. It doesn't have a mobile app as well. Generally, if drug pricing is your priority, it's worth relying on other legit vendors provided you have consulted your physician.