What is the verdict on a reputable e-pharmacy? Several online drugstores offer various health remedies, but the main concern about a store is its legitimacy and the types of products it offers.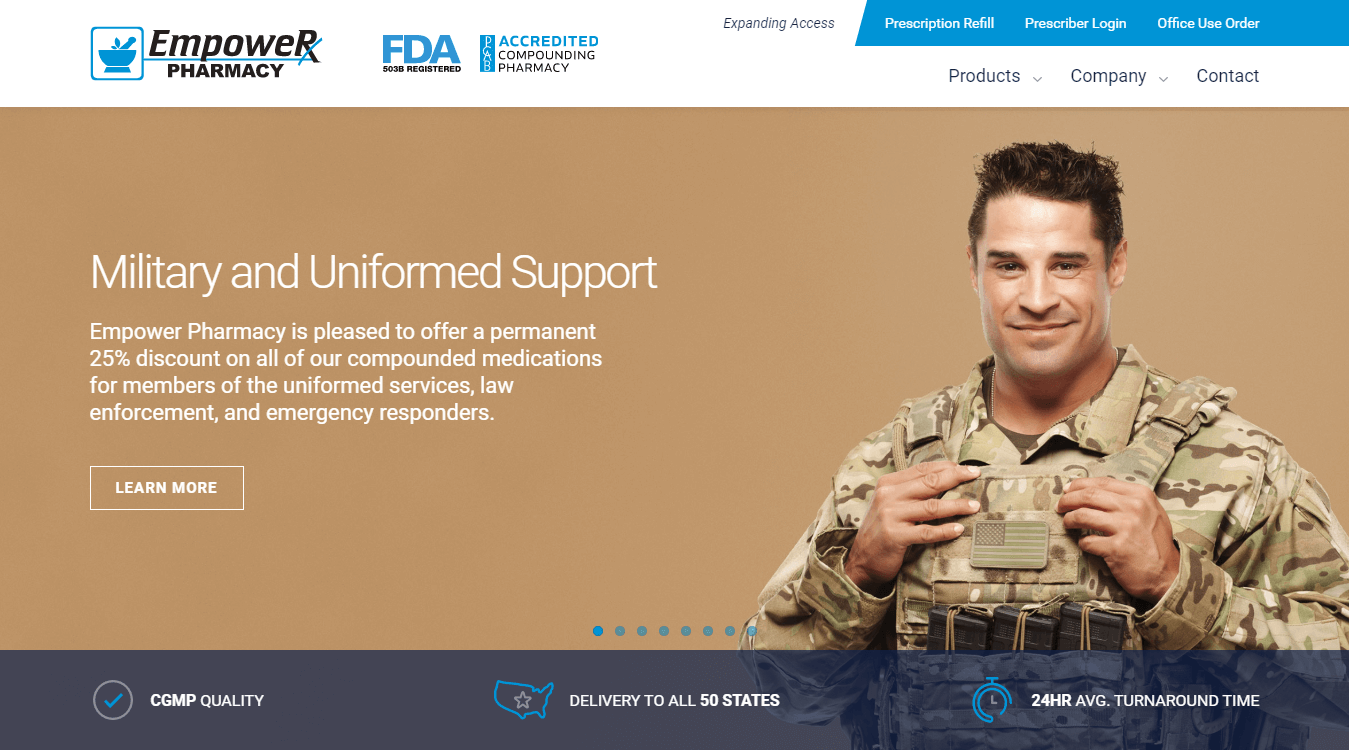 At BestPharmacyReviews, we provide in-depth coverage of various e-pharmacies according to their operations and customer relations, as well as giving them a verdict based on the source of their products, drug quality, pricing, and customer reviews.
This article contains the Empower pharmacy review. Acquaint yourself with this vendor's reliability, its legality, line of products it offers, payment methods and delivery options, location & contact details, as well as our honest rating.
Reliable E-Pharmacy with the Best Offers on the Drugs
EmpowerPharmacy is one of the most reliable online pharmacies and is a distributor of various health products. This vendor offers the best deals on the meds without compromising the quality and affordable prices.
As it strives to be the premier compounding pharmacy, its mission is clear: it takes immense pride in providing the United States patients with a broad list of wellness remedies to improve their quality of life.
EmpowerPharmacy is focused on delivering the finest quality healthcare products at competitive prices. It believes in providing world-class customer service and excellent delivery processes to its buyers. It achieves this by ensuring patient safety is met through investing in the latest technologies.
Its leadership style is to serve the needs of its patients through innovation with a vision to expand access to quality and affordable health remedies.
Is This Drugstore Legal?
Yes, it is. According to the EmpowerPharmacy profile description, it is legitimate and distributes its products within the U.S. territory. It does not offer international drug delivery but only ships locally to all the states. Why? Its operation is stationed in Houston, Texas.
The vendor sources all its active pharmaceutical ingredients from the FDA (Food and Drug Administration) registered facilities that all the U.S. pharmaceutical manufacturers are required to.
EmpowerPharmacy is allegiance to patient safety. It utilizes the highest quality meds available in combination with its cutting-edge technology, as well as quality assurance process controls. These controls provide the right medicine, true concentration, and the correct route of administration according to the treatment and the right patient. It's also designed & operated at its best to meet Current Good Manufacturing Practices (cGMP) standards.
The cGMP refers to directives enforced by FDA. It's entitled to manufacturing systems that guarantee proper drug design, it's monitoring, control of manufacturing processes as well as facilities.
As EmpowerPharmacy adheres to the cGMP regulations, it assures its customers of the quality and purity of health remedies it offers. Note that cGMP requires that drug manufacturers adequately meet control manufacturing operations. The manufacturers must establish powerful and secure management systems, install robust operating procedures, obtain quality & suitable raw materials, detect, identify, & investigate product deviations as well as maintain validated testing modus operandi.
Furthermore, since EmpowerPharmacy is licensed with the FDA as a 503B outsourcing facility, it adheres to the guidance provided under Section 503B of the U.S. "Drug Quality and Security Act (or DQSA)." This vendor is regularly inspected by the U.S. Boards of Pharmacy, FDA, & Drug Enforcement Administration (DEA) to assure compliance. Adhering to all the given standards allows the pharmacy to keep the highest degree of supply chain integrity as well as regulatory approbation with state & federal regulations.
Does EmpowerPharmacy Need Prescription?
All of the medications from this vendor require a prescription from a licensed medical specialist. Your doctor can call by the number given on its website or faxing it.
As an Rx pharmacy, EmpowerPharmacy can also receive valid electronic drug prescriptions or originally written paper prescriptions directly from patients when placing an order.
According to this vendor, its operation is convenient. You can refill your prescription online or by calling the support center during its normal business hours. If you have questions about your prescription, this vendor has excellent support and recommends giving it a call or submitting your inquiry on its "Contact us" page.

Grab Free Samples
Fast delivery despite covid. I got the samples just paid for the delivery. I did not know which type of pill work for me. So getting the samples seemed to be the best way to get what works for me. I have never had any problems with either the product, shipping or billing. They truly are the gold standard for ED medications.
Not sure what to order? Our friends from CialisBit offer a sample pack of the most popular ED pills (Cialis, Viagra, and Levitra) delivered by mail straight to your doorstep for free. The trial pack is already added to your shopping cart >>>
CialisBit is the real deal. Professional in every aspect of the business. You can order with confidence. Great customer service. Requests are promptly and courteously addressed. I think they have a great website, and products work as expected. I'm particularly pleased that they offer PayPal as an option to pay. Even though there is an additional fee, you can be assured that your credit card information will not be compromised. Most recent order arrived at my US address September 12, having been ordered August 30. Not bad at all considering the pandemic. I highly recommend this organization and hope they are here to stay. More TrustPilot reviews
Product Line to Improve Sexual Force
According to reliable U.S. research, erectile dysfunction (ED) affects 3 in 5 American men (about 59%), and most of them don't know that it can be a sign of more critical health conditions.
EmpowerPharmacy offers the following orally disintegrating (ODT) tablets for treating impotence:
Sildenafil ODT;
Vardenafil ODT;
Tadalafil ODT.
ODTs are designed to be dissolved on the tongue faster rather than swallowed whole. It disintegrates and dissolves in the mouth without water. This version of meds provides a rapid onset of action.
Apart from oral ED remedies, the vendor sells intracavernosal compounds (injections into the base of the penis) for this sexual problem. While injectable medicines may seem intimidating or even painful to experience, they are an easy & very effective way of combating ED. The list of intracavernosal compounds the pharmacy offers includes:
BiMix (phentolamine and papaverine);
Super BiMix (a higher concentrated version of BiMix);
TriMix (phentolamine + papaverine + prostaglandin E1);
Super TriMix (a higher concentrated version of TriMix);
QuadMix (a combination of phentolamine, papaverine, prostaglandin E1, and atropine);
Super QuadMix (a higher concentrated version of QuadMix).
EmpowerPharmacy also offers meds to deal with low testosterone. It includes various versions of testosterone like testosterone cream, nasal gel, cypionate, cypionate propionate, enanthate, propionate, testosterone pellets, and testosterone troches.
Testosterone pills increase muscle mass, relieve anxiety, relieve depression, bump up energy, increase a sense of well-being, improve memory, & improve concentration. Also, testosterone pellets boost lean body mass and decrease fat mass.
Other men's health products provided by this e-pharmacy include DHEA (dehydroepiandrosterone) capsules and DHEA cream among others.
Other Categories of Tabs at EmpowerPharmacy
There are various product lines of medicines this vendor provides including women's health, dermatology, hormone replacement, weight management, IV therapy (intravenous therapy), other men's health (apart from ED pills), and fertility drugs.
In regards to dosage forms, the types of health products and other remedies it offers are in the form of capsule/tablet, injection, nasal spray/gel, pellet, suppository, cream/gel, and troche.
If you do not see the item you are looking for on the website, it does not mean the drug is not available. According to this e-pharmacy, it isn't possible to list every potential compound it offers, given the vastness & uniqueness of individualized compounded formulations. To inquire about what the drugstore currently carries or to fill your prescription, it advises to fill out the contact form located on its "Contact" page or call the support.
Profitable Discounts and Coupons
Unlike several other e-pharmacies, EmpowerPharmacy does not offer profitable discounts and coupons to its clients. There are thousands of vendors helping thousands of customers get quality medications at affordable prices inclusive of coupons, discounts, and offers.
Now, the big question is, What's the point of EmpowerPharmacy prescribing if patients can't afford to get it filled? The truth is, this e-pharmacy has a goal of providing personalized health remedies that are both convenient and economical.
Payment Methods and Delivery Options
EmpowerPharmacy accepts cash, flexible spending account (FSA), health savings account (HSA), and most major credit cards, including MasterCard, Visa, Discover, and American Express.
Once you place an order, this vendor bills for a medication and then ships directly to the patient location. It contacts the patients directly and confirms their demographic, billing, and shipping information.
Most orders are delivered the same day if the patient prescription is received by 1:00 PM CST (Central Standard Time). EmpowerPharmacy offers multiple shipping options for customers' convenience. Orders can be shipped via UPS (United Parcel Service), USPS (United States Postal Service), or FedEx.
Depending on the patient's shipping choice, the vendor offers:
ground delivery, which takes 1–5 days costing $10;
2nd-day delivery, which takes 2 days at $20;
overnight shipping (1 day) at $25;
overnight Saturday delivery (1 day) at $45;
overnight refrigerated delivery (1 day) at $40.
According to this e-pharmacy, prescriptions requiring refrigeration must be delivered overnight from Monday to Thursday to assure the temperature integrity of the refrigerated product.
Drugstore Location & Contact Details
Every legit and reliable vendor must have its drugstore location and contact details made visible to every customer or patient to contact the support, place an order by phone call, etc.
If you have any queries or comments about its website, products it sells, or any of its services, it recommends that you contact them through an online contact form or one of the following:
Address:
5980 W Sam Houston Pkwy N, Ste 300
Houston, TX 77041
Phone number:
(877) 562-8577
Fax:
(832) 678-4419
Its working hours are 7:30 AM to 7:30 PM, Monday to Friday.
Our Rating
What's the verdict on EmpowerPharmacy? It has helped thousands of patients by providing genuine medications at affordable prices but has some negative impact.
Various reviews and testimonials give varying perspectives about this online pharmacy's operations and how it empowers or manages its employees. According to Glassdoor, there is a mix of positive employee reviews and complaints according to their experience while working at this pharmacy.
At the time of writing this article, Glassdoor.com gives EmpowerPharmacy a rating of 3.9 out of 5.
There are a few patients who have ordered their meds from this vendor and claiming that EmpowerPharmacy drug prescription is filled timely and delivered. However, most of the patients state that this online drugstore is not up to pharmacy standards. One patient said that the pharmacy compounded an incorrect dose of medication and blamed his doctor. Another buyer claimed that this seller's drug pricing was a scam.
Furthermore, from the patient's perspective, this drugstore is ideal for American residents, and we give a rating of 3.5/5. We didn't find any reviews on Trustpilot.com, although this e-pharmacy has a profile and has existed for more than 11 years.
According to the Better Business Bureau (BBB), EmpowerPharmacy is not BBB accredited and it has good and poor patient ratings.
What's your verdict? Are you living in America and have ordered your meds from this drugstore? Do you recommend this drugstore? Give us your opinion.