CanDrugstore.com is an online pharmacy that aims to offer a wide range of prescription and non-prescription medications at prices about 70% lower than in local pharmacies. It aims to improve access and affordability of meds for individuals within the USA and Puerto Rico.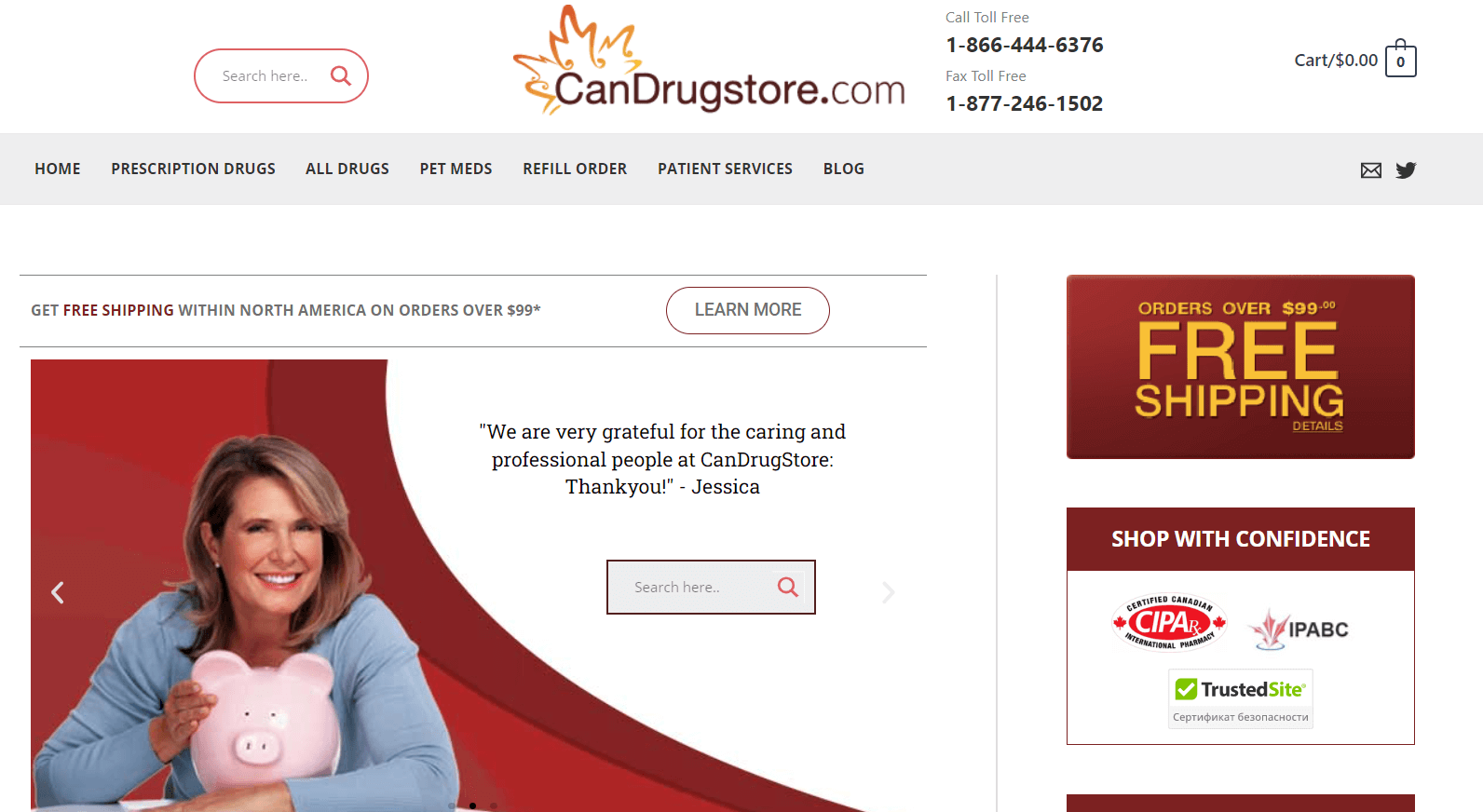 But can it be trusted to deliver on its promise? Does it sell high-quality medications? Is it even legit? You will find the answers to these questions and more in this CanDrugstore review. Let's dive in.
E-Pharmacy with the Highest Standards of Service and the Lowest Prices
For anyone looking to get a regular supply of meds, discovering an online pharmacy that provides excellent customer service while selling at an affordable price is priceless. CanDrugstore boasts of doing just that. According to the information on its website, it sells its meds for about 40% to 70% cheaper than other pharmacies do.
It sells both prescription and over-the-counter (OTC) medications, including custom drug compounds and other medical supplies. It claims to sell to customers via international fulfillment centers approved by the respective regulatory bodies of the countries in which it provides its services, including:
Canada;
Turkey;
the UK;
the US;
India;
New Zealand;
Mauritius;
Singapore.
The online pharmacy also boasts of providing "top flight personal service" to its customers through knowledgeable staff and a fine-tuned delivery process. But is that all true?
Well, one of the first steps to providing excellent customer service is to have a well-designed and functional website that is enjoyable and easy to use. Unfortunately, CanDrugstore doesn't do so well in this regard. It has a poor website layout: the user interface isn't inviting and the font size & placement of the site elements make it hard to look at.
What's more, we are not confident in the promises the drugstore makes about the quality of the services it provides to customers. Pharmacies with excellent customer service typically provide responses to customer queries within a few hours or a day at most. It's been 48 hours since we reached out to CanDrugstore, and we are yet to get a reply.
The pharmacy boasts of selling at one of the best possible prices, but we do not agree. We found its prices to be on the high side after cross-checking them against pharmacies such as ViaBestBuys.com and HighStreetPharma.com.
Based on these, it's safe to say that the pharmacy neither has the highest standards of service nor offers the lowest prices. Let's find out whether it is legit and if it is safe to even buy meds from it.
Is CanDrugstore.com Legit?
CanDrugstore started business in 2002; that's 21 years of running. Typically, the number of years of operation is a huge determinant of the legitimacy of a pharmacy. However, it is hard to say that it is legit, and here is why.
CanDrugstore claims to be fully licensed in the province of British Columbia, Canada, by the College of Pharmacists of British Columbia. However, after running a background check, we found it to be untrue. We sorted through the registrant list, but it was nowhere to be found.
Also, the vendor lacks approval from other regulatory bodies that are a must-have for legit e-pharmacies. This includes accreditation from the Better Business Bureau (BBB) and the Health Insurance Portability and Accountability Act (HIPAA) certification. This is not to mention the fact that the pharmacy lacks LegitScript approval. LegitScript is a third-party certification expert that deals in the conduction and analysis of websites to ascertain their legitimacy. The lack of LegitScript approval means it doesn't meet online pharmacy standards.
Another strong reason that impinges on the legitimacy of CanDrugstore is the fact that it lacks variable reviews. Reviews provide useful information about the quality of meds and services that online stores provide. Trustworthy pharmacies ought to have tons of positive reviews not just on their websites but also on reputable third-party review platforms such as Yotpo and Trustpilot. CanDrugstore has been around for about 21 years, so it is expected to have thousands of reviews.
What's more, it lacks social media channels through which customers can easily reach out or get information with ease. Rogue pharmacies rarely have a strong social media presence because they simply lack the time, money, and patience required to run and maintain it.
However, the pharmacy is CIPA certified. CIPA is a Canadian association of licensed, retail pharmacies that ensures that its members source their meds directly from leading name-brand manufacturers and sell them affordably. Even though CanDrugstore lacks all other certifications and doesn't tick most of the important boxes, a CIPA certification changes things. It implies that the pharmacy is legit. However, it doesn't guarantee that the drugstore provides a high standard of service. We advise that you proceed with caution if you decide to still order meds from the pharmacy.
Grab Free Samples
Fast delivery despite covid. I got the samples just paid for the delivery. I did not know which type of pill work for me. So getting the samples seemed to be the best way to get what works for me. I have never had any problems with either the product, shipping or billing. They truly are the gold standard for ED medications.
Not sure what to order? Our friends from CialisBit offer a sample pack of the most popular ED pills (Cialis, Viagra, and Levitra) delivered by mail straight to your doorstep for free. The trial pack is already added to your shopping cart >>>
CialisBit is the real deal. Professional in every aspect of the business. You can order with confidence. Great customer service. Requests are promptly and courteously addressed. I think they have a great website, and products work as expected. I'm particularly pleased that they offer PayPal as an option to pay. Even though there is an additional fee, you can be assured that your credit card information will not be compromised. Most recent order arrived at my US address September 12, having been ordered August 30. Not bad at all considering the pandemic. I highly recommend this organization and hope they are here to stay. More TrustPilot reviews
Is a Prescription for Tabs Required?
Yes, intending buyers are required to tender a valid prescription from a Canada- or US-licensed physician in order to buy prescription medication at the pharmacy. But that's not all. The pharmacy also requires customers to fill out a health profile form. It uses the information provided via the form to understand the unique medical needs of each customer, just like brick-and-mortar pharmacies do. Its customer care specialists also use the provided information to check for possible interactions. They may contact customers or their physicians (with permission) if need be.
It is worth noting that the drugstore only receives prescriptions mailed or faxed directly from the doctor of intending buyers. It does not accept prescription transfers from pharmacies located outside of Canada.
Tablets to Improve Sexual Force
CanDrugstore.com has a wide range of medications used to improve sexual health problems such as premature ejaculation (PE) and erectile dysfunction (ED). Here is a list of the ED meds it currently has in stock:
generic sildenafil;
generic tadalafil;
generic vardenafil;
generic avanafil;
brand-name Viagra;
brand-name Cialis;
brand-name Levitra;
Stendra.
On the other hand, the PE meds available in the pharmacy include Paxil (paroxetine), Lexapro (escitalopram), Celexa (citalopram), Zoloft (sertraline), and Prozac (fluoxetine).
The generic versions of these drugs all cost significantly less than their brand-name counterparts, and intending buyers may choose whichever one they prefer. However, it is worth noting that they are all prescription medications, so prescriptions would need to be presented to get them.
Other Categories of Drugs at CanDrugstore
Besides drugs for sexual health problems and enhancement, the pharmacy also sells a wide range of meds used to treat varying health conditions, including asthma, angina, fungal infections, etc. Some of them include:
Accolate;
Accupril;
Famvir;
Imdur;
Imodium;
Ofev;
Sanafitil;
Ogestrel.
The pharmacy also sells pet medications, specifically for cats and dogs. However, it has a limited number of brands available.
The prescription medications available in the pharmacy are listed alphabetically. Specific medication can be accessed by clicking on the alphabet it starts with and then scrolling to locate it. The pharmacy also has a search box through which customers can simply type in the name of a drug to determine if it is available.
Profitable Coupons & Promo Codes
Unlike other online pharmacies we've reviewed, which provide many profitable offers, including coupon and promo code discounts, CanDrugstore doesn't do so much. Currently, it only offers a $15 credit to customers for each referral they make. It also issues referees $15 that they can use to purchase any medication available on the platform. It is worth noting that the pharmacy only issues the $15 credit to the referrer and the referee if the referee places an order worth over $99. If the order value is under $99, the new customer becomes only entitled to $10.
Options of Payment
For smooth and secure customer transactions, it is important for online pharmacies to accept a wide range of payment methods. CanDrugstore appears to have taken this fact into consideration, as it accepts multiple modes of payment. They include:
personal checks;
American Express (AmEx);
e-Checks;
international money orders;
certified checks.
Customers can transact on the platform without fear of losing their personal information, as all transactions on the website are protected with SSL encryption. However, it is important to apply caution when shopping, as no system online is guaranteed to be 100% secure.
Shipping Details
CanDrugstore currently only fulfills orders from Canada, the UK, the US, Puerto Rico, Turkey, New Zealand, Singapore, and Mauritius. It ships parcels via Priority Mail service since a courier service does not ship prescription medication due to restrictions. It is worth noting that deliveries within the US cost $9.95 and may cost more based on the weight of the package. However, the pharmacy provides free shipping within North America on all orders worth $99 or more.
When an order is placed, CanDrugstore forwards details of the order to a pharmacy closest to the customer. The processing time is 2 to 3 business days. Once the order is on the fulfillment pharmacy's tablet, delivery to the buyer's specified address usually takes 2 to 4 weeks. However, the waiting period may be longer during the holiday season.
The pharmacy creates an account for buyers once they place an order. Details about the order, including processing time, may be found on the account, and customers can access it by logging in. There is no information regarding parcel tracking on the platform.
Return & Reshipment Info at CanDrugstore.com
It is possible to cancel orders placed on the platform. However, it becomes impossible to cancel an order once it has been dispensed and shipped out from the fulfillment pharmacy. At this point, it is worth noting that in the event of damage or unexpected delay, a refund or free reshipment of the parcel isn't guaranteed. Consequently, customers may have to forgo orders if they go missing or get damaged. It is important to be aware of this fact if you decide to patronize this pharmacy.
What Are the Other Features of This Pharmacy?
Besides all that has been mentioned about this pharmacy so far, it has 3 features that customers may find interesting and helpful. One of them is its blog section. The blog section contains information about different health complaints: their causes, symptoms, and the possible treatment options available. It also provides information about drugs and the best ones for specific health problems. It is worth noting that the pharmacy has not been updating the blog; it's been almost 2 years since the last upload.
The 2 other interesting features of this pharmacy are the live chat feature and refill program. Through the live chat feature, intending buyers can reach customer care agents directly within a few minutes. This is one of the fastest ways to get answers to any questions, and it is very helpful.
On the other hand, the refill program is a service that helps customers get their refills right when they need them. The pharmacy notifies customers who sign up for the reminder via a phone call or email if they fail to refill their prescriptions based on their medication schedule. In most cases, the drugstore's customer care specialists remind customers about 21 to 30 days before they are due for a refill. This is a really important feature and comes in really handy.
Drugstore Location & Contacts
CanDrugstore is located at #109 – 7938 128th Street, Surrey, British Columbia, Canada, V3W 4E8. It has a contact form and several numbers through which it can be reached via phone and fax.
Toll-free phone: 1-866-444-6376
Toll-free fax: 1-877-246-1502
International phone: 1-604-872-3144
International fax: 1-604-595-8952
Email address: info@candrugstore.com
The pharmacy can also be reached via a live chat, which is operational 24/7.
Our Rating
CanDrugstore is a legit pharmacy that sells its medications at a relatively affordable price. It has a wide range of medications for treating varying health problems, and customers are likely to find whatever brand they need on its platform.
Based on the yardstick we use to determine the performance and overall standard of online pharmacies, we give CanDrugstore a rating of 1/5. It could have earned better if it had the following in place:
important approvals from regulatory bodies, including a LegitScript certification;
customer reviews on reputable third-party platforms such as Yotpo and Trustpilot;
a more modern-looking and seamless website with a faster response time to customer queries;
a 100% money-back guarantee;
some discount offers.
Beware of these flaws if you decide to still buy meds from the pharmacy.