Buying health products from online pharmacies can be risky. There exist countless rogue vendors that offer potentially dangerous prescription meds to their consumers. So, before deciding to order from an e-pharmacy, being informed about its legality is paramount.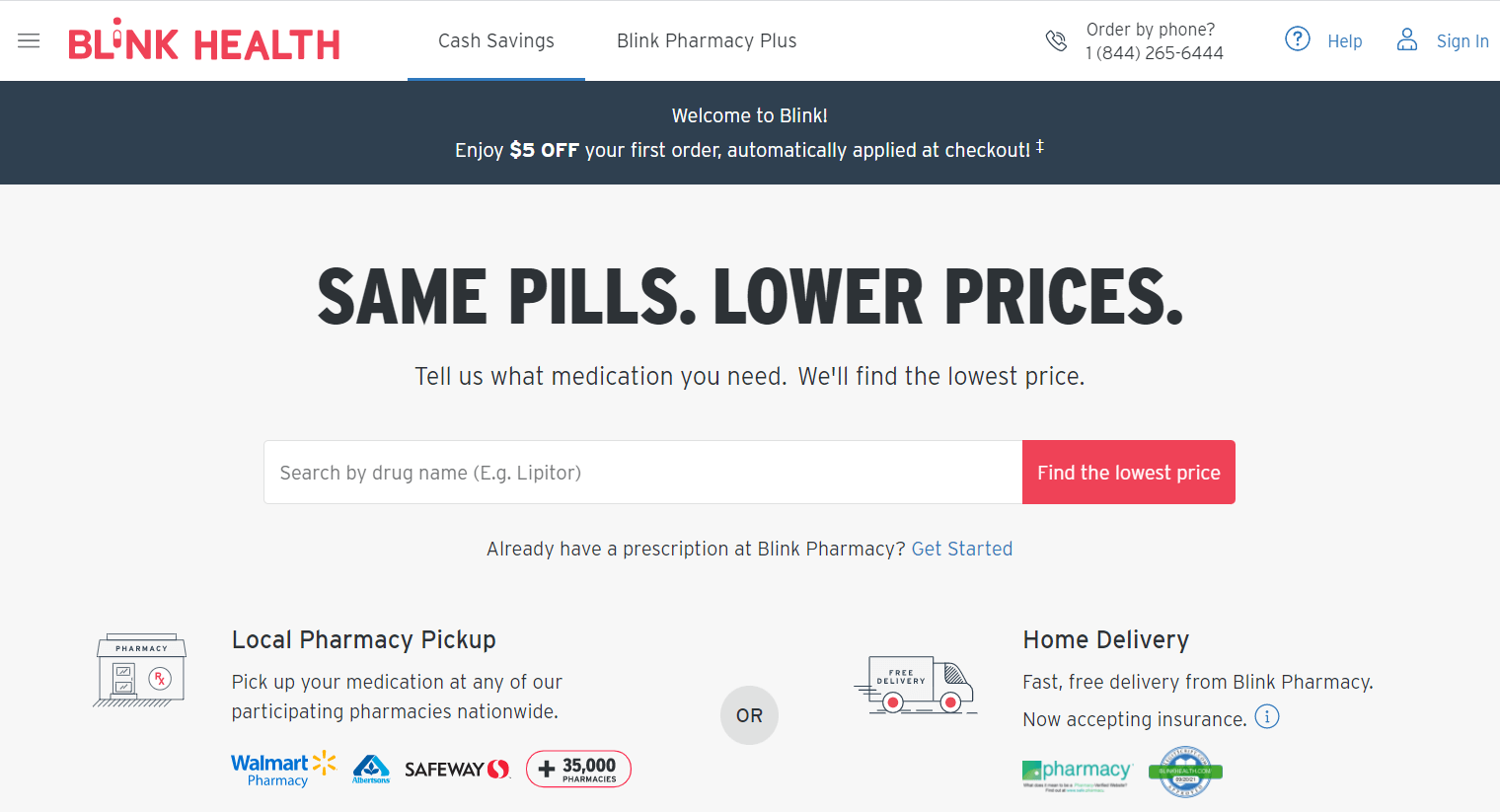 Here's our BlinkHealth.com pharmacy review. Is it the best American online vendor? Can it help you get the med you need swiftly and at the lowest possible cost? Read on to know more about this e-pharmacy and find out whether it is legit and can be trusted.
Online Service That Allows You to Buy Prescription Drugs at Low Prices
Blink Health (or Blink) is an e-commerce-based solution to one of the USA's most persistent & controversial medical hurdles – the extremely high cost of prescription meds. It's indeed the new way for all Americans to save on their desired prescriptions. The company achieves this by cutting out the middlemen, which enables it to make the same medications from the shopper's local pharmacy up to 80% cheaper.
Certainly, with its proprietary technology, everyone in need of its meds has access to negotiated prices on over 15,000 health remedies. It allows its shoppers to simply pay online before they pick up at their pharmacy to save or get free delivery. No matter if the customer is insured, uninsured, or something in between, Blink offers them some of the lowest prices on every med it sells. Think of it as a cure for high med prices since the vendor negotiates with the pharmacy industry so the shopper can get the same med at a much lower price.
Most impressively, Blink cooperates with 35,000+ pharmacies countrywide, including Walmart, Brookshires, Publix, Costco, Safeway, Albertsons, Kroger, HEB, and many more. Most independent pharmacies also accept Blink. There are no membership fees, and prescription transfers are easy. Take note that Blink Health is available to users at participating pharmacies only.
Is BlinkHealth Pharmacy Legitimate?
Blink is certainly legit. The company can offer genuine meds at favorable prices because it has a contract with pharmacy benefit broker MedImpact (a body that helps its clients lower drug costs, improving care & delivering better solutions). Blink uses the MedImpact network of over 35,000 pharmacies to lock in a single price for shoppers wherever they fill their prescriptions.
Besides, all the meds ordered with Blink are sourced from VAWD-accredited facilities that meet strict safety & quality standards required by the Food and Drug Administration (FDA). Certainly, every shopper's privacy is always protected, and their info is secure. For another legit thumbs-up, Blink also allows every shopper to choose from its flexible purchasing options to find what's right for them. You safely search for the desired med at the lowest price & then check out securely without any hurdles.
Additionally, Blink is accredited by the Better Business Bureau (BBB), certified by LegitScript, and is also a verified vendor at Safe.Pharmacy. This guarantees that you can certainly proceed to order the meds you want from this e-pharmacy with confidence.

Grab Free Samples
Fast delivery despite covid. I got the samples just paid for the delivery. I did not know which type of pill work for me. So getting the samples seemed to be the best way to get what works for me. I have never had any problems with either the product, shipping or billing. They truly are the gold standard for ED medications.
Not sure what to order? Our friends from CialisBit offer a sample pack of the most popular ED pills (Cialis, Viagra, and Levitra) delivered by mail straight to your doorstep for free. The trial pack is already added to your shopping cart >>>
CialisBit is the real deal. Professional in every aspect of the business. You can order with confidence. Great customer service. Requests are promptly and courteously addressed. I think they have a great website, and products work as expected. I'm particularly pleased that they offer PayPal as an option to pay. Even though there is an additional fee, you can be assured that your credit card information will not be compromised. Most recent order arrived at my US address September 12, having been ordered August 30. Not bad at all considering the pandemic. I highly recommend this organization and hope they are here to stay. More TrustPilot reviews
Is It Possible to Order Over-the-Counter Pills Here?
Although you can safely use any medicine that you want without a prescription provided that you follow the directions on the drug's leaflet & recommendations from your physician given after analyzing your health, Blink operates differently. To use this platform, you must have a valid prescription from a doctor.
If you don't possess a prescription or need to renew your prescription, Blink can connect you with the US-licensed medical specialist for an online physician visit. It's true to say that at Blink, prescriptions are made easy. The vendor works with the shopper's physician or local pharmacist to take care of their transfers, refill requests, & a lot more.
For retail pick-up, your pharmacy needs your prescription to dispense your med. Just call the new pharmacy and request a prescription transfer. You can also provide the pharmacist with the original hard copy prescription (not a scan or photocopy).
For home delivery, Blink Health requires a copy of the shopper's prescription. At the shopper's request during checkout, the vendor will transfer the prescription from your physician's office or pharmacy for them.
Take note that if you decide to go through the online doctor visit with a licensed medical specialist, Blink only charges you $5. It urges its shoppers who go through the online doctor visit to wait for feedback within 24 hours, and if prescribed, their medicine will be automatically delivered according to their refill schedule.
Erectile Dysfunction Remedies Offered
For most men experiencing difficulty keeping an erection firm enough for sex due to erectile dysfunction (ED), some approved meds can be used to treat this condition. Sildenafil (Viagra®), tadalafil (Cialis®), vardenafil (Levitra®, Staxyn®), & avanafil (Stendra®) are oral meds that reverse ED by enhancing the effects of cyclic guanosine monophosphate (cGMP), a natural chemical that relaxes muscles in the penis and inhibiting the enzyme called phosphodiesterase 5 (PDE5) responsible for destroying the adequate production of cGMP. These effects lead to a fully erect penis when a man is sexually stimulated.
Similarly, another common sexual problem most men experience is premature ejaculation (PE), a condition in which ejaculation happens sooner than he or his partner would desire during intercourse. PE can be frustrating if it makes sex less enjoyable & impacts on relationships, but certain meds exist to resolve this problem, making a man lead a happy sex life.
Blink offers various ED meds, including generic Viagra, generic Cialis, generic Levitra, etc. Drugs such as generic Lexapro (escitalopram), generic Paxil (paroxetine), generic Prozac (fluoxetine), and generic Zoloft (sertraline) are used to help delay ejaculation. Although they belong to the drug class called selective serotonin reuptake inhibitors (SSRIs) designed to treat depression, these meds are commonly used to relieve the symptoms of PE.
Certainly, it's impossible to list all the ED and PE meds Blink Health offers. The best thing to do is to rely on the search bar available on the site to find the product you need. If it's stocked, you can proceed to checkout.
Other Health Care Medications
Blink has a long list of medications for various health conditions. As stated on the website, it offers remedies for hair loss, cold sores, acid reflux, depression & anxiety, high cholesterol, skin conditions, etc. However, we certainly can't list all of them in this review, as there are countless products available. If you need a certain drug, just follow the steps mentioned above or use the Medications Directory section to find the desired med and immediately add it to the cart. Most of its products are generic versions, and the prices are indeed favorable. Just be sure to have a prescription before proceeding to checkout. Still, before taking any med, get your physician's OK. And don't mix it with other pills you might be currently using that can cause serious interactions.
Profitable Discounts, Coupons, and Promo Codes
Every online shopper likes price-reducing experiences that help them save more money, but Blink operates differently. You can't see pop-ups encouraging you to order a certain number of pills to save some cash or customer-tailored promo codes & coupon codes displayed on its website. However, at the time of writing this review, Blink offers its new shoppers $5 off the first order, which is automatically applied at checkout.
If looking for the best ways to save at Blink Health, these tips can help you:
use Blink in conjunction with your insurance. Doing so allows you to save as much money as possible. Just check the price of the desired med using your insurance & then check the price with Blink Health. Buy the cheapest product online, then show up to the local pharmacy & pick up the ordered med;
if you find a favorable price for your med either at your local pharmacy or at another prescription coupon site, Blink will certainly match the price. Order your generic drug through Blink & then submit a price match for a refund;
if you have an FSA (Flexible Spending Account) or HSA (Health Savings Account), you can be reimbursed for meds bought through Blink. After placing the order, you'll get a reimbursement receipt from Blink that you can submit to your FSA or HSA.
Take note that if there exists a promotional offer, it excludes opioids, ED meds, & hair loss meds, as well as any orders that include online physician visits for ED, high cholesterol, hair loss, cold sores, birth control, or acid reflux.
Whether you've never tried Blink or you're already a shopper, you can use Savings.com or similar platforms to find this vendor's coupon & save on your drug costs.
What Payment & Delivery Options Does Drugstore Offer?
Blink accepts payment via credit, debit, FSA, & HSA cards. This includes but is not limited to American Express, Visa, & MasterCard.
Blink Health delivers its shoppers' prescriptions right to their doorstep. To order, search for your med & select the home delivery option. For free home delivery, the e-pharmacy can transfer its shopper's prescription from their doctor or current pharmacy during checkout. Alternatively, you can ask your physician to send your drug prescription to Blink Pharmacy U.S. Once Blink receives the prescription, the shopper's med will be delivered in 4–6 business days.
For the local pharmacy pick-up, after you pay online, you'll receive a Blink card. Visit any of the Blink participating pharmacies, show the card to the pharmacist, & pay $0 at the counter. Just make sure the pharmacy has your prescription from your physician.
As soon as Blink receives the prescription, the order is shipped via either USPS First Class or UPS shipping. Every med from this e-pharmacy is shipped from one of its licensed US-based pharmacy partners. You'll receive a tracking number via email once the ordered med has been shipped. The parcel tracking is easy. You can track the status of your package from your Blink account. To view the tracking info, select "More Details" next to your shipped medication.
Once the order is shipped, you can expect it to arrive within 7 to 10 working days. Take note that all deliveries are subject to delays. After the shopper's package is handed off to USPS or UPS, the questions regarding the estimated delivery are directed to the local post office or mail carrier.
Consider that free shipping is available for most orders sent through USPS First Class shipping.
BlinkHealth.com Refund Policy
Blink Health purchases are refundable until the med is picked up at the pharmacy. If you want to cancel the order, these steps can be followed:
go to your Blink account;
select "Your Medications" from the left-hand menu;
click on the "More Details" next to the med you want to cancel;
click the "Cancel Order" button & then select "Yes."
After canceling it, you'll receive an email confirmation, and the payment method will be refunded in 3 to 5 working days. If what you ordered with Blink doesn't match your prescription, the e-pharmacy will automatically refund you.
Proposed Referral Program
The Blink referral program is an easy way you can use to earn extra savings. Friends you refer must join Blink Health within 60 days of the initial referral date with your referral link. This will earn you $15 off your next purchase after they pick up their med or have it delivered.
Note that referral credits don't apply to Blink Pharmacy Plus purchases. Grab this opportunity today and start earning even if you aren't a patient.
What Are the Other Features of Blink Health Pharmacy?
There are many things you can discover from Blink aside from getting the desired medication. The vendor has a seamless and elegant website with lots of information about how it works, its services & products. The platform also has an awesome blog with everything you should know about your health as well as dedicated sections for doctors and pharmacists.
Besides, Blink has a customer service dedicated website where FAQs and other necessary pharmacy details are covered. Additionally, the vendor also has Blink Pharmacy Plus – a digital pharmacy that analyzes individual insurance, copay, as well as deductible to find the lowest price for the shopper's prescription. The Blink Pharmacy Plus is only available with a prescription for select meds.
Moreover, Blink has an impressive mobile app that makes drug purchases swift and convenient. Just pay in the app to save, then pick up the ordered drug at a pharmacy nearby. Or you can get free delivery.
Pharmacy Location & Contact Information
Blink is all over the USA. It is accepted at 35,000+ pharmacies across the country. Besides, it has administrative offices & licensed pharmacies in the following cities to facilitate shopper home delivery anywhere in the U.S.:
New York, NY;
Seattle, WA;
Pittsburgh, PA;
St. Louis, MO;
Westford, MA.
Blink's corporate office is at 1407 Broadway, Suite 1910, New York, NY 10018.
If you want to order the desired med without using the website, you can order by phone using 1 (844) 265-6444. Besides, if you desire to contact the support team via email, you can use info@blinkhealth.com.
If you have a prescription and need to send it to Blink, you can use the following address:
Blink Pharmacy Plus U.S.
3 Penn Center West, Suite 320
Pittsburgh, PA 15276
Besides, you can send a prescription via the following means of communication:
Phone: 1 (844) 963-0320
Fax: 1 (866) 347-7092
Note that Blink doesn't have an online chat system or a contact form. Nonetheless, you can contact its support team via the mentioned phone number or email address from 8 am to 10 pm Monday through Friday, as well as from 9 am to 7 pm on the weekends.
Our Rating
Blink isn't healthcare coverage or insurance. It's an alternative way to pay for your meds. With this in-depth review, we can conclude that it is a legit and reliable online drug supplier. Its website is great, and it addresses every shopper's needs with an excellent support team.
It's true to say that every patient deserves to be healthy. That's why Blink Health e-pharmacy offers drugs at extremely low prices with free home delivery. The vendor provides a personalized digital patient experience to promote a better outcome. However, some of its reviews from the Trustpilot profile are negative, although it's a verified online pharmacy. The other problem is that it operates online within the United States territories only. Everything has been discussed in this BlinkHealth review, and we can give it a rating of 4.5 out of 5.